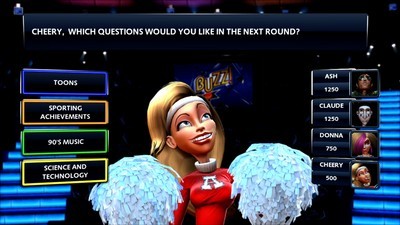 America's rinky-dink economy is forcing many of us to go poor, yet we're armed to the teeth with luxury gadgets. We listen to our $250 iPods. We talk on our $300 mobile phones. And we play video games on our $400 Xbox 360s and PlayStation 3s.
How spoiled are we? You could go to the store and buy the board games "Battleship" for $14 and "Yahtzee" for $7. Or you could go online, with your $1,000 computer, and surf over to EBGames.com to buy "Hasbro Family Game Night" for $40 to play on your $250 Wii.
"Hasbro," you see, comes with video game versions of "Yahtzee," "Battleship," "Connect 4," "Sorry," "Boggle" and "Sorry! Sliders." Is "Hasbro" as good as board games of ye olden days? Yes, and it includes variations, such as a bonus "Battleship" featuring bombs that hit multiple areas at once.
But with board games, families can look each other in the eye. With "Hasbro," you stare at the TV.
Sadly, there aren't many good video games like "Hasbro" that are both: A) friendly to families of young children; and B) fun. Take a look at "You're in the Movies." It comes with a tiny camera you place on your TV. You stand in front of the camera, which projects your image onto the screen, while horribly rendered "movie scenes" serve as background settings.
"You're in the Movies" asks you to do entirely unentertaining things, like swat at cartoon bees flying around the video image of your face on TV. This concept was introduced years ago by PlayStation's great "EyeToy," but "Movies" is dumb, lame and dumb.
On the other hand, "Buzz! Quiz TV" is a basic trivia game for multiple players, and it poses moderately hard questions: "Ferrari makes which of the following car models?"; "Which great river originates in the Himalayas and empties into the Bay of Bengal?"
"Buzz!" isn't bad (or very good), but it loses some potential family gamers because it's rated "T" for "teens," for references to alcohol, blood, suggestive themes and violence.
There's similar "T"-rated-related family trouble with "Scene It? Box Office Smash," which is another good idea with weak execution. You watch film clips of scores of movies, from Monty Python comedies to "Sunset Boulevard," "Shrek" and "Swimfan," then answer trivia about those movies.
A typical "Scene It" question: How many days has it been since Mary Katherine's last confession in "Superstar"? Alas, the game's presentation looks cheap and moves a tad slow. And the trivia is too deep for kids to get, although the packaging has photos of kids on it, so it must be good for kids, right?
And so a game like "Guinness World Records: The Videogame" seems very clean by comparison, at least in family terms. You swing your Wii wand around in various ways, to simulate silly attempts at world records, such as tearing phone books in half, plucking turkeys and balancing a bus on your head.
But all this brings you back to the original equation. How much are you willing to spend this economic season on a tech game for a "family" experience that isn't as fun as a real $7 board game, and that doesn't encourage eye contact? I admit I'm only assuming you want to look at your family.
("Buzz! Quiz TV" with four wireless buzzers by Sony retails for $60 for PS 3 — Plays fun, like basic trivia. Looks OK. Moderately challenging. Rated "T" for alcohol reference, mild blood, mild suggestive themes, mild violence. Two stars out of four.)
("Guinness World Records: The Videogame" by Warner Home Video Games retails for $40 for Wii; $30 for PS 2 — Plays mildly entertaining. Looks dull. Moderately challenging. Rated "E" for animated blood, comic mischief, crude humor. One and one-half star.)
("Hasbro Family Game Night" by EA retails for $40 for Wii; $30 for PS 2 — Plays as fun as board games, mostly. Looks decent. Easy. Rated "E." Three stars.)
("Scene It? Box Office Smash" with four wireless remotes by Microsoft retails for $60 for Xbox 360 — Plays fun only if you dig movie trivia. Looks fine. Moderately challenging. Rated "T" for blood, crude humor, mild language, sexual themes, use of alcohol, use of tobacco, violence. Two and one-half stars.)
("You're In The Movies" with camera by Microsoft retails for $70 for Xbox 360 — Plays very unfun. Looks tepid. Easy. Rated "E" for comic mischief, mild language, mild violence. One-half of one star.)
Contact Doug Elfman at 702-383-0391 or e-mail him at delfman@reviewjournal.com. He also blogs at reviewjournal.com/elfman.
NEW IN STORES
"Rise of the Argonauts" is an action-adventure role-playing game that wants to be epic. Playing as a Greek-mythical king in sandals, you trot the globe, leading your crack navy into huge battles, co-starring Hercules, Achilles and other heroes. Deaths are fast and brutal, and the game leaves out some basic role-playing elements, like health stats. It doesn't appear to include multiplayer online or cooperative play. The game retails for $60 for PS 3 and Xbox 360; $40 for PC. It's rated "M" for blood, gore, violence and mild sexual themes.
— By DOUG ELFMAN