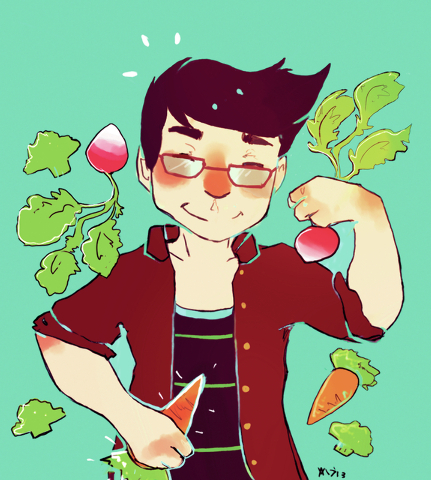 Diets aren't just for losing weight. They can be more of a lifestyle choice — take vegetarians, vegans or those who eat gluten-free, for example. And at least one local nutritionist would argue that "diet" means much more than what typically comes to mind.
Every evening, 17 year-old senior Madi Gracie from The Meadows School soaks a bowl of oatmeal in almond milk and puts it in the fridge overnight. She adds chia seeds and dry fruit in the morning for breakfast. Her meat-free meal is supplemented with a protein shake made from bananas and almond milk. Gracie has been a vegan for eight months for environmental and health reasons.
"I started researching the food industry and I watched a few movies and I realized how disgusting (the food industry) was, so I stopped eating animal products altogether," she said.
Local Las Vegas nutritionist Sari Dennis said the vegetarian diet has many health benefits that can make up for deficits created by eating fast and processed foods. Although these foods may seem to satisfy at first, they don't benefit the body in the long run, lacking many nutritional necessities, she added.
"A vegetarian way of eating focuses on vegetables, fruits, dark leafy greens, nuts, seeds, beans, legumes, whole grains — these are all foods which appear in their whole form, complete and perfect the way nature intended," Dennis said. "Our bodies have no trouble recognizing them and therefore digesting, absorbing and assimilating their nutritional health benefits."
A common concern that many people seem to have with vegetarian diets, Dennis said, is the lack of meat as a protein source. To address this concern, she pointed out that animal products are typically high in saturated fat and cholesterol and lack fiber and are suspected as causal links to certain cancers.
The benefits of lifestyle adjustments seem to have a positive long-term effect, Dennis said.
"The expression 'you are what you eat' goes very deep," she said. "Food creates our blood, our thinking, our energy. The better you feed yourself, the better you feel."
The Centers for Disease Control and Prevention report that the teen obesity rate has tripled in the past 30 years, primarily because of the lack of nutrition provided in a standard American diet. In the long run, teen obesity can lead to cardiovascular disease, high cholesterol, high blood pressure and poor self-esteem.
Since becoming a vegan, Gracie has seen her life improve.
"I feel happier, (as if there's) no negative energy," she said.
Eating healthier might be cheaper, too.
A recent study by the Economic Research Service, a branch of the U.S. Agriculture Department, found that organic products are less expensive than highly saturated foods when measured by edible weight and average portion size.
"It's not superexpensive if you're buying tofu, vegetables and fruits," Gracie said. "It's actually less expensive, because you're not buying meat and meat is very expensive."
Given her nutritionist's perspective, Dennis said, "While there are many things in life over which we have no control, it is my firm belief that there is one thing over which we have complete control that does have a direct impact on our health — our food choices."