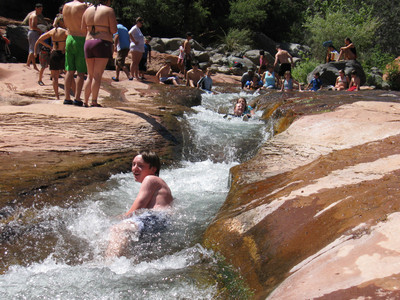 People flock to the Sedona area for many reasons, most notably the jaw-dropping red rock scenery. Others are on a spiritual quest, crouching at vortexes to listen to the earth hum. Or they come for art galleries or world-class spas. Yet some, like Amanda Kuller, have a simpler agenda. They come to get wet.
Despite its arid setting, this portion of Arizona harbors a collection of truly unforgettable swimming holes. Streams tumble from the high country of the Colorado Plateau, carving dramatic canyons, such as Sycamore, Wet Beaver, and the most spectacular of all, Oak Creek Canyon, the 14-mile gorge connecting Flagstaff and Sedona.
I watched Kuller leap off one of those famous crimson monoliths and splash down in Oak Creek. It was at a spot called Grasshopper Point, two miles north of Sedona. Bracketed by small, feisty waterfalls and guarded by a clutch of graceful Arizona sycamores, the stream gathers in a blue-green pool 50 feet wide at the base of a terraced cliff. Swimmers can make a straight plummet into deep water from heights of five, 10 and 20 feet.
Kuller and her friends were plunging from the high ledges, and though Grasshopper Point was my third swimming hole of the day, I felt no need to climb up and join them. Truth be told, I can barely swim. Yet that doesn't diminish my passion for these little riparian wonders.
For desert dwellers, swimming holes hold a special magic — a perfect escape when the mercury punches a blood-red fist through the top of the thermometer. Air conditioning may keep us sane but water and shade set us free.
The search for swimming holes is a languid, old-fashioned way to spend a summer day. Like late season snowmelt, I too flowed down Oak Creek Canyon from the north, albeit slowly. I stopped at various pull-outs along Highway 89A to gauge the creek level. I felt like Opie Taylor playing hooky.
After a quick dip at a personal-sized pool off the A.B. Young Trail, behind Bootlegger Campground I was ready for one of the best-known swimming holes in the entire Southwest, Slide Rock State Park.
Here, seven miles north of Sedona, in what once was a thriving orchard, stone banks throttle the creek into a narrow frothy chute creating a natural water ride. Along the route are pools of varying depths, perfect for wading, swimming and cliff jumping. Something for everyone — as long as you don't mind company. Slide Rock is not exactly a secret.
I arrived early but already kids and grownups alike were pinballing through the chute or cannonballing into deep gullies of the stream. Word of warning: Wear cut-offs or other sturdy shorts. Adults may scrape bottom through the shallows, so it's not uncommon to stand up at the end of the slide, only to see swatches of your bathing suit continue downstream. And everyone should wear old sneakers or some kind of water shoes. Rocks are slippery here. That goes for all area swimming holes.
Hard-core thrill-seekers at Slide Rock congregate under the bridge, where sandstone towers are used for launching pads. Jumps range from 15 to 50 feet, into an area that's not especially deep, so use extreme caution.
Next up was my stop at Grasshopper Point, a more tranquil nook. But with picnic tables and hiking trails, it too began to fill up. I rock-hopped downstream where I met Geoffrey Messer and Chris Brailo, local homebuilders who have more afternoons off than normal, thanks to a sluggish economy. But like Opie and me, they knew how to enjoy them.
They shared basic swimming hole etiquette, guidelines to help everybody happily co-exist.
No bottles at the creek, give people their space and pack out more than you pack in. It sounded simple enough.
"With usage comes the responsibility of stewardship," said Messer. "So we try to police the younger crowd, make sure they understand."
With afternoon waning, I drove through Sedona to Crescent Moon Picnic Area, better known as Red Rock Crossing. There I stepped into a postcard. Cathedral Rock reflected in the waters of Oak Creek is one of the most-photographed scenes in the state. So, while this iconic spot also draws crowds, they are spread over a wide area.
The shallow stream meanders past the base of Cathedral Rock and through forested groves. The bottom drops in a few places, forming nice pools. There's a rope swing upstream from Cathedral. While doing your best Tarzan impression from the swing you might notice the opposite bank covered with dozens of stacked rock cairns, looking like a miniature Stonehenge. This is Buddha Beach, considered to be the site of a powerful vortex. Believers come to meditate, chant and apparently, stack rocks.
Draped across a sandstone shelf, I promptly fell asleep. With all due respect to hammocks, a smooth cradling slab of sandstone at water's edge provides the ultimate in napping refreshment. I awoke just shy of sunset as shutterbugs stood knee deep in the stream snapping furiously at the majestic landscape now bathed in a creamy, dreamy light. (My apologies to the Ansel Adams-wannabes, whose stirring portraits of Cathedral Rock included a sprawled, snoozing figure.)
The next morning found me hiking the Bell Trail, parallel to Wet Beaver Creek. A network of social trails lead down to the stream at prime spots but three miles back waits the big kahuna of swimming holes, The Crack.
Just upstream from where the trail crosses the creek, deep water carves an exquisite 70-foot long channel between narrow sandstone walls. A triangle of rock positioned over the sweet spot makes a great diving platform but more fearless souls just heave themselves in from atop the 25-foot high walls. After the sun-blasted hike, trying to stay out of the inviting oasis would require almost superhuman strength.
I jumped.
I think Opie would have wanted it that way.
GETTING THERE Location: Sedona, in north central Arizona, about 276 miles from Las Vegas. Directions: From Las Vegas take U.S. Highway 93 south 105 miles to Kingman, Ariz. Go east on Interstate 40 for 147 miles to Flagstaff. Turn south on Interstate 17 for 3 miles to Arizona Highway 89A. Turn south and proceed 21 miles to Sedona. Passes and permits: A Red Rock Pass (or America the Beautiful Pass) is required for vehicles parking in the national forest near Sedona. Daily passes cost $5. Weekly cost $15 but also include admission to such recreation sites as Grasshopper Point and Crescent Moon Ranch. Passes can be purchased at most businesses in Sedona but easiest for those traveling from the north is to buy one at Oak Creek Vista, the overlook before descending the switchbacks into Oak Creek Canyon. Red Rock Ranger District, (928) 282-4119, www.redrockcountry.org. Slide Rock State Park: Along Arizona Highway 89A, 21 miles south of Flagstaff, 7 miles north of Sedona. $10 per vehicle. Water quality tested daily. Picnic tables, drinking water, snack bar and rest rooms. Pets permitted but not near the water. No glass containers. (928) 282-3034, www.azstateparks.com. Grasshopper Point: Along Arizona Highway 89A, 26 miles south of Flagstaff, two miles north of Sedona, $8 per vehicle, free with weekly Red Rock Pass. Water quality tested daily, picnic tables and vault toilets. No pets or glass containers. (928) 282-4119, www.redrockcountry.org. Crescent Moon Picnic Area: Along Upper Red Rock Loop, seven miles southwest of Sedona, $8 per vehicle, free with weekly Red Rock Pass. Picnic tables, cooking grills, vault toilets. (928) 282-4119, www.redrockcountry.org. Wet Beaver Creek: Located 17 miles south of Sedona, on Forest Road 618, near intersection of Arizona Highway 179 and Interstate 17. Much of surrounding area has been designated wilderness, Bell Trail provides only access. An excellent swimming hole for youngsters, a pool 50-by-30 feet, with a rope swing, is next to Beaver Creek Campground, a quarter mile from trailhead. (928) 282-4119, www.redrockcountry.org. Additional swimming holes: West Clear Creek, six miles east of Camp Verde and Sycamore Canyon, 12 miles northwest of Cottonwood. Camping: Forest Service operates several campgrounds in Oak Creek Canyon. Cave Springs, the largest, offers showers and costs $20 per night. Bootlegger and Manzanita have small swimming holes nearby, cost $18. Some sites can be reserved at (877) 444-6777 or www.recreation.gov. Beaver Creek Campground costs $15 per night, first come, first served. Accommodations: Slide Rock Lodge offers guests private access to a small swimming hole. 6401 N. Highway 89A, (928) 282-3531, www.sliderocklodge.com. Briar Patch Inn does likewise. 3190 N. Highway 89A, (888) 809-3030, www.briarpatchinn.com. Other places to stay in shady Oak Creek Canyon include: Forest Houses Resort, 9275 N. Highway 89A, (928) 282-2999, www.foresthousesresort.com; Junipine Resort, 8351 N. Highway 89A, (800) 742-7463, www.junipine.com; Oak Creek Terrace Resort, 4548 N. Highway 89A, (800) 224-2229, www.oakcreekterrace.com; Canyon Wren, 6425 N. Highway 89A, (800) 437-9736, www.canyonwrencabins.com.