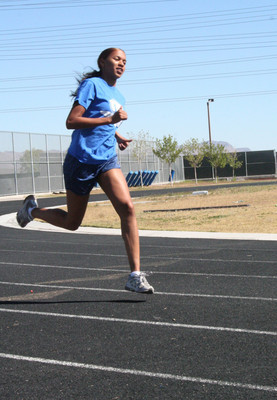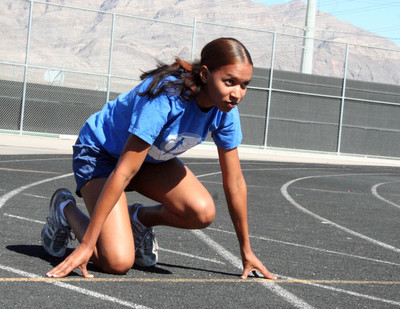 LeNette Battle was a freshman, about to run her first 200-meter dash. She had been training for weeks, but this was the real thing, and she was terrified.
Any reservations she had, however, evaporated the moment she started running.
"I'll never forget the way I felt while I was running and afterwards," Battles says. "It was pure adrenaline and freedom. That's when I knew I would keep doing this."
Years later, she has trouble recalling the outcome of that race, but she hasn't forgotten the feeling of the day she caught the dream.
Battle, 17, has earned numerous awards, honors and records, including school awards, regional wins and beyond. She won the 100-meter relay and 300- and 100-meter hurdles at the regional level last year, becoming the regional record holder for the 300-meter hurdles and going on to take second in the state in that event. This summer, she placed fourth and fifth in her heats at the Junior Olympics.
Now beginning her senior year at Shadow Ridge High School, Battle continues to set her sights high — on a state championship. Last year, she took second place in the 300-meter hurdles, but, she says, "I think that if I work hard enough this year, I can win it."
The first time Battle ran competitively was at the Inner City Games, when she was in the third grade. She came in around fourth but wasn't thrilled with her performance. She didn't run much throughout the rest of elementary and middle school, but started running again her freshman year and hasn't stopped.
"Running gives me a feeling of accomplishment, especially after working hard and winning," she says.
Battle runs an average of two hours a day and spends most of her time focusing on hurdles, which involve a lot of technical work. She has plenty of days when she just doesn't want to run, but, she says, "You just have to take it day by day and know that if you stop one day, it will hurt you the next. If I stop today, it will be twice as hard tomorrow."
In addition to running, Battle plays for her school's varsity women's basketball team, has competed regionally in forensics, is the senior class vice president and achieves A grades, having received only one B since starting high school.
"LeNette has excelled at everything she has ever done," says her mother, Michelle Battle. "She has always been self-disciplined and puts 100 percent effort into everything she does."
When she gets busy, Battle says, her social life is the first thing to go. She often has to skip out on activities with friends, nights out and even prom, because her athletics and academics come first.
"However, like my parents and coaches always tell me, all the hard work will pay off in the end," she says.
Track coach Jeff Lewis says Battle's potential is unlimited.
"LeNette competes with strength and elegance, but I think her true talents are her refusal for failure and her drive for excellence," Lewis says. "With her amazing athleticism and her incredible heart, LeNette can go as far as she wants."
Battle plans to continue running in college, most likely at the University of California, Berkeley, while majoring in either psychology or sociology. She's not sure whether she wants to run professionally. After college, she plans on becoming either a counselor or a social worker.
She'll admit it — running is hard. The hardest part, she says, is getting in shape and keeping up with the competition without getting injured or burning out.
"But, winning never hurts," she says.
R-Jeneration