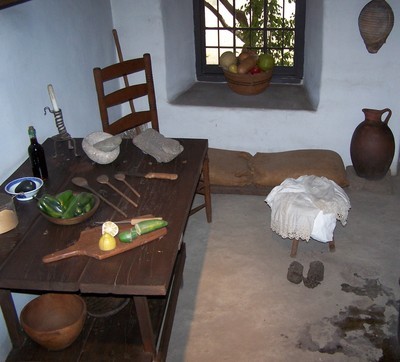 The aroma of corn tortillas frying in oil mingles with the smell of new leather wafting from outdoor stalls selling purses, belts, vests and luggage. Harmonious voices, guitar and accordion music rise and fall with the movements of strolling musicians. It might feel like an outdoor marketplace in Mexico, but you're really in Los Angeles. Here, on Olvera Street, Los Angeles was born. Cherished and protected today by its designation as El Pueblo de Los Angeles State Historic Park, the neighborhood nearly disappeared in the mid-1920s.
That it was not just preserved, but also reinvigorated, is due in large part to the efforts of Christine Sterling, a socialite who moved to L.A. from San Francisco in 1926. When she first saw the Old Plaza, it had become a high-crime area and hangout for vagrants, drifters and assorted persons of questionable occupation.
But Sterling, enthralled with the city's Spanish and Mexican heritage, dreamed of its original splendor. Renovating the Old Plaza, and especially Olvera Street, became Sterling's self-assigned mission. Her dream came true, but it didn't come easy.
She had to sort out a century-and-a-half of history. In August 1769, Spanish explorers, led by Gaspar de Portola, were the first Europeans to visit what is now Southern California. They were astounded by what they found. The priest that accompanied the explorers, Fray Juan Crespi, in his diary aptly described the spot that would become Los Angeles. "A very spacious valley, well grown with cottonwoods and sycamores, among which ran a beautiful river from the north-northwest … the plain where the river runs is very extensive … It has good land for planting … It has all the requirements for a large settlement."
In September 1781, 44 men, women and children from Sonora and Sinaloa, Mexico, 11 families in all, lured by the promise of free land, founded the region's first permanent European community; El Pueblo de Los Angeles. It became the largest city in the Western United States.
And in that city, the old town and especially Olvera Street are once again a top attraction. Not only tourists, but also residents of the region, come here to enjoy authentic Mexican food, music, merchandise and atmosphere. Shops and booths open about 10 a.m. and close about 11 p.m.
Olvera Street is more than just shops and eateries, however. The oldest existing residence in the City of Los Angeles, the Avila Adobe, is located there. Its exact date of construction is unknown, but is believed to be somewhere between 1818 and 1822. Francisco Avila, rancher and one-time mayor of Los Angeles, built it as a town house for himself and his family. The walls of the seven-room house are three-feet thick. It was probably the first house in Los Angeles to have factory-made doors and window frames, as they came from Boston aboard a sailing ship.
The house is a tribute to its builders, considering it has survived (although not totally undamaged) numerous severe earthquakes. It's also a tribute to the tenacity of Sterling. When she first visited the Old Plaza area, the Avila Adobe had been abandoned and neglected for decades.
Sterling realized if her dream of saving L.A.'s heritage was to come to fruition, she would need help. She contacted Harry Chandler, the publisher of the Los Angeles Times, with her idea to restore the Avila Adobe and create a colorful Mexican marketplace and cultural center adjacent to it. Chandler agreed to help, and gave extensive publicity to her plans through numerous articles in the Times.
Chandler's articles in the Times generated some interest in Sterling's project, but by 1928, that interest had waned, and one day Sterling found a huge "condemned" sign on the adobe's front door. Infuriated, Sterling hand-painted a sign condemning the shortsightedness of city bureaucrats for their lack of concern for the historic site. Rather than let the city demolish the house, she located its owners — grandchildren and great-grandchildren of Francisco Avila — and asked them to turn over the house to her. She wrote in her diary that she told the family: "If there was any real and sincere sentiment anywhere in all of Los Angeles for this old landmark, we would find it, and if not, we would take the home down."
Her project suddenly had new life, thanks to more news accounts in the Times. The L.A. City Council rescinded the condemnation order. Numerous companies supported the restoration by donating materials and money.
James Davis, the city's chief of police, provided a crew of jail inmates to work on the project. Sterling oversaw the renovation project and one excerpt from her diary captures both her spirit and her desperation. "One of the prisoners is a good carpenter, another an electrician," she wrote. "Each night I pray they will arrest a bricklayer and a plumber."
While there were laborers and supplies for the Avila Adobe, there was still no financial foundation for restoration of the Old Plaza as a whole. That changed when Chandler convinced numerous L.A. businessmen to partake in some $1,000-a-plate luncheons. With the funds raised, and promised, he created the Plaza de Los Angeles Corporation, which became the financial footing for the restoration of the Old Plaza and Olvera Street.
Near the Avila Adobe is the Sepulveda House. Built by Senora Eloisa Martinez de Sepulveda in 1887, it was the first Victorian style building in Los Angeles and cost $8,000 — an amount equivalent to about $250,000 today and perhaps a bargain, for the house had 22 rooms. It is open to the public and is one of the Old Plaza museums. It also houses the El Pueblo Visitors' Center. An 18-minute film on the history of El Pueblo de Los Angeles is shown there.
Although her house was designed as an office building and boarding house, Senora Sepulveda retained three rooms for her own use. Open to visitors, her bedroom contains massive walnut furniture, a canopied brass bed and a wood stove for heating. There is a huge crucifix on one wall, and an antique birdcage is near the window. It feels like any second the door will open and Senora Sepulveda will glide in to greet her guests.
The Old Plaza Church, like most of the plaza area in the 1920s, was crumbling to dust. Sterling wrote in her diary that the "Mother and grandmother of every church in Los Angeles, was suffocated in a cheap, sordid atmosphere."
It wasn't always that way. The church was built on its current site in 1818, and for many years it was the premiere parish of Los Angeles. Its parishioners paid for it — sometimes with unusual donations. One major contribution was 1,000 head of cattle, which church officials sold at $5 a head. Another gift was seven barrels of brandy. Those sold for a total of $747.81. For much of the 19th century, the church was a social gathering place as well as a religious center.
The architecture of the old Plaza Church resembles that of the California Missions, but it never was part of the mission system. Originally called "Our Lady of the Angels," in 1869 it was renamed, "Our Lady Queen of the Angels." In 1965, major reconstruction of the church took place. Brick has mostly replaced the original adobe, but the church nevertheless looks much as it did in the 19th century.
The Old Plaza Fire House is now a small museum dedicated to the memory of L.A.'s firefighters, and to the history of the Los Angeles Fire Department. Built in 1884, it was know as Engine Company No. 1. It had horse stalls in the rear of the building, and firefighters' quarters upstairs. When a fire alarm sounded, as the firemen slid down a pole to man their equipment, the well-trained horses were moving themselves into position for harnessing.
The fire department left the building in 1892, and it was used thereafter as restaurant, saloon and flophouse before the restoration. Now it contains examples of late 19th-century fire-fighting equipment, uniforms, photographs and maps from the 19th and early 20th centuries.
Nearby is the Pico House, one of the city's first multistory buildings. Three-stories tall, it was built in 1869 by Pio Pico, the last Mexican governor of California, for a hotel. It was considered the last word in comfort because it was lighted with gas and had several bathtubs. There is an exhibit, History Of Water In Los Angeles, which chronicles how water was brought to Los Angeles via the Los Angeles Aqueduct developed by William Mulholland in the early 1900s. And there is an exhibit honoring Sterling.
Opened in December 2003, the newest historical institution in the monument is The Chinese American Museum.
The initial restoration of Olvera Street was opened to the public on April 20, 1930 — an Easter Sunday. Sterling described it this way in her diary: "The street opened last night in a blaze of glory … Once more the surface of the old street felt the touch of dainty slippers and polished boots."
Olvera Street, restored, was actually made better than new. The original had been a dirt road, but the revitalized 1930 version was painstakingly paved with hundreds of Spanish tiles and bricks. They were added to enhance the Mexican marketplace atmosphere, and still do today.
The old Pueblo, and especially Olvera Street, are not only major tourist attractions, but also an oasis in the middle of a highly populated, outrageously mobile, and rapid-paced city. They capture the pace of a more leisurely time, so their sounds, smells, colors and flavors are best savored — not gobbled up.
GETTING THERE Location: Puebla De Los Angeles Historical Monument, about 270 miles from Las Vegas in Los Angeles. Directions: Take I-15 south toward Los Angeles. At the I-15/-215 split, about 214 miles from Las Vegas, take the I-15 toward Los Angeles/San Diego. About 8 miles later, take state highway 210 west toward Pasadena. About 20 miles later, state highway 210 becomes I-210; continue on I-210 about 7 miles and take I-605 south. After 6 miles take I-10 west for 13 miles, then take U.S. 101 north to Exit 28, Alameda Street. The exit actually puts traffic onto Arcadia Street; stay on Arcadia about half a mile and turn right onto Main Street for about one-tenth mile. The El Pueblo De Los Angeles Historical Monument, and Olvera Street, are on your right. Parking: There are numerous parking lots (parking fee required) near the El Pueblo De Los Angeles Historical Monument. There is some on street parking, but time limits apply. Dining: Numerous Mexican restaurants and food stands on Olvera Street serve authentic Mexican dishes. Within walking distance, at 1001 N. Alameda St., is Philippe the Original, world famous for its French dip sandwiches. Lodging: Days Inn Downtown is just one block north of Olvera Street at 711 N. Main St., (213) 680-0200. Sheraton Los Angeles Downtown is a little more than a mile south of Olvera Street at 711 S. Hope St., (213) 488-3500. China Town: Los Angeles' China Town is located a few block northwest of Olvera Street on North Broadway.