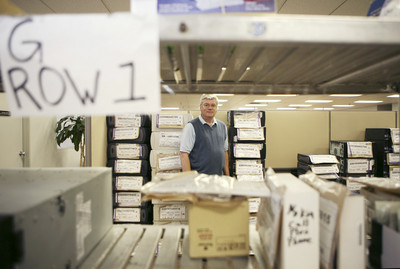 What's great about modern life is the astounding array of time-saving, gee whiz-inducing gadgets — computers, TVs, cell phones — we can play with.
What's less great about this amazing surfeit of electronic gadgetry we embrace is that it does tend to pile up once we decide we no longer need it.
Computers in the closet. TVs in the garage. Cell phones in the kitchen drawer. The average Southern Nevada household probably stocks more outdated, unused or merely forgotten electronic stuff lying around than NASA's Mission Control in its heyday.
Tossing the stuff in the trash isn't always a great option, either. That computer hard drive still may have your credit card number on it from your online shopping excursions. An old computer's circuit boards may not be completely environmentally friendly. And that old cathode ray tube television may contain lead and is a potential safety hazard just about anywhere it ends up.
Given all of this modern-day e-waste — or electronic waste — we have, it's not surprising that most Southern Nevadans haven't a clue about what to do with it.
"We actually get quite a few calls, especially about e-waste," said Kathryn Fergus, Southern Nevada recycling coordinator for the Nevada Division of Environmental Protection.
According to the division, the National Safety Council estimates that 250 million computers will have become obsolete — and, no doubt, turn into trash — between 2004 and 2008. And, the division says, it's a safe bet that many of the 100 million cell phones Americans discard each year end up as trash.
Usually, the consumer's first thought is to simply leave old or broken electronic devices at the curbside for pickup. Bob Coyle, area president of Republic Services of Southern Nevada, says that, except for a variety of explicitly hazardous items that must be handled differently, just about anything that can fit into a garbage truck will be accepted by route collectors.
But, Coyle adds, consumers also might wish to first ask themselves a question: "Can we be better stewards of the environment?" And in many cases, the answer is: Yes.
Recycling offers a good option for many devices. A good rule of thumb, Fergus says, is to check with the store where you bought the item or the manufacturer that made it. Many retailers and manufacturers have take-back programs that can help you dispose of the device responsibly.
Sometimes, recycling isn't just altruistic. For example, Apple Inc. offers iPod owners a 10 percent discount on a new iPod when they turn in their old device at an Apple store (although the purchase must be made on the same day).
And, Fergus says, inquiring about a take-back program may plant the seed of an idea in a company that doesn't offer one.
"I think the more they hear from consumers, the more apt they're going to initiate a program like that," she says.
Meanwhile, here are a few other ideas for disposing of common household electronic devices.
COMPUTERS
The Blind Center of Nevada has been accepting donations of used computer equipment for more than two years, says Bob Waldorf, the nonprofit organization's vice president of operations.
Donated computers are sorted and graded. Some are refurbished and used at the agency itself. Other computers and computer equipment are refurbished and resold, with proceeds used to fund the agency's slate of programs.
Computers and equipment that aren't suitable for either use are broken down and their components recycled. Again, proceeds are used to fund Blind Center programs.
Waldorf said the center's clients include Clark County, the State of Nevada, Nevada Power and several large casino companies. Last year, he adds, more than 1.25 million pounds of equipment was received and processed.
Consumers always should be wary of leaving a computer at the curbside because the machine's hard drive still may contain personal information that could lead to identity theft. So, any computer that's sold, given away or trashed should have its hard drive wiped clean of data.
A variety of programs — some for purchase, others available on the Internet as freeware or shareware — are available that overwrite a disk with indecipherable gibberish.
Or, according to Waldorf, consumers who donate computers to the Blind Center can, for an $8 charge, take advantage of the same "world class" scrubbing treatment given to computers donated by its corporate and government clients.
Drop-offs are accepted Mondays through Fridays from 8 a.m. to 3:30 p.m. at the center, 100 N. Bruce St., or Mondays through Fridays from 8 a.m. to 5 p.m. at Republic Services' recycling center, 333 W. Gowan Road, North Las Vegas.
For more information, call the center at 642-6000 or follow the "computer recycling" link from the group's Web page (www.blindcenter.org)
TELEVISIONS
ARC Corp. accepts televisions with cathode ray tubes for recycling. A fee of $8 per TV applies, because of the hazards of processing the glass tube, says Darrel Kang, branch manager.
Also accepted, according to Kang, are computers, computer peripherals, copy machines, telephones, faxes and just about anything but household appliances. The company accepts non-TV devices at no charge.
Drop-offs are Mondays through Fridays from 8 a.m. to 5 p.m. at 4606 Andrews St., Suite 4, North Las Vegas.
For more information, call 922-1058 or visit the company's Web site (www.arcic.com).
CELL PHONES
Old or unused cell phones often can be returned to a cell phone provider for reuse. So, a good first step is to check with your service provider.
For example, under its HopeLine program, Verizon Wireless accepts old and unused phones — working or not, from any carrier — at its stores. Company spokeswoman Jenny Weaver says the phones then are refurbished and, along with airtime, donated to victims of domestic violence.
Recipients who are staying in shelters then can use the phones to keep in touch with loved ones, schedule doctor appointments, go on job interviews and make other necessary calls.
Last year, more than 840,000 cell phone minutes were donated to Nevada residents under the program, Weaver says. SAFE House in Henderson received 80 phones and 240,000 minutes, while Safe Nest Inc. of Las Vegas received 130 phones and 390,000 free minutes.
Phones that can't be used for the program are refurbished for resale or reuse, or disposed of in an environmentally safe way.
BATTERIES
According to Michael H. Babiak, director of technology for the Energizer Battery Co., which makes Energizer batteries, federal and Nevada state regulations say carbon zinc, alkaline manganese and lithium batteries are classified as nonhazardous solid waste and can be disposed of with household waste.
During the 1990s, he adds in a statement, Energizer was the first company to remove mercury and cadmium from all household batteries — in sizes AAA, AA, C, D and 9-volt — in the United States.
Fergus knows of no organization that accepts alkaline batteries — the most common form of disposable batteries — for recycling or disposal. That, she and Babiak agree, is all the more reason for consumers to use rechargeable batteries.
Rechargeable batteries often are used in cell and cordless phones, cordless power tools, laptop computers, camcorders and other household appliances. The Rechargeable Battery Recycling Corporation does collect used cell phones and rechargeable batteries for recycling.
For a list of drop-off locations in Southern Nevada, visit the RBRC's Web site (www.rbrc.org or www.call2recycle.com) or call 800-822-8837.
EVERYTHING ELSE…
The Nevada Division of Environmental Protection maintains a list of recycling collection services for each county (nevadarecycles.gov/main/recyclables.htm) that covers everything from aluminum to wood.
The list includes addresses of local companies and recycling centers, and Web addresses for companies that aren't in Southern Nevada.
For more information about recycling, visit the division's Web page (www.nevadarecycles.gov). For more information about managing e-waste — and, in particular, cathode ray TV tubes — visit: ndep.nv.gov/ewaste/index.htm.
Contact reporter John Przybys at jprzybys@reviewjournal.com or (702) 383-0280.