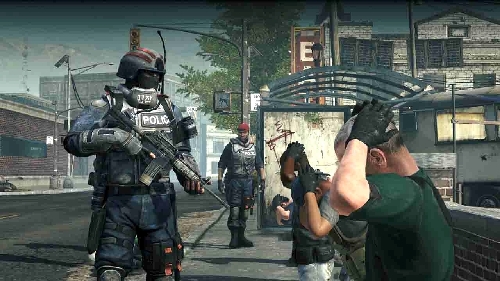 The new game "Homefront" is the most fun online shooter I've played in several years. It's so good, I may never again play "Call of Duty: Black Ops," which is itself a great online shooter and the highest-grossing title of all time.
I have heard other gamers say via Xbox Live they like "Homefront" so much, they may put down "Black Ops," too.
"Homefront" debuted at No. 1 on sales lists. And yet, stock shares of "Homefront's" game-maker, THQ, later fell on game launch, because game magazines generally awarded the game "only" an aggregate rating of "good" to "very good."
Stockbrokers are a tough crowd.
Let me cut through the nonsense: The wow of "Homefront" isn't the offline campaign. What would make "Homefront" legendary is its spectacular online multiplayer.
Hard-core gamers want to know (and stockbrokers should keep in mind) this question: Do you want to play this first-person shooter in online-multiplayer matches, over and over, for 12 straight hours, several days a week, for months on end?
My answer so far is an emphatic "yes."
Online matches offer a usual array of team deathmatch, and so forth, with teams holding up to 16 gamers each.
And the big battlefields are awesome and "balanced" (well-designed), and set in war-torn American cities, and a farm, and other terrains familiar to the United States.
The best gun is your sniper rifle. But since rival teams can see where you're sniping from, you must always be on the move, to keep from being sniped.
If you're a regular online shooting fan, you quickly become a pro with that game-changing sniper rifle — running, stopping, firing and running for cover. This is pretty thrilling.
Unlike "Black Ops," you can't shoot through walls. This is a slightly more realistic war game. Also unlike "Black Ops," I haven't noticed bullet drop off. If you aim at a guy's head, that bullet goes into that guy's head, even if you're 100 yards away.
You earn points to buy fun extras, from helicopters to tanks and a weaponized toy helicopter and a remote-control robot that fires a machine gun.
As for the offline solo campaign, the plot is story-heavy as it was co-written by John Milius, who wrote "Dirty Harry" and "Red Dawn":
In 2027, America crumbles, and Korea invades Colorado. Your mission is to kill invading Koreans. That is absurd but interesting, and the game play is engaging.
So back to the game's online shooter. It was created by Kaos Studios, designer of 2008's "Frontlines: Fuel of War," which was my pick for the most fun online shooter until … "Homefront."
What a weird world the gaming industry has become. Here's Kaos, at the creative top of the online-shooting heap, worrying about what stockbrokers think about what we critics think of Kaos' top-selling game.
And now I have to worry what stockbrokers think, so they don't destroy the company making my favorite online shooters. Can't we just love a game, anymore?
("Homefront" by THQ retails for $60 for PS 3 and Xbox 360; $50 for PC — The offline campaign plays fun enough, but it's the online shooter that makes it awesome. Looks very good. Rated "M" for blood, strong language and violence. Four stars out of four.)
Doug Elfman's column appears Tuesdays, Thursdays and Fridays. Contact him at delfman@reviewjournal.com. He blogs at reviewjournal.com/elfman.