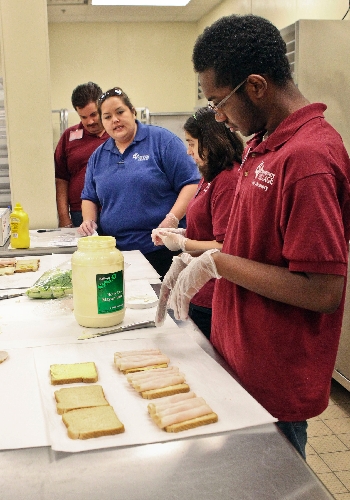 The Southern Nevada Chapter of the American Red Cross recently scheduled a luncheon meeting of people who provide services to refugees. Some 30 people were expected, but an additional nine showed up.
"Thirty minutes before they were due to send out the delivery, we called the chef and asked for 10 additional lunches, and he said, 'Sure,' " recalled Jeffrey Brewer, the chapter's director of emergency services. "And they were only a few minutes later than they had originally planned to be."
That's service. So, was it a high-end restaurant on the Strip? Some intimate little bistro? Nope, it was Opportunity Village, which has offered box-lunch catering services for about a year.
"I think this was a win for everybody," Brewer said of working with the organization for people with intellectual disabilities. Plus, "it was very reasonable. Just a little over $7 for a delivered box lunch? You can't beat that."
Kathy Galbraith, director of employment resource centers for Opportunity Village, said the $7.25 lunches include one of four types of sandwich fillings (ham, roast beef, turkey or veggie) on one of three types of bread, plus chips, seasonal fruit and a fresh-baked cookie.
So far, she said, the clientele has been primarily business lunches and office meetings.
And if the "fresh-baked cookie" caught your eye, you might be interested to know that Opportunity Village has been selling cookies for about two years and currently bakes about 50,000 a month. They're sold to resorts "up and down the Strip" for their employee dining rooms and retail outlets, plus other outlets big and small, she said.
A couple of months ago, Opportunity Village added another product to its culinary repertoire: chocolate-covered popcorn, which has been test-marketed at local Sam's Clubs on weekends.
"We have been doing road shows with all of the Sam's Clubs in the valley," Galbraith said, offering samples and popcorn for sale, with staff members and clients meeting with potential customers.
"It is proving to be very addictive," she said. "If we can get people to taste it, most of the time they will turn around and take a box (two 7½-ounce boxes for $2.99). For chocolate lovers, it is awesome."
But lovers of chocolate, cookies and boxed lunches aren't the only ones who are benefiting from Opportunity Village's food-related ventures. Galbraith said 12 people with disabilities are currently working full time, along with chef Richard Woods, in the organization's production kitchen.
"We look for, obviously, marketable items, but we also look for items that create jobs for our individuals," she said. "So labor is a big component of that. And chocolate-covered popcorn is a fairly labor-intensive process, with a lot of steps to make it and a lot of steps to package it."
First, she said, a sugar coating is put on the popcorn, "to lock in the crisp. Then we coat it in white chocolate, and then we drizzle colored white chocolate over the top."
Intensive or not, those who labor over it truly enjoy their jobs, Galbraith said, and if sales grow, more opportunities might be created.
"They love it," she said. "If you go into the kitchen on any given day, they are more than willing and in fact love to show you what they're working on and tell you how it goes together. They've all got their kitchen uniforms, and they are rarin' to go. They love to participate in things like the road shows, where they can kind of take credit for what they do.
"The kitchen is a popular place to work because it's very rewarding; you get a lot of feedback. Everybody wants to know they're doing a good job."
Contact reporter Heidi Knapp Rinella at hrinella@review journal.com or 702-383-0474.
ORDERING INFO
An e-commerce component will be part of Opportunity Village's revamped website, which is scheduled to be up in about a month. In the meantime, those wishing to order cookies or lunches can go to CookieCraftersLV.com or LunchBunchLV.com and fax a form to the organization.