Orchard inspires gardeners to eat what they sow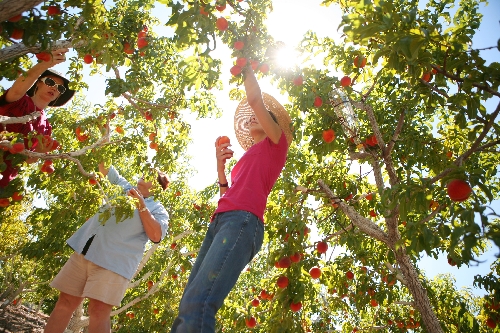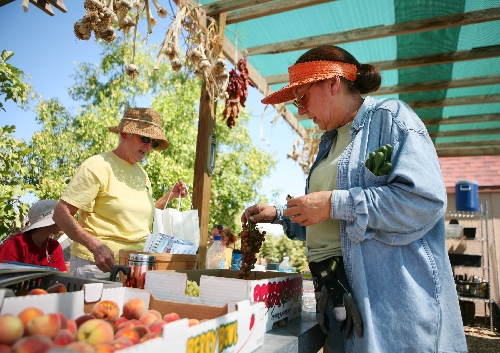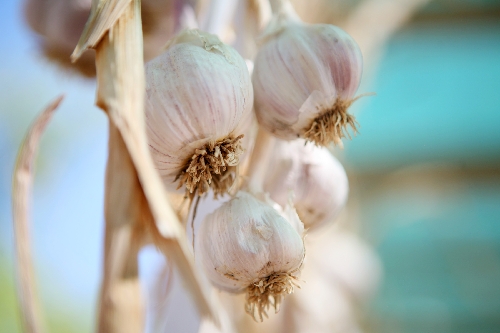 If you're thinking about planting a shade tree this fall, consider one that can do double duty. An almond or fig tree, for example, can not only cool your yard but also contribute food to your table. And if you're looking for advice on what to plant, where to plant it and how to care for it, the folks at the University of Nevada Cooperative Extension Master Gardener Orchard in North Las Vegas would be only happy to help.
At the 19-year-old orchard – which, at 4600 Horse Drive, is about 100 yards east of the intersection of Horse and Decatur Boulevard – extension staff and Master Gardeners experiment with various types of trees and other plants to determine which are best suited to the valley's soils and climate.
The emphasis there has long been on food-producing plants, and orchard manager Jon Chodacki has seen the public's interest in that category grow during the past few years as valley residents have struggled with the effects of the lingering recession.
Chodacki pointed out that it can take three to five years for the average home gardener to figure out the best varieties to plant. At the orchard, Chodacki and "55 really dedicated volunteers" iron out a lot of that trial and error to help get things moving more quickly.
As in 47 varieties of wine and Champagne grapes, 22 varieties of table grapes, six varieties of persimmons, seven varieties of almonds, plus pluots, pears, apples, Asian pears, quinces, tomatoes, corn, watermelon, squash, garlic, basil, eggplant and hops. (Yes, as in beer hops. But more on those later.)
"My biggest thing is getting as many of them in the ground as possible and letting them grow," Chodacki said. "There's so many varieties of eggplant, you wouldn't believe it."
Residents can order trees through the orchard, and many do.
"In the fall, they start coming out of the woodwork," he said. "Most people want to produce something they can eat."
In some cases, that may not be possible. Chodacki said he isn't able to grow cherries at the orchard because warm winds sweeping across the undeveloped areas to the north dry out the flowers before they can be pollinated. And citrus trees die back every year.
"Citrus, north of the 215, ain't gonna work," he said.
On the other hand, he knows a man who lives in Henderson who has no problem producing cherries, in large part because of the microclimate produced by his neighbors' swimming pools. And other local gardeners, he said, have grown citrus successfully.
The free advice from Chodacki and the volunteers can help residents figure out what will grow in their own yards. Typical questions, he said, are, "What are you willing to do? Where are you at?"
And on still another hand, some things don't require much effort.
"Pomegranates and figs love this valley," Chodacki said. "Onions grow phenomenally, and lettuce in the winter."
Cherry tomatoes, he said, are perhaps the easiest food to grow in the valley.
"Put 'em in a pot, keep 'em out of the sun all day long and they'll grow."
Pomegranates make great hedges, Chodacki noted. And if you don't pick the fruit, the birds will eat the interior and leave the outer husks, whose deep-red color makes them a suitable Christmastime accent, he added.
"Artichokes are great front-yard plants, although they die off in the summer," he said.
The orchard has a model backyard garden, and other displays provide innovative ideas – for instance, an espaliered Asian pear, which would be suitable for one of our ubiquitous backyard walls.
Another extension employee based at the orchard is Doug Taylor, an instructor in the Producer to Chef program. Taylor also runs the pastry programs at Mario Batali and Joe Bastianich's local restaurants Carnevino, B&B Ristorante and Otto.
Taylor said he came to the valley from Northern California in 2006 and wondered where all of the farmers markets were. Then he discovered the extension orchard and "immediately started using all their stuff. It just became this thing that we were doing.
"Extension wanted to have a relationship with chefs," and he signed on with the university in 2008.
"I was really excited because it was another thing to do with food, outside the kitchen," Taylor said.
He started seeking out local farms (within a 150-mile radius, which he said is the general guideline in most metropolitan areas) and trying to put them in contact with local chefs.
"We had no idea what we were doing," he said. "Our goal was just to promote local food."
Their motto: "If you can grow it, we'll buy it." And people did that.
"We couldn't believe what we were finding – the products we were finding."
Which led to more local produce than the chefs could handle, so Taylor founded a farmers market, originally on Dean Martin Drive and catering primarily to chefs, that grew into the Bet on the Farm market held at the Springs Preserve every Thursday, along the way becoming one of the founders of the valley's locavore movement.
Today, Taylor said, he knows of at least 30 chefs on the Strip who use locally produced food, and frequently encounters other cases he didn't know about.
"The partnership between the restaurants and extension has been vital," he said. "We're buying it because it's great product, but it's also great that it's local."
During the past few years, he said, he's seen some local growers expand their operations and new operations come into being.
"They're doing the best they can to keep up with the growing demand," Taylor said. "If you're going to plant something, there is a market for it."
Chodacki said he recently lost four Master Gardeners who quit volunteering to start farms of their own.
Taylor said he has planted almond and fig trees in his own yard, and has watched food-plant production increase among his neighbors.
"This is what the orchard helps people do – from large producers to victory gardens," Taylor said.
But back to the hops: They're experimenting with them, and Taylor is taking them around to local brewers to gauge interest. Chodacki said brewers can tell him which hops would work best for them, thereby building in a market.
Hops grow nicely, he said, in hedges and on trellises, which make them another option for the home gardener.
"If you want," he said, "you can grow your own beer."
Contact reporter Heidi Knapp Rinella at hrinella@reviewjournal.com
or 702-383-0474.
EAT AND LEARN
The Master Gardener Orchard will have a cactus sale, barbecue and educational programs beginning at 6:30 p.m. Thursday at 4600 Horse Drive. Speakers will include M.L. Robinson, environmental horticulture specialist for University of Nevada Cooperative Extension, talking about tarantulas, and David Charlet, professor of biology and environmental science at the College of Southern Nevada, talking about climate change. There will be a charge for food, but all other activities are free. Call 257-5532 for further details.