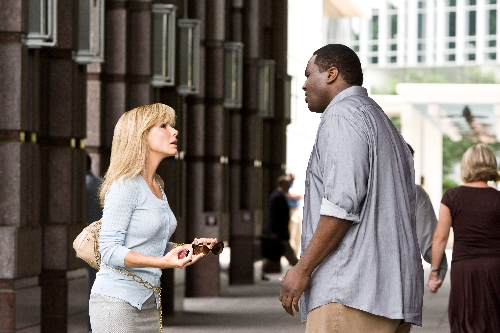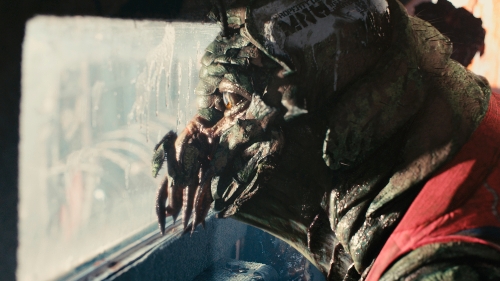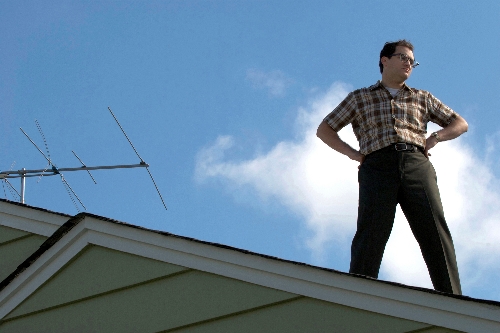 BEST MOTION PICTURE
"Avatar"
3-to-1
The people's choice, the biggest hit in box-office history, has a genuine shot at Oscar's top accolade — but can this visionary sci-fi adventure win without nominations in bellwether acting and screenplay categories? To do so, it'll have to hold off a blistering barrage from the night's other big gun, "The Hurt Locker," which has shots at both.
"The Blind Side"
50-to-1
This fact-based heart-tugger about a future NFL player and his adoptive family is exactly the kind of crowd-pleaser the expanded Best Picture field was designed to honor. But it's up against a host of very heavy hitters, making Sandra Bullock — a favorite in the best actress category — this movie's best chance for Oscar glory.
"DISTRCT 9"
250-TO-1
Genre hits, especially in the popular but critically scorned genres of science fiction and horror, usually don't fare well in the best-picture race. But this sleeper hit takes advantage of the expanded 10-nominee field, edging out "Star Trek" to become designated genre also-ran to a higher-profile example of the form: "Avatar."
"AN EDUCATION"
50-TO-1
This bittersweet, perceptive coming-of-age tale is the kind of small but sparkling gem that usually doesn't get invited to the Oscar-night prom, but this nomination signals across-the-board appreciation for its quiet but undeniable virtues. Just don't expect anything more than this "thanks for playing" nomination.
"THE HURT LOCKER"
3-TO-1
The critics' choice — an explosive, action-packed drama about an Army bomb-defusing squad — has a string of giant-killing triumphs on the awards circuit, besting the mighty "Avatar" at almost every opportunity. That might not be enough for victory, but it makes the battle for the big prize one of the night's few suspenseful races.
"INGLOURIOUS BASTERDS"
10-TO-1
Some folks think Quentin Tarantino's delirious "Dirty Dozen"-meets-"The Good, the Bad and the Ugly" mash-up has a shot at stealing the top Oscar from "Avatar" or "Hurt Locker." Guess again. This track's too fast for QT's jokey World War II romp, which should pay off in the supporting actor race.
"PRECIOUS: BASED ON THE NOVEL 'PUSH' BY SAPPHIRE"
50-TO-1
Another little movie that benefits from Oscar's expanded best picture spotlight. This tale of a down-but-not-out '80s Harlem teen — who finds a way to endure, and change, her unendurable life — won't be able to outpower this category's big guns, but its inclusion here points to a likely best supporting actress win.
"A SERIOUS MAN"
100-TO-1
"Man," what are you doing here? The Coen Brothers' caustic comedy, about a physics professor in '60s Minnesota confronting life's cosmic jokes, is hardly the stuff of Oscar highlight reels. But its presence here indicates unexpectedly widespread support — but not the kind that will lift this into the winner's circle.
"UP"
500-to-1
"Up," up and away! An animated feature makes it to the big dance for the first time since "Beauty and the Beast" did the trick in 1992, but now that animated features have their own their own separate category, don't look for Pixar's whimsical 3-D adventure tale to collect anywhere but there, regardless of its many merits.
"UP IN THE AIR"
10-to-1
Not to be confused with the buoyant "Up," this sardonic account of a cynical corporate high-flier brought down to earth looked like it might take off and soar, but it couldn't maintain its momentum as "Avatar" and "Hurt Locker" headed into the home stretch. It's still got a shot (a fair one) at an Oscar for best screenplay adaptation, though.
BEST ACTOR
Jeff Bridges IN "CRazy Heart"
1-to-2
It's the perfect Oscar-bait role (a boozy, on-the-skids country singer), played by the perfect nominee, a five-time contender who, as a second-generation Hollywood kid, has grown up before our very eyes. Maybe it's not Bridges' best-ever performance (here's looking at you, Dude), but when it comes to Bridges' at-long-last Oscar, it'll do.
george clooney in "Up in the air"
100-to-1
Hey, nobody's going to beat Bridges in this category — not even Clooney, whose smoothly rueful performance in a best picture nominee captured a (very) few awards on the pre-Oscar circuit. Besides, he already has one Academy Award (for "Syriana," remember?), so George will have to complete his matched set some other year.
colin Firth in "A Single Man"
50-to-1
In any other year, Firth would be a top contender for his restrained, deeply moving performance as a grief-stricken professor trying to decide whether to carry on following the death of his longtime lover. This year, however, Firth will just have to console himself with the British Academy Award he recently won.
Morgan Freeman in "Invictus"
200-to-1
This nomination reminds us that Oscar voters love real-life characters — especially when they're as inspirational as Nelson Mandela, as played by Morgan Freeman. But Freeman's another previous winner (for another Clint Eastwood-directed drama, "Million Dollar Baby") and will have to wait for another shot at a second Academy Award.
Jeremy Renner in "The Hurt Locker"
50-to-1
Most years, Renner's portrayal of a death-defying, adrenaline-junkie Army bomb-defusion expert would have a definite shot, considering he's the centerpiece of the best picture (co-)favorite. But up against this year's Jeff Bridges juggernaut, Renner's Oscar chances are as iffy as his character's continued survival in Iraq.
BEST ACTRESS
SANDRA BULLOCK IN "THE BLIND SIDE"
3-TO-1
Welcome to the night's other major pick-'em category. Bullock's portrayal of a sassy Southern force of nature has several factors in her favor, from her role's biographical nature to her popularity as both producer and down-to-earth star. Besides, this may be her only shot at an Oscar — and it's for a performance in a best picture nominee.
HELEN MIRREN IN "THE LAST STATION"
75-TO-1
Mirren, predictably, delivers a wonderful performance as the imperious Countess Sofya Tolstoy, but it comes in a low-profile movie with no apparent momentum. Besides, Mirren won a best actress Oscar in 2007 for "The Queen," so her reign as acting royalty continues — with another nice-to-be-nominated showcase.
CAREY MULLIGAN IN "AN EDUCATION"
15-TO-1
Oscar voters love star-is-born breakouts, and Mulligan definitely scores one in "An Education," bringing both sparkle and subtlety to her role as a precocious British teen who graduates, cum laude, from the school of heartbreak. She just won a British Academy Award, but she's unlikely to repeat that feat in Hollywood.
GABOUREY SIDIBE IN "PRECIOUS: BASED ON THE NOVEL 'PUSH' BY SAPPHIRE"
50-TO-1
Another newcomer delivers a standout portrayal, but Sidibe's brave and moving performance as the downtrodden title character in "Precious" seems unlikely to break through this year, given the ferocious competition in this category. Let's hope she'll have future chances to demonstrate her talents.
MERYL STREEP IN "JULIE & JULIA"
3-TO-1
If only "Julie & Julia" had been all Julia Child, all the time, Queen Meryl might have her third Oscar in the bag. She's an automatic nominee, and she also was terrific in "It's Complicated." And she also has two Oscars — but hasn't won since 1983, for "Sophie's Choice." Is it her turn again, at long last, or will Streep have to wait 'til next year as usual?
BEST DIRECTOR
KATHRYN BIGELOW, "THE HURT LOCKER"
3-TO-1
Bigelow's only the fourth woman nominated for a directing Oscar. (The others? Lina Wertmuller for 1975's "Seven Beauties," Jane Campion for 1993's "The Piano," Sofia Coppola for 2003's "Lost in Translation.") With nine total nominations, "Hurt Locker" showcases Bigelow's flair for macho action, setting the stage for a breakthrough.
JAMES CAMERON, "AVATAR"
5-TO-1
The plot thickens: Cameron, Bigelow's ex-husband, already has an Oscar for directing "Titanic," the all-time top box-office earner — until "Avatar" came along. Some think its visionary visuals will be enough to push it, and Cameron, into the top spot — but his Oscar-night fantasy involves a Bigelow win here, while "Avatar" takes best picture.
LEE DANIELS, "PRECIOUS: BASED ON THE NOVEL 'PUSH' BY SAPPHIRE"
100-TO-1
Another Oscar diversity breakthrough: Daniels is only the second black director ever nominated for an Oscar. (The other? Incredibly, not Spike Lee; it's John Singleton, for 1991's "Boyz N the Hood.") But it seems unlikely, despite "Precious' " six nominations, that Daniels would have enough momentum to overcome both Bigelow and Cameron.
JASON REITMAN, "UP IN THE AIR"
15-to-1
He's a Hollywood kid (dad Ivan directed "Ghostbusters") with a three-for-three batting average (his other movies being "Thank You For Smoking" and "Juno"). Yet while Reitman's savvy "Up in the Air" also may have nominations for its acting, screenplay and direction, it doesn't have quite enough lift to land him a victory.
QUENTIN TARANTINO, "INGLOURIOUS BASTERDS"
20-to-1
Lots of people love Tarantino — and lots don't. "Inglorious Basterds" also falls into that love-it-or-hate-it category. Many think Tarantino will win his second screenplay Oscar (his first was for "Pulp Fiction") for "Basterds," so many will probably follow Tarantino's lead and vote for "Hurt Locker's" Bigelow to take home the best director trophy.
BEST SUPPORTING ACTOR
MATT DAMON IN "INVICTUS"
100-to-1
Damon delivered a spot-on South African accent and provided steady support for best actor contender Morgan Freeman as "Invictus' " resident rugby star. Damon also was terrific in "The Informant!" but there was no room for him in the best actor category — and there's no room for him here.
Woody Harrelson in "The Messenger"
5-to-2
"The Messenger," yet another sobering drama about what war (and its aftermath) does to warriors, hardly set the box office on fire. Yet that didn't stop the Academy's actors' branch from recognizing Harrelson's gritty bravado as an Army lifer on next-of-kin notification detail; in this competition, the nomination's a victory in and of itself.
CHRISTOPHER PLUMMER IN "THE LAST STATION"
25-to-1
Another "little-movie-big-performance," Plummer's marvelously expansive portrayal of novelist Leo Tolstoy provided a timely reminder of his gifts (as did his title-role turn in "The Imaginarium of Dr. Parnassus"). In this competition, however, a respected performer delivering the goods in a little-seen indie isn't much competition.
STANLEY TUCCI IN "THE LOVELY BONES"
100-to-1
Tucci's twitchy embodiment of a tormented serial killer was only one standout supporting turn; he was equally persuasive as Julia Child's adoring husband in "Julie & Julia." But he has the only "Lovely Bones" nomination — and movies with only one nomination almost never have enough momentum to carry the day.
Christoph Waltz in "Inglourious Basterds"
3-to-2
Waltz has collected almost every award on the pre-Oscar circuit (except for Woody Harrelson's National Board of Review win) as "Inglourious Basterds' " smilingly relentless, irresistibly smug Nazi officer. Even those who don't like the movie agree he's the best thing about it, making this "Basterds' " surest shot at Oscar gold.
BEST SUPPORTING ACTRESS
Penelope Cruz in "Nine"
100-to-1
Cruz displayed her exotic, erotic allure, crack comic timing and song-and-dance talents in "Nine," but the movie bombed. Besides, lest we forget, the marvelous Ms. Cruz won this category last year with her wild-'n'-crazy work in Woody Allen's "Vicky Cristina Barcelona," so don't look for her to repeat.
Vera Farmiga in "Up in the Air"
50-to-1
For some reason, Anna Kendrick's collected most of the applause (and a few awards) for "Up in the Air," but it's nice to know Oscar voters didn't overlook Farmiga's scintillating turn as "Up in the Air's" other sleek high-flier. But two nominees from the same movie almost always cancel each other out.
Maggie Gyllenhaal in "Crazy Heart"
75-to-1
The fact that Gyllenhall is in the running for her solid "Crazy Heart" work as the good-hearted woman opposite bound-for-victory Jeff Bridges' good-timin' man tells you how much her fellow actors like her — just not enough for Gyllenhaal to break through against her higher-profile fellow nominees.
Anna Kendrick in "Up in the Air"
40-to-1
As "Up in the Air's" upstart corporate whiz kid, Kendrick earned a few accolades on the pre-Oscars awards circuit and gave notice that her scene stealing isn't confined to the "Twilight" saga. But "Up in the Air's" lost altitude on its Oscar run, so Kendrick and co-star Vera Farmiga may split whatever votes the movie can muster in this category.
Mo'Nique in "Precious: Based on the Novel 'Push' by Sapphire"
1-to-2
Stand-up comic Mo'Nique's caught some pre-Oscar heat for her refusal to campaign, but she probably doesn't need to. Not with her powerhouse performance as "Precious' " monstrous mother — capped by a climactic monologue in which she explains her monstrousness. Precisely the kind of acting fireworks Oscar voters can't resist.
Contact reporter Carol Cling at ccling@reviewjournal.com or 702-383-0272 .
If I had my way …
Las Vegas Review-Journal movie critic Carol Cling picks her favorites:
Best Picture: "The Hurt Locker"
Best Actor: Jeff Bridges, "Crazy Heart"
Best Actress: Carey Mulligan, "An Education"
Best Supporting Actor: Woody Harrelson, "The Messenger"
Best Supporting Actress: Vera Farmiga, "Up in the Air"
Best Director: Kathryn Bigelow, "The Hurt Locker"
Editor's note: Thanks to Review-Journal sports editor (and resident math whiz) Joe Hawk for helping set these odds.