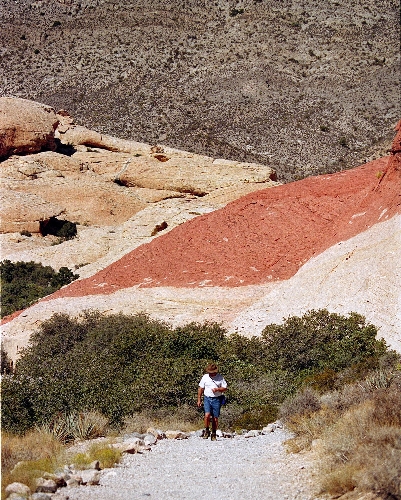 HIKES
Red Rock Canyon: On Monday, discuss the geology, plants and animals encountered on a moderate, two-mile night hike on the Calico Hills Trail; for ages 10 and older. On Wednesday, bring along water, a snack and your sketch book on an easy, 1½-mile hike at Lost Creek that will include a 30-minute break to draw pictures; for ages 12 and older. Also on Wednesday, learn about the world of bats during an evening excursion at Red Rock; for ages 15 and older.
For more information or to sign up for hikes, call (702) 515-5367.
Around the Bend Friends: This group of people 50 and older who are involved in hiking and related social activities plans several hikes each week of various difficulty levels, including an easy-to-moderate social hike on Saturdays. To learn more about the group and the hikes that are offered, call (702) 228-0773 or visit the club's website, www.aroundthebendfriends.com.
OTHER PROGRAMS
Red Rock Canyon: On Monday, view types of arachnids, reptiles, birds and mammals found in Red Rock in a tabletop exhibit from 11 a.m. to 12:30 p.m. at the visitor center. On Tuesday, create a masterpiece in an art class for ages 15 and older. On Thursday, learn about the animals that live in Red Rock in a tabletop presentation from 10 a.m. to 2 p.m. at the visitor center. On Friday, help clean up trash along a trail. On Saturday, meet Mascot Max, a representation of Mojave Max, and learn about Nevada's state reptile, the desert tortoise, from 11 a.m. to 1 p.m. Also on Saturday, bring your kids to story time at 11 and 11:30 a.m.
For more information, call (702) 515-5367.
Archaeo-Nevada Society, along with the Bureau of Land Management, seeks volunteers to help with Red Rock Canyon conservation projects. Visit www.archaeonevada.org.
Rifle shooting class: The Nevada Department of Wildlife will host a free class on basic rifle shooting from 8 to 11 a.m. Sept. 22 at the Clark County Shooting Complex's Education Center. The class will address firearm safety, range etiquette and techniques for loading and shooting a .22 caliber rifle. Participants will practice shooting targets. Reservations are required and will be accepted beginning at 9 a.m. Wednesday. Call (702) 486-5127, extension 3850.