Pahrump couple's Coffinwood part of family business
October 28, 2013 - 9:25 am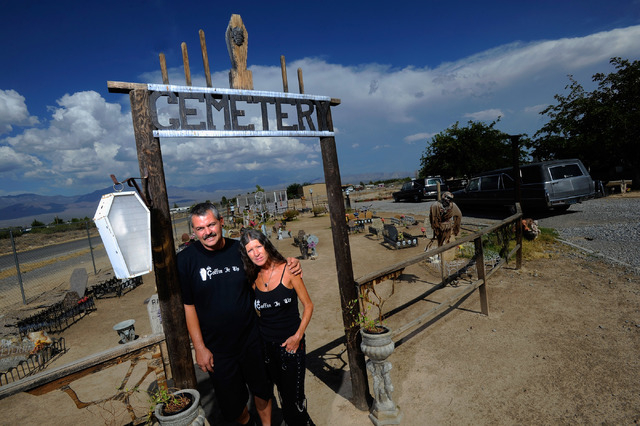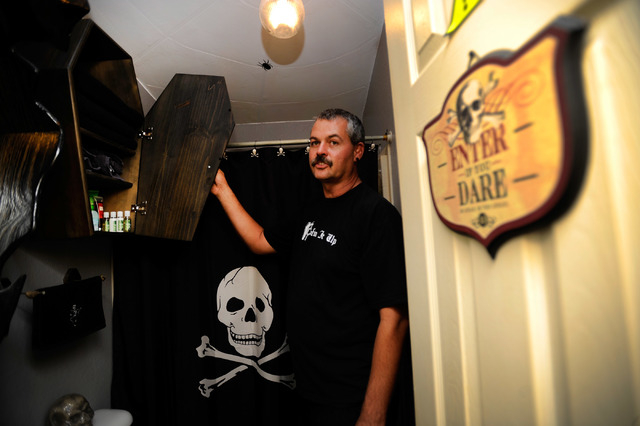 About 60 miles west of Las Vegas, the town of Pahrump is home to one of the creepiest, yet most unique family businesses in the region. Equipped with coffin-shaped architecture, a collection of 11 restored classic hearses and two cemeteries built in the front yard, the home dubbed "Coffinwood" attracts anyone passing by.
Coffinwood is home to Bryan Schoening and his wife, Dusty, and is the headquarters of Coffin It Up, where Bryan builds and designs custom coffins.
"One of the reasons why I went into coffin-making is that I got a firsthand taste on how the funeral industry actually works and the 'car salesmanship' that comes with it," Bryan said.
Bryan's admiration for coffins came from two quite different life-changing incidents: The first was a fatal traffic accident, the second was his daughter's Halloween request.
In 1997 after leaving a family reunion, a drunken driver crashed into the car of Bryan's parents, killing his mother, father and dog. It was then that Bryan experienced firsthand how the funeral industry works.
"It was horrific enough losing his parents in such a tragic way and then to go through all of that and just feel guilted into (buying something expensive) was horrible," Dusty said.
Although the seed for Coffin It Up was planted after that tragic experience, it fully bloomed in 2000, when his daughter Destiny and her best friend Sarah asked Bryan to make them a coffin for a Halloween prank.
"I thought I could build them a coffin in one day," Bryan said. "Four days later I am still figuring out how to do the angles. I became addicted to that challenge."
The difference between a coffin and a casket is that a coffin, simply put, resembles a human being with six or eight sides, whereas a casket is a rectangular-shaped box.
Bryan specializes in making coffin-shaped coolers, jewelry, furniture and purses, but claims he can pretty much make anything out of the shape of a coffin. Actual coffins start at $1,000 and can take anywhere between one week to three months to complete, depending on the intricacy of it.
"America is the only place that really uses caskets. It takes a little more of a human touch to make coffins," Bryan said.
Dusty said that they have customers from all over the world that have ranged from lawyers to forensic coroners and casino managers.
"Many (clients order coffins) for religious reasons, or because they came here from another country, and they want something traditional to the burials from their homeland," Dusty said.
Outside in the front yard are two cemeteries. One honors memories of the dead, such as the ex-planet Pluto and singer Rozz Williams of the band Christian Death. It also has a few headstones donated by fans and locals who want to pay respects to their loved ones now gone.
"There aren't any people buried here," Dusty said. "Just memories."
The other cemetery is a pet cemetery that has approximately 20 animals buried there. There is even a special headstone dedicated to Stoney the Elephant, a Las Vegas performing elephant that died from abuse in the entertainment industry.
The couple's love of animals is actually how they came together. They met at a protest in Los Angeles over the use of elephants in circus performances.
"Right after that we went to see Rozz Williams. Bryan's opening line was, 'Do you have a cigarette?' I fell in love with him over that line," Dusty said.
Among other interesting features outside their house is a coffin-shaped greenhouse that is protected 24/7 by a skull head named Bruce.
There is even a coffin-shaped gazebo where Bryan and Dusty perform weddings through their nondenominational and legitimate church, the Church of the Coffin.
Originally they wanted to be able to officiate funerals, not weddings. But when people started asking the couple to marry them, Bryan became an ordained minister and formed a legal church in order to marry more than one couple a year.
"We had to jump through so many hoops because of the name. People thought we were a death cult," Dusty said. "There are no skeletons in the closet. They are all out in the open (literally)."
"Our mission statement is that we're all the same in the eyes of the coffin. There have been a lot of people that have been excommunicated from their faith. We have Mormons who have gotten divorced and can't get married by the temple. We'll perform the weddings," Bryan added.
Among other projects that Bryan has worked on have been building a coffin-themed kitchen in Las Vegas and a car turned into a drivable cave for people in Pahrump.
Bryan works in the garage at the back of their house accompanied by ghoulish music and hanging skeletons.
For people that are fascinated by their horror-themed house, the couple welcomes tours to anyone who calls or emails them ahead of time. Tours are done by donations, but average $10 a person, according to Dusty.
Although the Schoenings surround themselves with everything eerie and morbid, they have a great appetite for life. Dusty enjoys gardening and the couple takes in rescue pets, which have included cats, a tortoise, turtle, fish and an iguana.
"Coffins are a reminder that that's the end result. That's where we are all going to end up, so you might as well appreciate everything you have right now. Be happy and be thankful," Dusty said. "It's all about life for us."
For more information, visit coffinitup.com.
Contact Sandy Lopez at slopez@viewnews.com or 702-383-4686.