Parkour gym in North Las Vegas takes fitness to new heights
September 16, 2016 - 2:02 am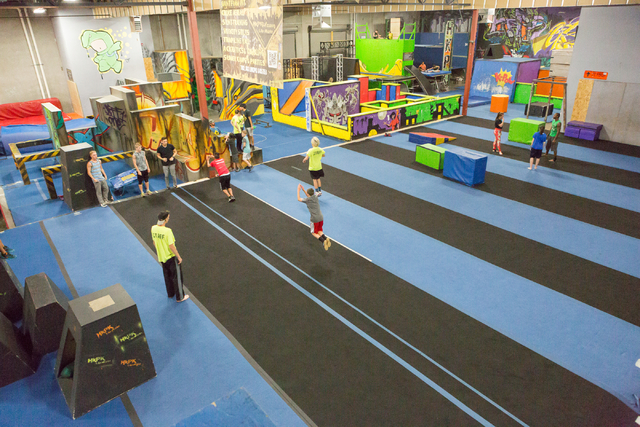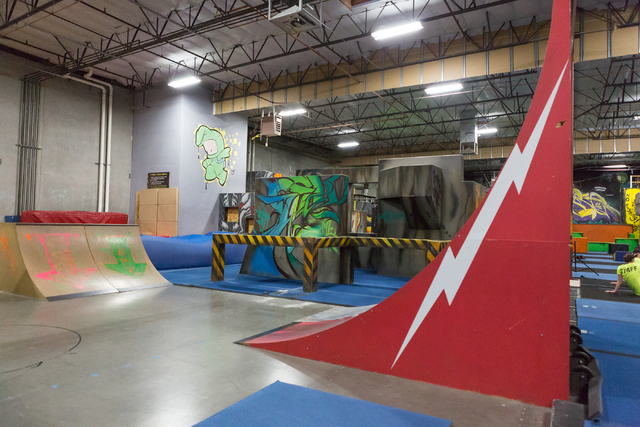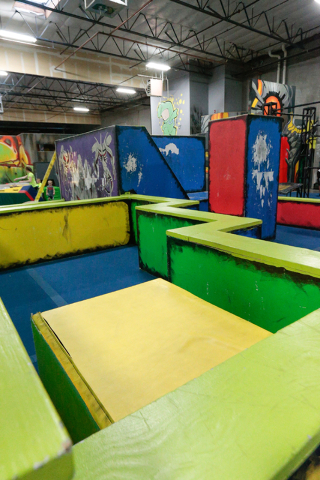 On any given day, there might be Cirque du Soleil performers practicing, actors on stilts doing tricks or people working on their auditions for the NBC TV show "American Ninja Warrior."
However, HKPK Parkour, 3680 N. 5th St., Suite 130, isn't solely for performance artists. It caters to anyone wanting to learn the art of parkour — a sport where people aim to get from place to place in a complex environment.
"Our mission statement is to inspire and motivate everyone to overcome life's obstacles," said gym owner Jeff Jay. "The thing about this place is that we challenge kids and people in general to be tenacious. If there's an obstacle — and let's face it, life gives us plenty of obstacles — we want them to get past it and succeed."
Jay, 55, is the mastermind behind the approximately 20,000-square-foot warehouse. A former professional gymnast and Air Force member, Jay also was an actor, stuntman and stunt coordinator. He has worked on such films as "Con Air," "Lethal Weapon 4," "Vampirella" and "Mars Attacks!"
Inside HKPK — which stands for Hardkore Parkour — Las Vegas, it's not a traditional gym. It looks more like a movie set where local artist Juan Muniz has covered the walls with his street art.
It's not just about jumping over pillars, climbing walls or jumping across rooftops. The sport is all about showing what the human body and mind is capable of, according to Jay. He said it ultimately teaches people to view their surroundings as a playground.
"Parkour is about the freedom of expression," he said. "What the human body can do sometimes blows me away."
Although this is more of an individual sport, people are taught in groups divided by age. Jay said everyone is welcome to join. He's had students who are autistic, have attention deficit-hyperactive disorder (ADHD) or who were coming out of an addiction.
"This is a super creative sport," said instructor Angela Lay, 29. "When I started we didn't have facilities like this. This place helps kids push themselves inside a safe environment."
HKPK Las Vegas offers four different levels of parkour as well as other classes, including a trampwall class; a tricking class, a form of acrobatics where practitioners focus on linking together chains or acrobatic kicks, flips and twists; a tumbling class; and an aerial silks class taught by a Cirque du Soleil Beatles "Love" performer.
There is also a Little Ninja Class for 3- to 5-year-olds to learn how to follow an obstacle course, and a self-defense class taught by a former French Navy Seal, North American Grappling Association fighter and action actor.
"We've been coming here for a few months now and we love that our boys are able to release their energy here while having fun," said Gina Staten, the mother of two participants, ages 10 and 11. "Parkour classes are always the highlight of their week."
"They're able to push themselves and gain confidence," added Dustin, the father. "It's really helped build their self-image."
Jay also creates designs used extensively in several Cirque shows, including "Mystere," "Love," "Zumanity" and "Varekai." Additionally, he has patents with the U.S. military for his inventions, one of which is Velocity Jumping Stilts, a form of super stilts that allows users to jump at great heights.
In between managing HKPK Las Vegas and running his company, Stiltwerks Inc, Jay is also in the running as the creative director for the 2020 Summer Olympics in Japan. He opened the gym in 2012 and said there have been many times when he thought about closing the business.
But he kept it open because he said he's seen it inspire so many people to build confidence through fitness and a positive environment.
"Even if I don't make enough money to keep this place open, I'll pay for it out of my own pocket because it's worth it for these kids," he said.
Call 702-637-4575 or visit hkpklv.com.
To reach North View reporter Sandy Lopez, email slopez@viewnews.com or call 702-383-4686. Find her on Twitter: @JournalismSandy.
HKPK Parkour
Address: 3680 N. 5th St., Suite 130
Information: Call 702-637-4575 or visit hkpklv.com.