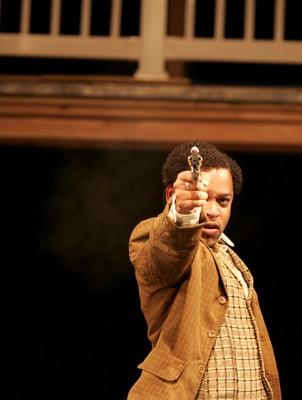 While the Super Summer Theatre lineup is noted for its family friendly musical theater fare, it gets a little shaking up with Stage Door Production's version of "Ragtime," which kicks off the Super Summer season Wednesday at Spring Mountain Ranch State Park.
Based on E.L. Doctorow's classic novel set in turn-of-the-century America, "Ragtime" contains three intersecting stories: Coalhouse Walker, a Harlem musician, faces racism and goes to extremes to get justice for himself and his lover Sarah; a white family in New Rochelle, N.Y., encounters the fast-changing times; and a Latvian Jewish man, Tateh, whose skill making silhouettes puts him in the movie business.
Mix in some historical figures — Emma Goldman, Henry Ford, Houdini and Stanford White — and the result is a dark musical.
But, says director Terrence Williams, "It's an extremely beautiful story by the time you get to the end. Everything comes around full circle. It's a dark story with a happy ending."
This version retains most of the original show's language.
"The racial slurs are still in the show," Williams says. "They're necessary to the story, but we cleaned up the language a bit. The changes we made are very minor."
With a book by Terrence McNally, lyrics by Lynn Ahrens and music by Stephen Flaherty, "Ragtime" stars Keith Dotson as Coalhouse Walker, Kimmie Kidd as Sarah, Dryden Brown as Edgar, Brandalee Bluth as Mother and Rishi Shukla as Tateh.
They're just a part of a cast of 32 that sometimes has to take on double duty to fill out all the roles.
The show's 96 period costumes were created by Ann Carnaby, Steve Paladie designed the set and Dave Sauers designed the lighting.
Musical director Dan Bernbach, who also performs in the show, is using a technique called sampled orchestration in which a 37-piece live orchestra, digitally sampled, is put through the speakers with a "live" sound. Using that technology, the music can be made to follow the cast, unlike a standard pre-recorded soundtrack that requires the actors to rigidly follow the music. A keyboard player and percussionist are used.
"This gives the performers a lot of flexibility," Williams says.
"Ragtime" runs Wednesday through Saturday and June 20-23 and 27-30.
Performances begin at 8 p.m. The gates open at 6 p.m.
Tickets are $10 in advance and are available at the UNLV box office (895-2787), at www.unlvtickets.com, and the Prestige Travel at Rampart and Lake Mead.
Tickets at the gate are $15. Children 5 and younger are admitted free.
A concession stand will provide refreshments but picnics are allowed. Because there is only lawn seating, it's a good idea to bring a blanket or standard sized chair. Chairs also are available for rental. Nights at the park can be cool, so a sweater is recommended.
Chaise lounges, banana chairs, low chairs and pets are not allowed.
Other productions in Super Summer's 32nd season are "110 in the Shade" by Greenhouse Theatrical Group, running July 11-14, 18-21 and 25-28.
PS Productions' "Jesus Christ Superstar" will be presented Aug. 8-11, 15-18 and 22-25, followed by Stage Door Production's "Johnny Guitar" Sept. 13-15 and 20-22. That show starts at 7 p.m.
The Las Vegas Jazz Society closes out the season Sept. 7-8 with jazz shows starting at 7 p.m.
Spring Mountain Ranch State Park is 18 miles west of Las Vegas on Charleston Boulevard.