Pet-friendly splash pads allow dogs to beat the heat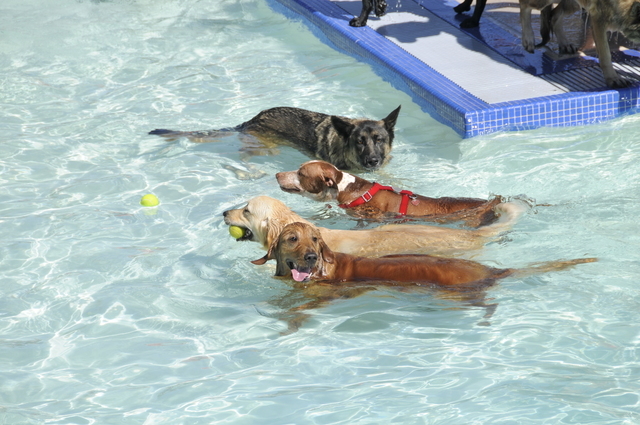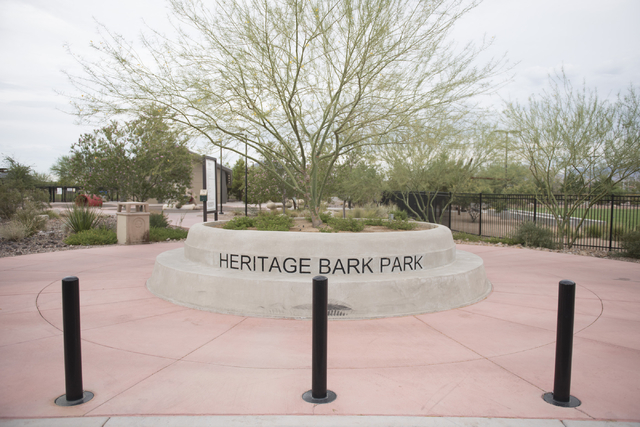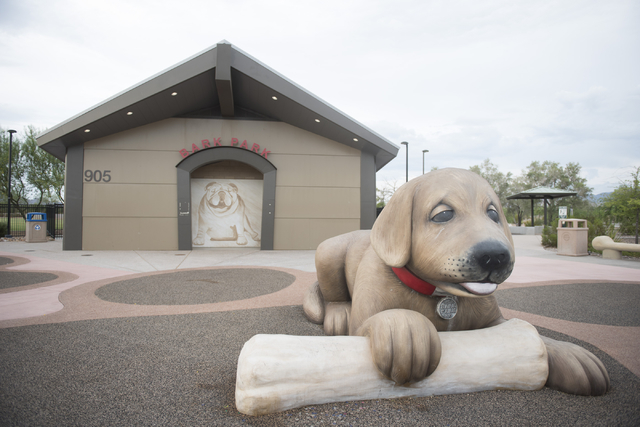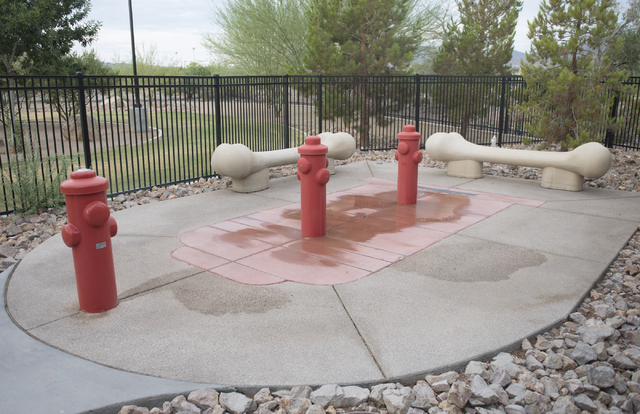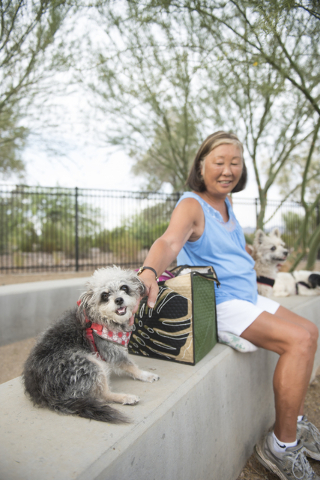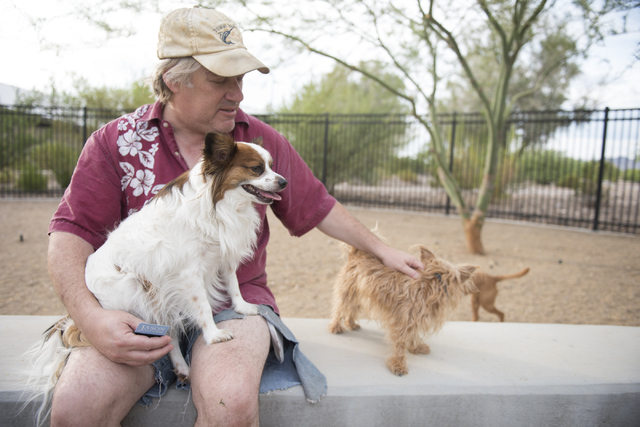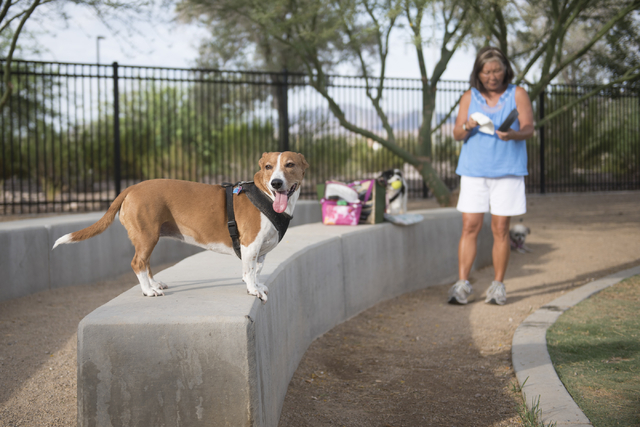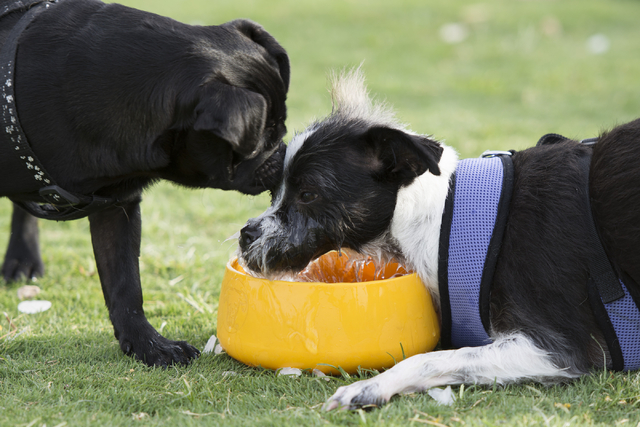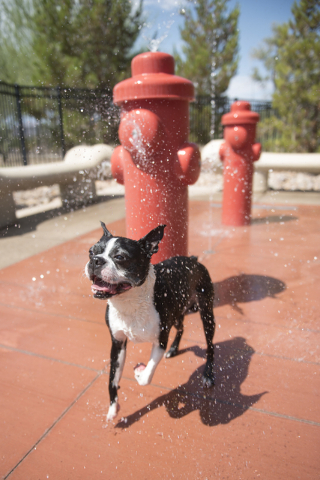 Triple-digit temperatures have blasted Las Vegas residents — and their pets — without mercy.
But there is at least one spot in town that provides dogs with some relief.
Bark Park at Heritage Park, the dog park at 350 Racetrack Road in Henderson, has a pet-friendly water feature allowing dogs to splash around.
"The Heritage dog park has splash pads specifically made for dogs," Henderson spokeswoman Kathy Blaha says. "This isn't for humans."
Other splash pads across the valley are only open to people.
Aside from the park, there are a couple of events where dogs can go swimming.
■ Clark County invites dogs to its 11th annual Dog Daze of Summer from 8 to 11 a.m. Sept. 19 at the Desert Breeze Aquatics Facility, 8275 Spring Mountain Road.
The event is also going to have raffles and prizes for the tallest dog, shortest dog and funniest pet trick.
Dogs less than 50 pounds will be admitted from 8 to 9:15 a.m. while dogs more than 50 pounds, from 9:45 to 11 a.m.
Space is limited to 100 dogs per session. Preregistration starts Aug. 2. The events costs $5, or $10 at the door. Pets must have proof of vaccinations.
■ Henderson hosts its "Doggie Paddle & Play Day" from 8 a.m. to 1:45 p.m. Sept. 12 at the Black Mountain Aquatic Complex, 599 Greenway Road.
"This is a really popular event," says Kim Becker, a Henderson spokeswoman. "People call year-round to find out when the event is."
If owners register ahead, the event costs $10. "It's $15 at the door if we have room," Becker says.
Dogs are separated by weight — 30 pounds or less at 8 a.m.; 31 to 70 pounds at 9:30 and 11 a.m., and 71 pounds or heavier at 12:30 p.m.
"We found that the most popular-size dogs that come are the medium-sized ones," Becker adds. "So we added two swim times for them this year."
The city chose Black Mountain Aquatic Complex because of its zero depth entry. "That way dogs can get in and out of the water easily," Becker notes.
Only dogs are free to swim at this time — but they aren't allowed on the water slides.
After the event, the city drains the pool and disinfects it.
HUMAN OPTIONS
Pets aren't the only ones searching for relief. There are also options for people who want a quick splash in the water without fully submerging.
Along with water parks around the valley, Clark County has 21 parks with splash pads or water devices including Alexander Villas Park, Charlie Frias Park, Duck Creek Park, Exploration Peak Park, Goodsprings Recreation Center, Indian Springs Park, Joe Shoong Park, Maslow Park, Molasky Family Park, Mountain View Park, Paul Meyer Park, Pyramid Canyon Day Use Area, Red Ridge Park, Ridgebrook Park, Ron Lewis Park, Searchlight Town Park, Somerset Hills Park, Spring Valley, Sunset Park, Thomas Dudley Leavitt Sr. Memorial and Winchester Park.
Henderson has 12 splash pads open from 9 a.m. to 8 p.m. until Sept. 30: Acacia Park, Amador Vista Park, Aventura Park, Capriola Park, Esselmont Park, Hayley Hendricks Park, Hidden Falls Park, Madeira Canyon Park, Mission Hills Park, Paseo Vista Park, Reunion Trails Park and Saguaro.
North Las Vegas has four, which includes Nicholas Flores Jr. Park, Centennial Hills Park, Tropical Breeze Park and Aliante Nature Discovery Park.
Town Square Las Vegas also has a splash pad open to children.
Contact reporter Michael Lyle at mlyle@reviewjournal.com or 702-387-5201. Follow @mjlyle on Twitter.
RELATED
Park offers dog day care, boarding and more
Veterinarians warn that pets can suffer in desert heat