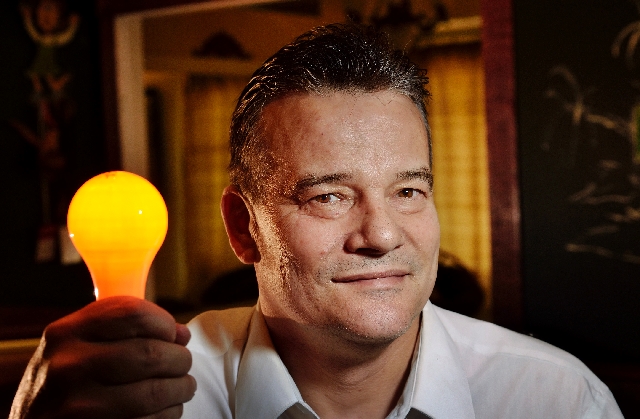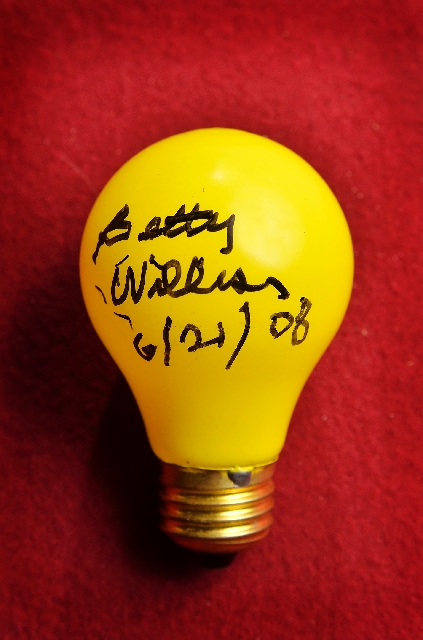 A few years ago, on a day just like any other, Russell Millar was driving along Las Vegas Boulevard when he had a million-dollar idea.
The Las Vegas native has a penchant for big ideas; in 1990, he even filed a patent for a unique tour bus, a precursor to today's party buses with full bars and big-screen televisions. That idea went nowhere, unfortunately.
But this idea he had in 2007, this was the big one. It was the kind of idea that makes poor men rich, that allows hard-working waiters, like him, to hang up their aprons for good and take on the role of Vegas entrepreneur.
Millar had what psychologists call a light-bulb moment. And it was a moment about light bulbs.
What if, Millar wondered, he took the old light bulbs from the "Welcome to Fabulous Las Vegas" sign and sold them as souvenirs?
Now, you may be kicking yourself for not thinking of this first. It's a good idea, right?
"I think it's great that he has these bulbs. I couldn't believe that these weren't sold anywhere else," says Derek Stonebarger, founder and director of the local Vegas Indie Film Fest!
Stonebarger stumbled across Millar's light bulbs four years ago, when he was trying to come up with a trophy to award winners in VIFF! He saw the "official Las Vegas sign bulbs" and had his own light-bulb moment.
Since the festival's beginnings, Stonebarger has used Millar's bulbs as the Golden Bulbs. It's perfect, he says, because filmmakers use a lot of lights when making a movie. And what says "Las Vegas" more than a piece of the iconic Las Vegas sign?
That's why Millar, 49, thought his bulbs would be so appealing to the rest of the world. Through a deal with Yesco, the company that owns the famous sign, Millar takes the discarded bulbs from the sign, the ones that run around the edges, mounts them in an attractive box and sells them on his website, officiallasvegaslight. com for about $69. You can even choose bulbs that helped light up the sign on specific dates.
Millar thought they would catch on as a popular souvenir, like the dice clock or a deck of cards. He thought the bulbs would make him a millionaire.
They have not. Though his small business is profitable, he's more like a thousandaire, if that. And he's still punching a time clock.
"That's the story of my life," he says.
Born and raised in Las Vegas, Millar is the youngest of three. He comes from a long line of casino workers; his father was a bartender, his mom a cocktail waitress. His sister is a cocktail waitress at a Strip casino. For 27 years, Millar has worked in food service for a local casino company, too.
Everyone else in the family is fine with the daily grind, says Millar's oldest sister, Colby Miranda. Her brother, he's a dreamer.
"He has a bit of that entrepreneurial spirit," says Miranda, 55, who loves her brother. "He's always dreaming stuff up. Like, one time, I don't know. It was a bus with theater screens in it? I think he got a patent for that one. There have been a lot of ideas."
Usually, she plays devil's advocate with him, helping him find the holes in any theories. But Miranda was hard-pressed to find fault with the official light bulbs of Las Vegas.
"Before, I could always find the negative in everything," she remembers. "But not this one. I thought this was a great idea. I thought it would be very successful."
Shortly after Millar launched his website, the economy tanked. He thinks this, coupled with a big dose of Internet skepticism, has prevented his business from experiencing phenomenal growth.
At times, people give him a hard time about the price and even the authenticity. Some say they could go to Home Depot and buy the same kind of light bulb for pocket change. Others accuse him of doing just that and passing them off as authentic bulbs.
"People think you're selling them the Brooklyn Bridge," he says.
To address such skepticism, Millar includes a certificate of authenticity that lists the date and time the bulbs were removed from the sign. And he can pull out reams of documents as proof that yes, the bulb you're buying was actually part of the Las Vegas sign.
And no matter what, Millar will keep plugging along.
"I figured there'd be a lot of money to make," he says of his idea. "It didn't explode like I thought it would. But it's growing and taking off."
Contact reporter Sonya Padgett at spadgett@reviewjournal.com
or 702-380-4564. Follow @StripSonya on Twitter.