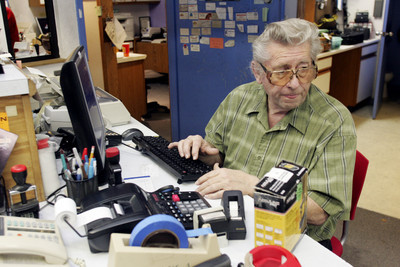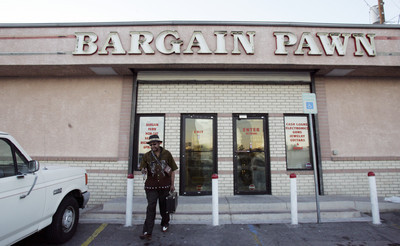 Saxophone screams fill the room. The raw emotion dazzles onlookers.
"This was my grandfather's horn," Gerald Patterson announces after finishing the tune he says he penned himself.
"And this is the first time in my life I've got to let it go."
Patterson is standing at the counter of a pawnshop, about to exchange it for a $150 loan.
"This is all original here — even the case," he tells clerk Jim Izzolo as they examine the 1937 Conn alto sax, part of a series known as "Naked Lady" because of its provocative bow etchings.
Patterson, who moved from Minneapolis in December, says he just bought a car and has no money for insurance. He says he lives on Social Security disability (for degenerative disk disease) and plays another sax at the Fremont Street Experience for spare change.
"It's just not enough right now," the 54-year-old says.
Although the instrument's sentimental value is immeasurable, its cash value is about $2,000, judging by others that have sold in similar condition on the Internet.
"My dad used to play it with Count Basie," Patterson adds. Such claims are meaningless, however, unless documented by a certificate of authenticity that Patterson doesn't hold.
This is only the first of about 60 transactions today at Bargain Pawn at 901 Las Vegas Blvd. North in North Las Vegas.
"Everything here has a story," says Izzolo, who in a few minutes will store the sax on a shelf upstairs, out of public view, where it will sit like a misfit toy.
Patterson has four months to pay his loan back, plus 10 percent interest ($15) each month. If he fails to make at least the interest payments, one more story goes on the wall, right above a $59 pewter duck.
"You'll get it back," Izzolo says.
"I know I will," Patterson replies, trying his hardest to believe his own words as he fits the bills into his wallet.
Bargain Pawn owner George Bramlett estimates that 30 percent of those who pawn an item here will eventually lose it.
"It all depends," the 69-year-old says. "The economy's getting worse. And when that happens, people leave more because they can't afford the interest."
A pawnshop is not for a long-term loan, Bramlett stresses.
"It's for if you need a hundred dollars or you'll bounce a check," he explains. "It'll cost you fifteen dollars for the first thirty days instead of paying a forty-dollar check charge."
About three times a week, someone will come in for an extremely short-term loan — or so they hope.
"When gamblers come in, they're always in a hurry," Bramlett says.
One pawned his Rolex here three times in a single day, Bramlett recalls, "because he kept winning and losing."
The man borrowed $6,000 and had to pay $600 each time he picked it up. By closing, the owner pocketed his watch and Bramlett pocketed $1,800.
"He wasn't very happy about paying that," Bramlett says.
Colby Steil notices that Izzolo is not immediately impressed with his grandfather's sword.
"It's missing a scabbard and the hand guard," the 24-year-old Las Vegan admits. "It needs some restoration."
Steil says his late grandfather, a Marine in World War II, captured it from a Japanese general and kept it in his closet before leaving it to him.
"It's got the inscription on the tang," he notes.
Steil says he had hoped to mount the sword on his wall.
"But it's just not realistic to me anymore," he says, now that he and his wife are between both jobs and homes.
"We're in a bad spot right now," he says. "We have no money and no place to go."
He adds, "And my wife is four months pregnant."
Izzolo fingers the blade.
"It's a little sharp," he says. "Did you have it sharpened?"
Sharpening an antique sword decreases its value.
"No," Steil replies.
Doubt consumes Izzolo's face.
"But someone told me that someone might have sharpened it sometime in the past," Steil adds.
Low talking ensues as Izzolo shows the sword to Bramlett, the final say on how much money to lend for each pawn.
The amount of each loan correlates both to an item's market value and to the demand Bramlett thinks it will generate at his store.
"You can bring in a $6,000 accordion and I might loan you $25," he said earlier. "But if you bring in a $6,000 rifle, I'll loan you $3,000.
"Nobody buys accordions," he explained. "But guns are a real good seller."
Bramlett senses an immediate problem with Steil's story.
"A general's sword would be a lot more ornate," he says.
After a few minutes, Bramlett makes a gut decision. He tells Izzolo to loan Steil $50 or buy it for $100. (Steil agrees to a sale.)
Bramlett entered the pawn business after relocating from Salt Lake City in 1952.
"I'd go around to pawnshops looking for cameras to resell," he says. "And one guy asked me to go to work for him. So I learned the business."
He started Bargain Pawn two blocks away in 1986 and built its current home six years later.
"This business isn't always fun, but it's never boring," he says. "You never know what you're gonna get."
Once, Bramlett says, he bought a diamond ring for $300 and sold it for $10,000.
"I didn't know it was worth that much," he says. "But I knew it was worth more than $300."
Bargain Pawn has a diamond appraiser on staff and employs a gold detection device in the back.
"You rub the item on a stone, then put the acid on the mark," Bramlett explains. "If it disappears, it's not gold."
In the past decade, eBay has proven invaluable as well.
"But the trouble is that people can look the stuff up and know what it's worth, too," Bramlett says, "so you don't get the steals you used to."
The woman in the black coat has returned. She was here last week and, judging from assistant manager Melinda Parshall's expression, nothing valuable is expected to emerge from her plastic Office Max bag.
"How much money are you trying to obtain?" Parshall asks.
"I don't care," replies the woman, who asks that her name not be published. "I just want to get some gas."
Two glass bowls, a cheese grater and a soup spoon clink the counter. All are dirty.
"Unfortunately, this stuff I really can't resell," Melinda says politely.
But the woman has saved her best for last. Like Vanna White turning a letter, she pulls out a personal-sized Mr. Coffee machine.
"Don't tell me you can't do anything with this," she says.
The grinder is caked with residue.
"Because of OSHA regs, we just can't," Melinda says.
The woman's face melts.
"But let me see your watch," Melinda adds.
After the timepiece is inspected, and valid ID flashed, the woman walks to her empty-tanked car with a $10 loan.
"We've had just about anything you can think of come in for pawn," notes assistant manager Glenn Parshall, Melinda's husband, who will never forget the man who placed a bag of white powder on the table.
"He couldn't understand why in the world I wouldn't take his cocaine," Glenn says.
And Melinda can't believe what a double-amputee once asked her.
"He wanted to know if he could pawn his wheelchair," she says.
When Melinda asked what he needed the money for, the man replied, "Just some milk and groceries at 7-Eleven."
Rather than watch him crawl out the door, Melinda says, she handed him $40.
When asked earlier if pawnshops take advantage of the poor, Bramlett replied: "That's bullcrap — especially now. We see Realtors, doctors, executives. Their companies are hurting, so they're in there pawning, too.
"We loan money to people who have a lot more than us."
The front door opens. A man enters beneath the buffalo head. He resembles Metallica singer James Hetfield. What distinguishes him more, however, is his AK-47 semiautomatic assault rifle. He carries it not in a case but at his side, pointing downward, by its pistol grip. Its clip is fully inserted.
This is the type of weapon used last year at a Nebraska shopping mall by a troubled teen who shot and killed eight people before turning the gun on himself.
None of the clerks or patrons hits the floor. In fact, what would in any other retail setting induce a storewide panic does not even warrant a second glance from Izzolo, who looks back down at some paperwork as the man approaches the counter. (Later, Izzolo jokes that he probably would have reacted differently if the rifle had a grenade launcher attached.)
The man, who identifies himself only as John, says he uses the rifle for hunting. When asked what he hunts, John replies, "whatever." Then he pawns it for $100.
"There's never been any trouble here," Melinda says. "People see that we're all armed, which usually deters it."
Izzolo carries an HK45, Melinda a Springfield XD 45.
"That's the gun I felt like today," she says.
This is a rare day when Bramlett didn't bring his.
"I forgot it," he says later. "I was in a hurry."
Just minutes before closing, a familiar face returns. It's grinning, and it belongs to Gerald Patterson.
"I got some good news in the mail," he announces. "A lady friend of mine sent me some money. And it was right on time, too."
He counts the bills then places them on the counter.
"I'll take my baby back," Patterson says.
Izzolo promises to try to get him a break on the interest. He confers with Bramlett in private.
"I'm really sorry," Izzolo says when he returns with the saxophone.
Patterson must pay $20, a full month's interest plus a service charge.
"That's OK," Patterson says. "You guys were there for me when I needed you."
Contact reporter Corey Levitan at clevitan@reviewjournal.com or (702) 383-0456.