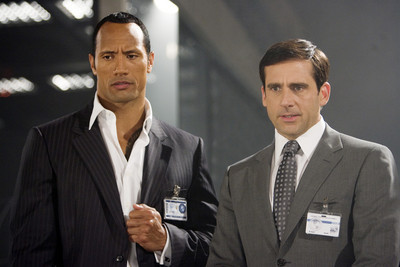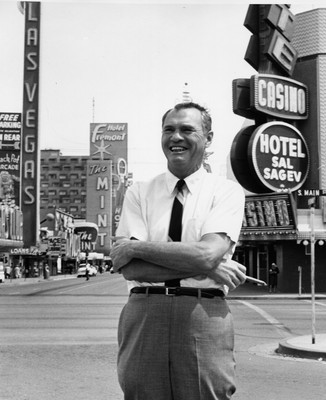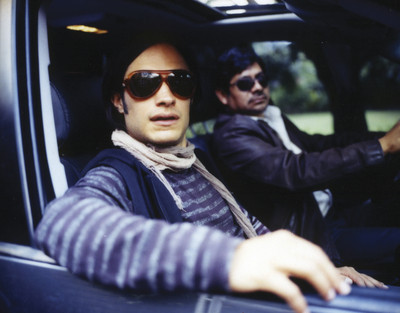 X marks the spot — and the occasion — tonight as the CineVegas film festival begins its 10-day, 10th-anniversary run at the Palms.
Transforming Sin City into CineCity, at venues ranging from the Wynn's Lake of Dreams to downtown's Fremont Street Experience, the festival opens at the Palms with the world premiere of the comedy "The Rocker," featuring "The Office's" Rainn Wilson as a hard-luck '80s drummer who hits the comeback trail — as a member of his nephew's group.
CineVegas' June 21 closing-night feature, "The Great Buck Howard," also focuses on a hard-luck showbiz dreamer: the title magician (played by John Malkovich), who's hoping to stage a comeback with the help of his new assistant (Colin Hanks). Hank's Oscar-winning father, Tom, co-stars in, and produces, "Buck Howard," which debuted in January at the Sundance Film Festival.
In between the opening and closing credits, CineVegas continues its quest to carve an identity as electric, and eclectic, as Las Vegas itself, from nightly parties at Strip hot spots to more than a dozen world premieres.
Including the kind of edgy indies that have put CineVegas on the festival map in recent years.
"The beautiful thing about festivals is they have to carve out their own niche," comments actor Bill Pullman, whose "Your Name Here" premieres at CineVegas Friday. "CineVegas is capable of screening movies that are adventurous — a lot of (festivals) aren't."
In addition to CineVegas' usual focus on American independents, the festival once again explores Mexico's vibrant filmmaking scene in its "La Proxima Ola (The Next Wave)" section.
"Last year we got a lot of positive feedback, but we didn't quite get the crowds out," according to artistic director Trevor Groth. That's why CineVegas officials plan "more outreach" through local Spanish-language media to promote the movies.
Local filmmakers also claim their share of the CineVegas spotlight, with showcases devoted to shorts and features.
And documentaries make a big comeback, with not one but two sections devoted to nonfiction films, including Vegas-related documentaries that explore "Women in Boxes" (about magician's assistants) and the creative genesis of Cirque du Soleil's Beatles-themed "Love" show (in "All Together Now").
In addition, the documentary "Where I Stand" profiles late Las Vegas Sun editor Hank Greenspun, whose son Danny Greenspun and daughter-in-law, CineVegas president Robin Greenspun, own the film festival.
Despite the family ties, "this film is not in the festival for political reasons," Groth maintains. "I would program it even if the Greenspuns had nothing to do with the festival. It's as fascinating a story as I've seen in a long time."
Multiple Las Vegas connections give CineVegas a unique flavor — especially because "Las Vegas is basically a metaphor for the film business," observes director Abel Ferrara ("King of New York") who returns to CineVegas this year with the feature "Go Go Tales" and the U.S. premiere of his documentary "Chelsea on the Rocks," about New York's legendary (or, if you prefer, notorious) Chelsea Hotel.
"Go Go Tales" played last year's Cannes Film Festival, while "Chelsea on the Rocks" had its world premiere there last month.
And at a festival like Cannes, "everyone's a player," Ferrara says. "You win big, you lose big."
In the film festival firmament, CineVegas doesn't quite have Cannes' high-roller cachet.
Yet other attributes set CineVegas apart, says Groth, a longtime Sundance programmer who marks his seventh year at the festival.
Having most events "under one roof" at the Palms "makes it a very unique festival," he says.
At the same time, however, the vast array of Vegas attractions can make it difficult for CineVegas to seize the local spotlight, because "there's so much going on," Groth says. "We're always competing with huge events."
Getting people to come to see movies in Las Vegas presented a challenge, he admits. "But enough people have been to the festival over the years" that "we don't have to fight for attention as much as we used to."
Of course, it helps when you can stage your own unique events. This year, for example, CineVegas hosts Japanese artist Takashi Murakami, who will present an installation of his animated "Planting the Seeds" outdoors June 16 at the Wynn's Lake of Dreams.
"Las Vegas is an amazing city with many different kinds of events, so I'm really looking forward to this occasion," Murakami stated in an e-mail from Japan. He credited his participation to "the strong recommendation of Michael Eisner," the former Disney chief (and former Hollywood superagent), "who represents me."
But Eisner's not the only one with Hollywood connections singing CineVegas' praises.
After CineVegas awarded Hopper its 2003 Marquee Award, the actor and filmmaker has become a one-man festival ambassador, helping to bring high-profile colleagues to CineVegas. (Among the Oscar-winners on the CineVegas honor roll: Nicolas Cage, Anthony Hopkins, Holly Hunter, Helen Mirren, Jack Nicholson and Sean Penn.)
Hopper's "contribution has been immeasurable," Groth acknowledges. "Having him embrace the festival" has "really helped me to figure out the voice of the festival."
And that voice has definitely changed since CineVegas' first turbulent years.
Co-founder Joshua Abbey, who now oversees Las Vegas' annual Jewish film festival, initially envisioned CineVegas as a "best of the fests" event, combining high-profile premieres (including the inaugural "Star Trek: Insurrection") with screenings of award-winners from around the world.
"That was a good idea," acknowledges filmmaker Francisco Menendez, who chairs the film department at the University of Nevada, Las Vegas — and whose feature "Primo" premieres at CineVegas June 19.
But that good idea became "rather uninteresting," Menendez contends, in part because virtually any film festival winner is now readily available on DVD.
"They were really interesting films," Groth says of CineVegas' initial offerings. "But they were a little more … not even conventional, or mainstream, but traditional films" that "weren't loud enough to make a splash in this city that has so much going on."
In addition, turmoil among CineVegas organizers led to Abbey's resignation after the 1998 festival due to "deep philosophical differences with the festival," as he told the Review-Journal at the time.
Festival officials fired Abbey's replacement less than a month before the 1999 festival, which took place at Bally's and the (now closed) Gold Coast and Green Valley multiplexes.
In those days, Menendez recalls, CineVegas had a different, more dignified vibe.
"The old CineVegas was about going to the opera, almost. People would get all dressed up," he notes.
The new, now CineVegas, by contrast, "is really a fun film festival," in Menendez's view. "Now, it's a really hip film festival."
That hipness doesn't necessarily sit well with co-founder Abbey, who contends the festival's "prevailing marketing … appropriates a pretentiousness that makes it appear as if it is trying very hard to be perceived as hip and 'iconoclastic,' " he stated in an e-mail. "This too familiar and artificial posturing makes one wonder why the content of the festival is not the focal point."
Not everyone echoes that assessment, however.
CineVegas "is one of the most pro-active film festivals when it comes to filmmakers," comments Las Vegas-based Jonpaul Lewis, whose short "Jack the Ripper" has played festivals from Naples to Cannes — and plays CineVegas as part of next Tuesday's Nevada Shorts program. (Lewis also edited the annual Hollywood Heart short created by local teens working with industry professionals, which screens at 10 a.m. Sunday.)
CineVegas has "extremely extensive programs," including "parties and networking," that "more filmmakers need to be aware of," says Lewis, who notes that festival contacts have enabled him to meet, and collaborate, with "a caliber of artist I never would have met" otherwise.
Most of all, perhaps, filmmakers need festivals because it's often the only way their movies can find audiences.
"We're at the point of major changes in the way people watch films," says Ferrara, noting that the last movie he brought to CineVegas — 2005's "Mary," won a top prize at the prestigious Venice Film Festival but "was never released in the U.S."
The documentary "Women in Boxes," about magician's assistants — many of whom live in Las Vegas — premieres at CineVegas June 19. And Blaire Baron Larsen hopes a U.S. distributor will see, and like, it enough to give it a life beyond CineVegas.
"The cachet of having that little laurel" signifying an official festival selection "definitely helps," she notes. "It proves that somebody likes it."
Pullman, a veteran actor whose credits range from "Independence Day" to independents, also believes in the power of film festivals.
"I've been around a long time and I have seen how the industry's changed," he says. "It's more of a challenge to get screens."
And, as a result, a film festival's role in "cultivating an audience may be more important than it's ever been."
Contact reporter Carol Cling at ccling@reviewjournal.com or 702-383-0272.
RELATED STORY Festival schedule includes world premieres, documentaries and a salute to Mexico