Proposal goes awry when ring is dropped in ocean — PHOTOS
August 28, 2015 - 1:06 pm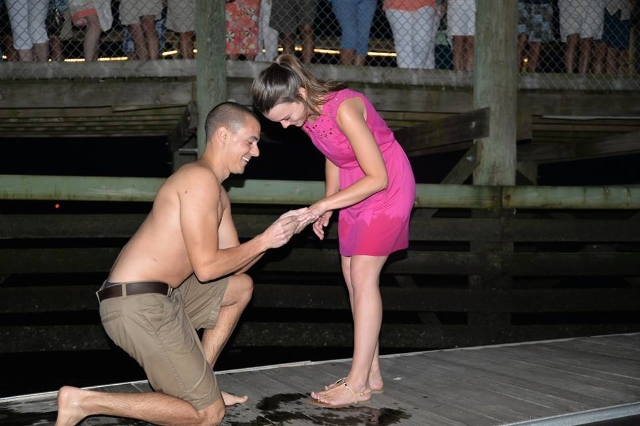 A North Carolina couple is planning to get married after a proposal that took a lot longer than necessary when the ring was accidentally dropped in the ocean by the soon-to-be groom.
Matthew Picca, 25, surprised his girlfriend, 24-year-old Kayla Harrity while on vacation with her family in Southport, N.C., KPHO reported. As he opened the box, Harrity said, the ring fell out and went through a gap in the deck.
"I covered my face and began to cry because I knew my boyfriend was devastated," she said. "Matthew did not even get to say anything to me before the ring fell into the ocean."

Harrity's brother-in-law, boyfriend and sister immediately jumped in the water to look for the ring. Harrity said three men nearby jumped in to help in the search, too. She said her sister tried to use Picca's phone, equipped with a special case, to help search in the water — except his phone was ruined because it doesn't have a special case.
More locals joined in helping the couple, providing goggles and flashlights. About an hour and a half later, a man named Kyle Blusher found the ring.
"Everyone at the bar was cheering. All of a sudden, everyone was chanting 'Propose again! Do it again!'" Harrity said. "It was the best feeling in the world. My fiancé, soaking wet, smelling like salty, fishing water, proceeded to get down on one knee and put the beautiful ring on my finger!"

The couple bought the men who helped a round of shots and plan on getting married next year.
Contact Kristen DeSilva at kdesilva@reviewjournal.com. Find her on Twitter: @kristendesilva