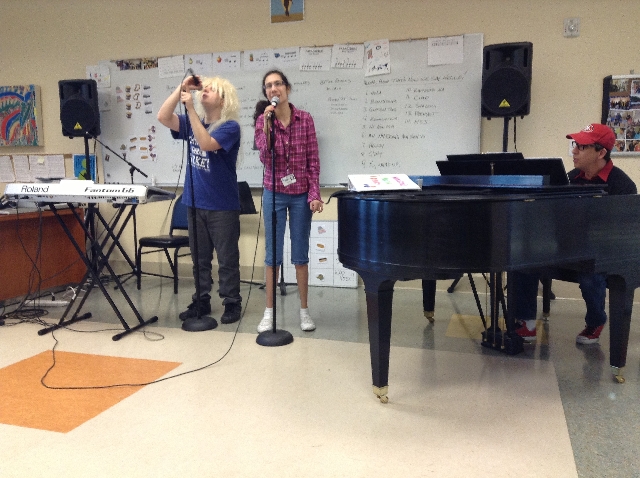 Three visitors represented the total audience in this simple music classroom with its piano, drum kit and microphones.
Typical fluorescent lighting cast a dim glow in the room, but when young Michael Carlo donned his long blond rocker wig and sang "Rock and Roll All Nite," the setting transformed into a 1975 Kiss concert complete with imagined fire and neon.
Michael's near-perfect pitch and sheer joy in the song would have made Paul Stanley and Gene Simmons envious. Following a stunned silence, the audience erupted into cheers and applause.
Leaving the classroom with Michael's drums echoing in the background, the tour continued to a dance class.
University of Nevada, Las Vegas professor Richard Havey led eight dancers and their mirrored images through graceful choreography incorporating contemporary dance, jazz and ballet.
One beautiful dancer, Nikki Lee, captivated the visitors. Lost in the music, secure in her personal movement, she danced in a mental sphere of her own. Lee, who's now 23, has danced since she was a child.
"What I like about dance is that it relaxes me," Lee says as she rejoins her class, sashays across the floor and again relinquishes her body and soul to the freedom of dance.
The dance studio exits to a gallery of contemporary art, where three large paintings are installed. The artist, Steven Sims, brings seemingly effortless balance and poise to the canvas.
The paintings are simultaneously kinetic and fixed, stoic and happy. Sims' work, although clearly cerebral in its origination, remains accessible to even these novices.
Still reeling from the impact of the art, the visitors collide dramatically with a group of theater students practicing monologues, Shakespeare and songs. Led by Kimm Schwert, thespians nervously rehearse for their upcoming show. Four of the students recently performed in the Las Vegas Shakespeare Company's production of "The Wizard of Oz," where they furthered their acting credentials and complemented them with technical and design skills.
Music, dance, theater and art. Is this a performing arts school? Are these artists in residence at the Academy? No. This is Opportunity Village's arts enrichment program.
Opportunity Village, Nevada's largest private, not-for-profit community rehabilitation program, was founded in 1954 to serve people with intellectual disabilities and enhance their lives through training, employment, advocacy, recreation, and now, the arts. The arts enrichment program incorporates visual arts, music, dance and theater, and offers a comprehensive approach to providing individuals with developmental and related disabilities with opportunities to find their creative passions.
Although Opportunity Village is most often associated with the Magical Forest, the arts enrichment program is quickly garnering public attention through its extraordinary performing artists. The OV Elvi include clients of Opportunity Village who impersonate Elvis Presley and perform his greatest hits. In January they celebrated the King's birthday by performing "Blue Suede Shoes" with the Roaring Thunder percussion team and Jesse Garon.
Krysti Gabriel, manager of Opportunity Village's performing arts program, says: "We wanted to provide our clients with an opportunity to grow in the artistic fields of dance, art, theater and music. Our theater curriculum helps clients explore drama and the stage while it provides more independence and personal growth."
The program helps unleash Opportunity Village clients' creative passions. The arts enrichment program, which is almost entirely self-funded, strives to break the stigma of people with intellectual disabilities and the arts. People with disabilities were seldom given an option to perform in high school, but now they can. While the tactical goals of the organization are to provide their clients with long-term work experience and marketable job skills, the goals of the arts enrichment program include personal exploration, artistic development and independence. There are no stipends associated, but the clients can sell their art or obtain compensation for gigs. The rewards of applause, ticket sales and payment for commissioned art serve to increase self-esteem and personal value.
The Gallery at the Opportunity Thrift Store is the home to a permanent art gallery that showcases the client's work. According to Tim Ortiz, the program's art mentor, "These artists have had no training, and I am reluctant to teach technique. These are artists with no inhibitions, no expectations of their results. Making art is a way for clients to teach themselves. As a result, their pieces are engaging, personal, honest and unique. I learn from these artists every day."
There are 71 client-students in the visual art program; 15 are full-time participants. Artists in this program paint the famous Elvis scarves that Opportunity Village clients have been creating since before Elvis' death. The story goes that Elvis would kiss the scarf each night before giving it away, so some of the artists follow that tradition of kissing it before selling. The intricate process involves the use of fabric dyes to paint the stretched materials.
While the art program is visually affecting, the music program touches audiences with its concerts. Michael Carlo, the young drummer who channels Tommy Lee, can hold his own with any rock band. He has been playing the drums and singing for "almost a long time — two years," he says.
When asked about the impact of the music program, Vanessa says, "I am an auditory learner, so listening and speaking is how I learn. With music I have learned to follow dreams.You need to connect with the audience and even if you aren't selected for a show, don't think of it as defeat just keep going. I am lucky because I get to come here and get uplifted."
Smiling, Vanessa looks at the piano player and asks to sing. As her voice fills the room, the lyrics resonate with meaning: "If you're lost and alone — or you're sinking like a stone, carry on — May your past be the sound of your feet upon the ground, carry on."