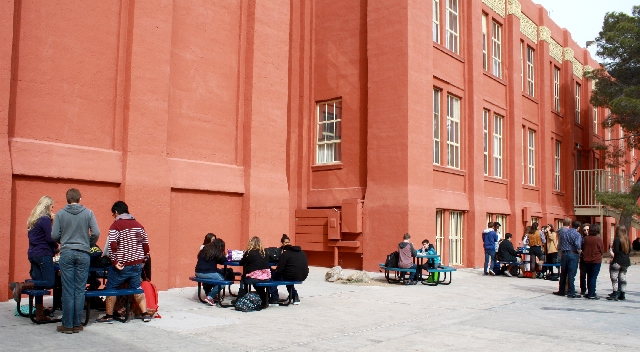 Ever seen the 2012 comedy movie "21 Jump Street"?
If anyone walked down the halls of a high school, they would probably say the same thing Greg Jenko (played by Channing Tatum) and Morton Schmidt (Jonah Hill) say on their first day of school.
"Who are they?"
"They," of course, are the new cliques.
Every high school has them.
They typically go by the most derogatory terms, such as "jocks," referring to the male student-athletes; "preps," referring to the female student-athletes; and, yes, the "druggies" — that one's self-explanatory.
For now, let's call the cliques that have been at high school since the beginning (i.e. "jocks"), permanent cliques.
However, such terms as "emos" and the traditional "hippies" have become "hipsters" and "swaggies."
Let's call them trendy cliques.
Spring Valley senior Tysheena Jackson, 17, says she's part of the "nerdy/sporty" clique, and says the most prominent clique at Spring Valley is the "jock" group.
Jackson says that there's a difference between "jocks" and "sporty" people.
"Jocks carry themselves differently than sports-minded people," Jackson says. "They tend to have more money, they usually all have the same taste in fashion. And sporty people are those who can maintain good grades and play multiple sports."
Spring Valley sophomore Meseret Ambachew, 15, plays soccer and swims for the Grizzlies, but doesn't consider herself a jock.
"Jocks are inconsiderate and the only thing they care about is their sport and not people's feelings," she says.
Spring Valley junior Adam Lawrence, 16, says that contrary to popular belief, Lawrence has noticed that the "jocks" are usually the group that accepts other people into their clique.
"Jocks are more accepting," Lawrence says. "I think that they are because since they work as a team, some may feel as though more things should be team-orientated."
In "21 Jump Street," Tatum's character, Greg Jenko, kept referring to himself as a "cool kid."
In the current high school atmosphere, the "cool kids" are the high school seniors who are very spirited and get good grades, Ambachew says.
She says the "cool kids" tend to be upperclassmen that lead by example of what is supposed to be done to succeed in high school.
"In general, the cool kids are the ones that strive to succeed," Jackson says.
One of the most noticeable groups in high school you see are known as the "ratchets."
"The ratchets are the ones that listen to 2 Chainz music at lunch," Ambachew says amid laughter.
Ambachew says that the "ratchets" are the most known for being very loud and dressing as if they don't respect themselves.
Jackson also says that "ratchets" are anyone who is loud, ignorant and easily offended.
The term "ratchet" is used as an insult.
At lunch, you can tell where the cliques are.
"Hipsters eat outside," Ambachew says. "Inside, depending on where you sit. The freshmen usually sit near the lunch line. But it mostly depends on grades and the activities someone is in."
The "hipster" tends to do things out of the social norm.
According to Ambachew, there are two levels of "hipsters."
"One level is the hipster that is in all groups. The ones that are just opened-minded and cool to talk to," Ambachew says. "The second are the hardcore ones that have their own group and think the regular social norms are stupid."
Overall, the cliques make up the entire student body.
Lawrence says that cliques in high school give students a better sense of the community.
He also notes that the traditional "nerd" doesn't seem to exist anymore in high school hallways.
"It seems like there aren't any nerds anymore," Lawrence says. "They're either mathletes or geeks."
As for Lawrence?
"I'm a rebel," he says, grinning. "Throughout high school I've integrated through so many different cliques. So my group of friends just merged together."