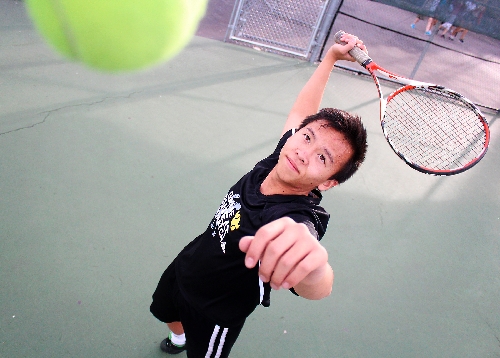 Tennis racket in hand and a worn Dunlop ball wavering in the air, Coronado High School senior Troy Nguyen stands alone at the school's courts on a brisk afternoon.
As Nguyen cocks back his arm and unleashes a ferocious serve, his eyes instantly are directed forward as if anticipating a return. Although this may seem like a routine procedure, this motion perfectly exemplifies Nguyen's life motto – always look forward, never back.
For Nguyen, high school is about becoming as rounded of a person as he can be. And he stays busy. He works as treasurer on the student council, volunteers in the intensive-care unit and emergency room at St. Rose Dominican Hospital in Henderson and is a candidate for valedictorian.
In October, he helped the undefeated Coronado tennis team capture the state championship . The Cougars scored a 10-9 win over Palo Verde in the Division I final at Caughlin Athletic Club in Reno. The team won four of six tiebreakers to secure the crown.
Coronado (15-0) snapped a streak of four straight losses in state championship matches. The Cougars had been in the finals five of the past six years and came away empty.
Nguyen has played on the tennis team since his sophomore year. But the day he walked on the court for tryouts was the first day he'd played in more than four years.
"I was into tennis from ages 5 to 11, but I took a break for a couple of years," he says. "I was rusty for the first couple of days of tryouts, but eventually I remembered how much I loved the game, and I haven't looked back since."
Nguyen remembers the bus ride to Reno and the anxiety that followed as the matches began.
"(State was) superstressful," he says. "We had gone undefeated all season, and we all really wanted to take the title this year. We have fallen short so many times before, especially to Palo. This year we were really hungry to get some rings."
Although down two games to four in the first round, Coronado rallied through the second and third rounds to tie the score at nine. However, the most dramatic event took place 10 minutes before the championship matches began.
"I was stretching on the courts before my match and just as Coach asked us to huddle up, I sprained my ankle on some ice on the court.," Nguyen says. "I couldn't walk on it at all. Frustrated is really the only word to describe how I felt."
Although Nguyen says he wishes he could have played in what would have been the most important match of his career, he was not upset for long, quickly turning his anguish into motivation for his teammates.
"When I realized I couldn't play, I knew I had the responsibility as team captain to keep the team focused and playing their hardest," he says. "We all wanted to win so badly."
With the score tied at nine, a "super" tiebreaker was called. In that scenario, six matches were played to determine the champion. Nguyen describes those anxious moments.
"At one point, the score was three games to two, so we had to win this final match to clinch the win," he says. "When we finally won, I couldn't even rush the court like everyone else. Cassell (King) had to carry me out. I was so excited, I didn't care."
Nguyen talks about the joy and exhaustion the team experienced next.
"After a celebratory dinner at Olive Garden, everybody pretty much crashed at 10 p.m.," he says. "The day took a lot out of us."
With a state championship under his belt as team captain, Nguyen has his sights set on his collegiate future.
"I'd love to go to the University of Texas, Pepperdine University or Yale," says Nguyen, who is planning to study pre-med.
R-Jeneration