R-Jeneration: Faith Lutheran grad says pageants help women pursue personal goals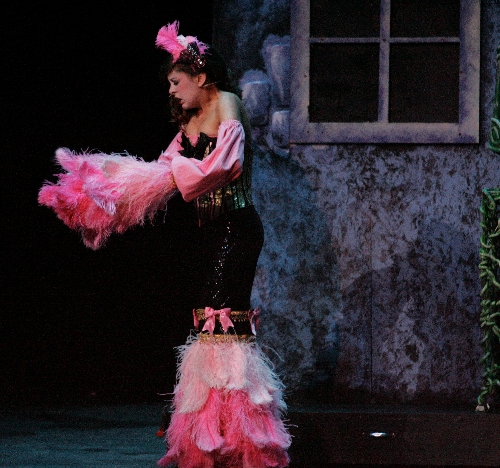 The title, Miss Teen California United States 2011, comes saddled with cliches.
Despite the pink tulle, Swarovski crystals, satin sash and glittering tiara, Gabrielle Boyadjian strives to defy the stereotype of "vacuous pageant queen."
Boyadjian participated in her first pageant at the age of 2.
A coincidental meeting on a plane from Michigan to Nevada set the future in motion when her mother, Sandie Boyadjian, compared baby photos with the mother in the next seat.
The woman was a pageant director who encouraged Sandie Boyadjian to investigate the pageant system.
She did, and before Gabrielle Boyadjian was 3, she was crowned a new queen.
Through the years many titles followed, including Miss Teen Nevada United States in 2010, and most recently, Miss Teen California United States 2011.
Critics of beauty pageants argue that such contests place tremendous pressure on girls and women to meet a culturally biased standard of beauty.
This 18-year-old bristles when questioned about the relevancy of pageants and the notion that they value young women primarily for their physical appearance.
"It upsets me because pageants are not superficial," Boyadjian says. "They're about scholarship and substance. Every contestant must have a community service platform."
The cerebral Boyadjian graduated from Faith Lutheran Junior/Senior High School in 2010 as an honor student and a member of the National Honor Society. Most pageants encourage individual achievement, self-determination and civic responsibility.
Boyadjian's dedication to volunteerism began in middle school and eventually became her personal platform of "Peer Volunteerism" in which she encourages other teens to volunteer.
Accumulating more than 1,150 volunteer hours working primarily with disabled children, Boyadjian received the Gold Presidential Volunteer Award in 2009 and 2010, and recently earned the Violet Richardson Scholarship Award for young women who make a difference in their community.
"Pageants are very intense," Boyadjian says. "They require focus, dedication and preparation. A huge part of how well you do in the pageant involves how you live your life outside the pageant."
Young women who participate in pageants must fund the experience on their own.
They do this through scholarships, sponsorships and fundraising.
It's an expensive hobby.
As Miss Teen California United States, Boyadjian must raise $2,000 to attend the Miss Teen United States Pageant.
"I'm certain that I will reach the goal," Boyadjian says.
Among Boyadjian's talents is musical theater, an interest that emerged when she was quite young.
According to her father, Ed, "Gabbie created her own sets, choreography and staging for home performances."
Already a performer and pageant queen at 6, Boyadjian was cast as a storyteller/dove in Las Vegas community theater troupe Signature Productions' "Children of Eden."
Years later, in June 2007, Boyadjian was selected at an open equity audition in New York to portray the role of Emily for the off-Broadway run of "Ace the Musical."
Away from home for months, Boyadjian lived the life of an actor, sharing rooms with other cast members in apartments and hotels in St. Louis, Cincinnati and San Diego.
While she was touring, Boyadjian completed the schoolwork required for her junior year in high school and to maintain her honors standing.
Notions of glamour and fame quickly gave way to the reality of a Broadway tour.
"We seldom ate at nice restaurants," Boyadjian says. "Actors don't make enough money for extravagance, but the experience was worth it."
The show ran eight times each week, and Boyadjian's effort yielded her an Acclaim Award for Outstanding Juvenile Performance.
As a freshman at Chapman University in California, Boyadjian was accepted into the Bachelor of Fine Arts program that operates much like a conservatory of theater and music.
She remains committed to theater and credits pageants for much of her personal growth.
"My goal is still the same," she says. "I want to become an actress on Broadway and perform in as many shows as I can."
In "Ace the Musical," Emily sings a memorable verse: "And I'm never sure what's going to happen when the room goes dark."
For Gabrielle Boyadjian, this will most likely never be a problem.
R-Jeneration