R-JENERATION: Meadows senior gains valuable perspective as captain of football team
January 13, 2013 - 2:04 am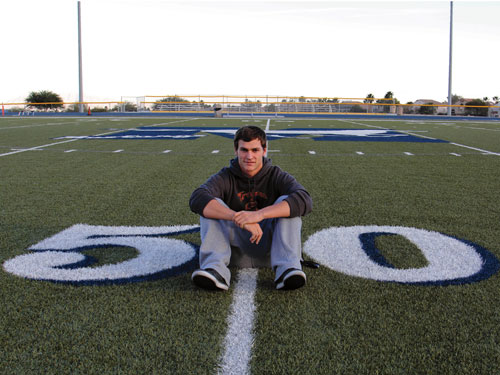 Overcoming challenges to succeed is something to which Chase Marrs is accustomed.
With torn ligaments in both shoulders, one shoulder that still dislocates, ankles that sprain over and over again and a bad core that causes back spasms, it's a good thing Marrs has a thick skull that has managed to ward off concussions.
Marrs, a senior football player at The Meadows School, has played many positions – player, captain, teammate and leader – as a four-year team veteran. Marrs and his family share a love of sports, and they all agree sports are an integral aspect of their lives. Both of Marrs' older stepbrothers, Jordan and Ryan Ebel, played on The Meadows football team . In his freshman year, Marrs shared winning the state championship title in 2009 with Jordan . He said winning that title is undoubtedly one of his favorite memories.
"It was a whirlwind of emotions with a lot of nervousness over starting as cornerback as a freshman," he said.
The Meadows football team has gone through numerous challenges since, including losing nine starting seniors from 2011. The team did not win a game until Oct. 4 against White Pine. Marrs is not accustomed to losing.
"Previously, I was on a team that had many different star players, which spread out the weight of the responsibility to win on many different sets of shoulders. Last year, with nine starting players, we had 18 spots out of 22 spots that were filled with seniors with a lot of experience. This year we have five starting seniors, which means only 10 of the 22 spots were filled with seniors," he said.
Then, factoring in injuries and inexperienced starters, Marrs said he knew he had a tough season ahead of him.
"Initially, I thought it was my responsibility to step up and put the team on my back, but I have come to realize that it is a lot easier to win games when you put your trust in your teammates," he said.
Marrs said he has also come to realize that his role "as a senior and a captain is not to do everything for my teammates, but rather to lead, encourage and release control over them. I realized that I need to trust my teammates to play hard every play. As soon as I gave them that trust, we won our first game, and I don't think that has anything to do with coincidence."
As a senior, Marrs has gotten to know the coaching staff. He won high praise from head coach Frank DeSantis.
"Marrs has impacted the team with his daily presences and understanding the program, and through his actions has been able to lead this new team knowing that nothing is taken for granted in order to win," DeSantis said.
Marrs said coaches Rodney Vollan and Charles Newman, as well as DeSantis, "have pushed me to work harder to improve my character and leadership through actions. Their passion as coaches has given me a better perspective not only on the value of sports, but on what it means to be a man."
As the challenging season comes to a close, Marrs hopes to leave the team with fun memories, highlights, knowledge and respect for the game.
"Over all those things, I hope to leave these guys better off as football players than when we started this year," he added.
Marrs said playing football has had an indelible effect on his life, and the lessons learned and memories created have affected him and the choices he makes. His time commitment of playing football for four years occupied countless school days, weekends and hours that he could have spent studying or on club activities or even a job. But he has played with countless teammates and said he is "extremely glad" he made the choice he did. The friendships that bond teammates have made the sacrifices worth it to Marrs.
Now, as he starts looking at colleges, Marrs said that unless he receives a football scholarship to one of his top Division 1 college picks, he will not be playing football. As of right now, athletic programs are not a big concern for his college application process.
He remains open minded, however, saying that he'd consider participating in another sport such as track, baseball or cheerleading.
R-Jeneration