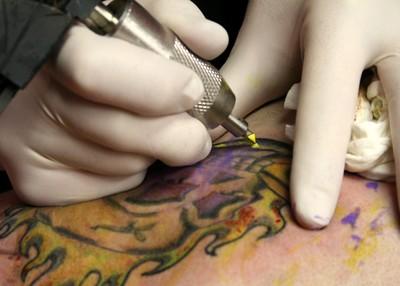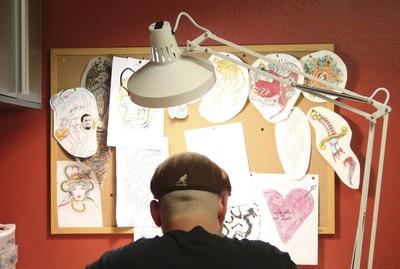 As Brittany Robinson walks into a Las Vegas tattoo shop the only thing on her mind is the pain she is about to feel.
The intense rush shoves any thought of consequence out of her head as the buzz of the needle fills it instead.
Any thoughts of the future are pushed aside.
"Before you sit in the chair to get the tattoo all you can think about is how it is going to feel," says Robinson, 21, who recently got a tattoo on a quarter of her arm and is planning to get a half-sleeve done.
"I don't worry how the tattoo is going to affect my future," she say. "That is something I will worry about when the time comes. All I have time to worry about is ignoring the pain."
Robinson also has tattoos on the back of her neck and wrist, both which are visible. "I work at a law firm and I have to cover them up, but I try to hide them."
Piercings and tattoos often are associated with bikers, rockers and prisoners. This negative association causes many employers to look down on tattoos and piercings, grouping them under the general description of "unprofessional appearance."
"People always discriminate against those of us with piercings and tattoos," says Tiffany Thomas, owner and manager of Lucky Cat Tattoo on East Sahara Avenue. "When we tried to buy a shop to open up our tattoo business every property manager said they did not want that kind of clientele around their property. Most of our clients are upstanding citizens, middle-aged, hard-working men and women."
Many teenagers want to get tattoos, but they may not realize the impact that body art could have on getting a job. According to a recent survey by Vault.com, a nationally recognized job placement Web site, more than half the managers surveyed said they would be less likely to hire an applicant with visible tattoos and body piercings.
"Tattoos and pierces are not popular with employers," says Paul Carpino, employer outreach and internship coordinator for Career Services at the University of Nevada, Las Vegas.
"If you are interviewing, you should hide tattoos and remove piercings," he says. "Give the employer the opportunity to hire you for your talents and contributions and not be distracted by any body modification. Most experts agree that 80 percent of an interviewer's opinion of a candidate is based solely on his or her first impression."
Many professions have specific policies prohibiting tattoos and piercings. This is true especially when employees work directly with clients. The regulation handbook of the Henderson law offices of Adams and Rocheleau states, for example, "Body tattoos and piercings which are visible, or which are revealed upon normal movements are strictly prohibited and must be concealed." The Boyd Gaming Corp.'s dress code does not allow tattoos, men wearing earrings, or body piercings of any kind.
"I want to get tattoos, but I would never get a tattoo showing," says Jesse Brambilla, a junior at Bishop Gorman High School. "I want to be able to give a good impression during interviews, and I want to be a cop, so I don't want any tattoos showing."
Although discrimination against tattoos and piercings holds true in much of the workforce, society is changing. One example is the Clark County School District.
Regulation 4280 states: "The school district reserves the right to insist that the dress and grooming of employees must be within the limits of generally accepted community and professional standards."
The teacher grooming policy makes no specific statement on tattoos and piercings, leaving the matter to individual school principals.
According to Jackie Cardocci, assistant principal at Green Valley High School, and Tom Torres, dean of students at Las Vegas Academy, tattoos and piercings are within professional standards for teachers at those schools. However, there are a few restrictions. Teachers are allowed to have only their ears pierced. Tattoos are allowed as long as they do not represent things inappropriate for school, such as gang symbols, profanities and discriminatory symbols.
"I have five tattoos and three holes in each ear," says Kelly Burrows, theater director of Coronado High School. "Students think I am cooler, other teachers have always been nice about them, and as far as I know it did not affect my job application."
R-Jeneration