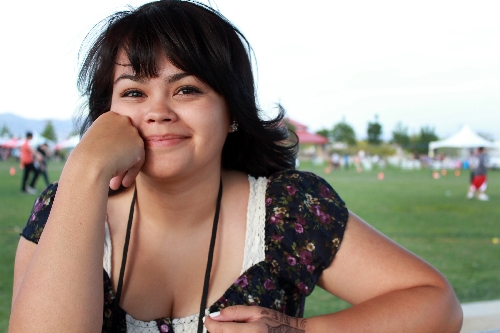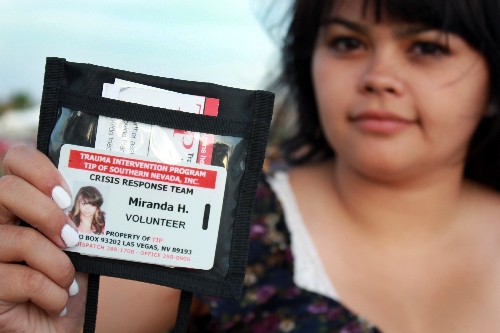 When Alyssa Otremba died, sorrow and confusion filled the halls of Arbor View High School.
Dealing with a teenager's death is difficult no matter the circumstances, but the gruesome knife attack on Otremba presented an even greater challenge. 
One senior, Miranda, was able to help her classmates cope with the loss by using skills she learned through the Trauma Intervention Program. She comforted her classmates and remained strong for them.
The program, a volunteer-based nonprofit organization run by Executive Director Jill Bernacki and Crisis Manager Christian Raymer, is dedicated to ensuring that those who are emotionally traumatized in emergency situations receive the assistance they need. It assists first responders – police, firefighters and coroners in Clark County.
TIP now has 51 volunteers; three are in high school. Bernacki agreed to allow the volunteers to speak about the program on the condition that their full names are not published.
"The volunteers are great people who go beyond out of their way to take care of the family," says Chris Arencibia of Clearview Biohazard Clean-up, a Las Vegas company that specializes in cleaning crime scenes.
In the event of a tragedy, first responders tend to call TIP first, Bernacki says. "They see value in having us there."
When called, volunteers rush to the scene to offer emotional and practical support for after-death business such as cleaning the crime scene, organizing the deceased's estate and finding a mortuary. Volunteers may even get to the scene before the coroner, Bernacki says.
Miranda learned about the program through her mother, Lia, and they began volunteering together last March.
Prospective volunteers must undergo 40 hours of training, three months of field training and a month of continuing education.
During training, Lia and Miranda learned as much about the process as possible. It taught them about the second injury, which can be caused at the scene by volunteers who are cold and unfeeling or showing too much emotion and sobbing. Essentially, volunteers do not want to inflict more harm at the scene, and the training sessions teach them how to be an asset. Overall, the training taught emotional first aid.
For Miranda, these sessions showed her a new perspective and how overwhelming a crisis can be to those affected.
"You never realize how dark things are," Lia says, referring to the emotions victims, witnesses, friends or family members face during a trauma.
The training sessions weed out those who may be unable to cope with the difficult situations in which the volunteers are placed. On the first day of training, a real 911 call was played in which a girl was being attacked and raped. Some prospective volunteers got up and walked out, Lia says.
After successfully completing the training, Lia and Miranda began their work as TIP volunteers. Every volunteer is expected to complete three 12-hour shifts.
Miranda finds time for the program on Saturday nights and says she has "found a good harmony" between volunteering and her schoolwork.
Multiple 12-hour shifts – typically 7 p.m. to 7 a.m. – may seem arduous, but Miranda is not daunted. In fact, she finds time for other volunteer work such as feeding homeless veterans.
A typical shift for Lia and Miranda begins at 7 p.m., and then they wait. When the dispatcher calls, they drive to the scene.
They have gone out on calls all around Las Vegas ranging from the death of an 80-year-old to accidents that resulted in multiple fatalities.
"Every call is different, but every call we remember," Miranda says.
Their first call was a car accident on the road to Pahrump where the driver was ejected.
"Some of the scenes they go out on are tough, and they have to learn how not to take it home with them," Bernacki says.
However, some things cannot be forgotten. For Miranda, it was the bad smell of a decomposing body.
"Once you smell that, you never forget," she says.
When Lia and Miranda arrive on scene, they check in with the officer in charge and then find the clients. They rarely look for long. The officers at the scene usually await volunteers and guide them to those who need emotional assistance.
Bernacki says teens are just as valuable as adults at the scene.
In calls involving multiple teens, Miranda has been more effective than her mom because she is more approachable. She becomes "just another adult," Lia says of her daughter.
All the 51 volunteers, young or old, have an impact on those they help and the community, Bernacki says.
When the volunteers decide it's time to go, goodbyes are said.
Bernacki remembers when a client told her, "You're an angel. I don't know what I would've done without you," as they were saying their goodbyes.
Most of the time, they will never meet again and that is the hardest part for Lia and Miranda, who want to do more. By rule, volunteers are allowed one follow-up call.
Miranda's experience as a TIP volunteer has not dampened her spirit for service.
"People need to help," she says. "If you have the ability to help, do it."
For more information on TIP, call 229-0426 or visit www.tipoflasvegas.org.
R-Jeneration