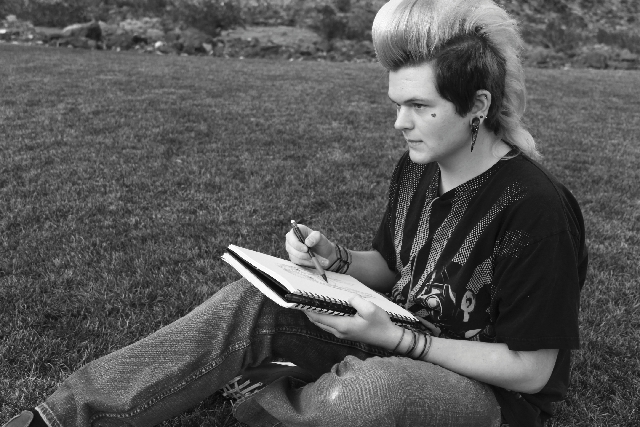 After strutting down the hall with Lady Gaga blasting through his earbuds and his hair fluffed up and colored just the way he likes it, Vencent Pallozzi walks into art class ready to put his imagination to work.
He takes out a blank sheet of paper and starts to sketch.
As his imagination roams free he gets lost in his work and doesn't notice that class is over.
Pallozzi looks down at his drawing to see how far he has come.
"He's crazy and an amazing artist," Brielle Dryden says. "Not to mention superfunny."
Pallozzi, a Foothill High School senior, has been drawing most of his life, and his art has become a big priority.
"I draw inspiration mainly from my emotions at the moment," he says. "A lot of my best pieces come from depression or envy."
Pallozzi says he enjoys drawing people, animals and objects.
"Usually my drawings are just a face I just sketched out," he says. "Sometimes I will give physical attributes of certain people to my drawings, such as a nose, or hair, or tattoo."
Pallozzi says he also likes to add abstract aspects to his art.
"I like to finish a piece of work that was constructed for no purpose and with no real intention and be satisfied with a finished work."