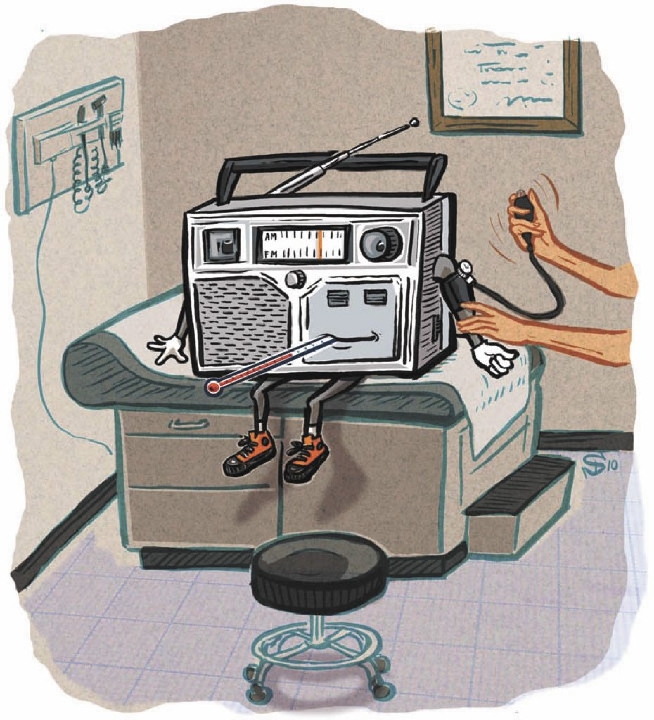 Days of a single Top 40 AM radio station dominating a city's airwaves are gone. In the '60s and '70s, top stations could be heard from one end of the block to the other, one end of the desert to the other and one end of our world to the other.
But station proliferation and format fragmentation long ago wiped out such dominance.
Radio — the sort originating over the airwaves ("terrestrial") before it is funneled through the Internet, bounced off satellites and beamed through smart phones, its playlists duplicated in iPods and on personalized online stations — faces a transitional shift.
"Terrestrial radio isn't losing listeners, but they aren't listening as long because of the alternatives," said Mark Diciero of the "Mark and Mercedes" morning show on KMXB-FM, 94.1. "Is this something we plan for? Absolutely."
Perhaps not swiftly enough.
"There's both challenges and opportunities from new media," said Paul Heine, senior editor of Inside Radio, a trade publication. "Like TV and newspapers, radio has been slow to react."
Radio in 2010 is a many-tentacled creature, complex and contradictory:
Ratings, revenue and reality
Using its standard measurement of listeners ages 12 and older, the ratings service Arbitron estimates that 92 percent of Americans listen to terrestrial radio in an average week. Sirius XM satellite radio claims 19.5 million subscribers, just north of 6 percent.
Satellite "has turned out to be a strong niche, but not a mainstream audio source," Heine said about Sirius XM, which lost a combined $1.3 billion in 2008 and 2009 after Sirius and XM merged in 2007.
But Sirius XM is trending upward, slashing losses in half from year to year. Numbers provided by the company show they finally posted profits for the last quarter of 2009 and first quarter of 2010, with a net gain in subscribers.
"Satellite was extremely good at PR," Heine said. "They got a lot of press with, 'This is the death knell of regular radio,' and that turned out not to be the case."
Except for a few high-profile stars such as Howard Stern, their talent pool isn't deep, one local DJ said.
"Some of their shows are weak," said Craig Williams of the morning show on KOMP-FM, 92.3. "They don't pay much, so they don't get high-caliber talent."
Locally, Arbitron says, 93 percent of Clark County residents ages 12 and older tune into over-the-air radio. (Sirius XM doesn't track subscribers by markets.)
"Radio across the U.S. over the last five years lost less than 1 percent of our audience," said Tom Humm, vice president/general manager of Las Vegas stations in the Beasley Broadcast Group, which upped its local station count to five when it agreed in May to purchase KOAS-FM, 105.7 and KVGS-FM, 107.9 from Riviera Broadcast Group for $8.5 million. Beasley also owns KKLZ-FM, 96.3, KCYE-FM, 102.7 and KDWN-AM, 720.
Advertisers didn't stick around as much as listeners as the economy tanked, so factors for revenue falloff are harder to quantify as radio-related.
Nationally, terrestrial radio revenue dropped 18 percent from 2008 to 2009. Las Vegas, probably paralleling our struggles as one of the nation's worst housing and unemployment markets, saw ad revenue plummet 33 percent, according to the Radio Advertising Bureau. But the bureau also reports a 4 percent local upswing so far this year.
How many and how long?
Responding to requests from broadcasters and advertisers, Arbitron is phasing out its long-standing diary system of listener measurement in favor of the more reliable "portable people meters" or PPMs, a pagerlike device worn by survey participants that gathers inaudible codes identifying the source of a broadcast.
"This is instead of people keeping a one-week diary of their listening habits, which is difficult when you're punching buttons like crazy in your car," Heine said. "A lot of stations had to adjust their programming for this new system."
That has caused radio execs to refocus.
"That's a big eye-opener for us, because they're very unforgiving," said Scott Herman, executive vice president of operations for CBS Radio, which owns six local stations, including KLUC-FM, 98.5, KXNT and KMXB. "PPMs have woken everybody up."
Las Vegas joined the portable people meter ranks last October. Measured from then through June, compared to the diary counts for all of 2008, Clark County gained around 32,000 listeners.
Whether that resulted from more precise surveys or simply more people tuning in is unclear.
Arbitron spokeswoman Jessica Benbow said the measurement of a full year against a partial one is their best apples-to-apples comparison, given the methodology shift.
Online listening is also monitored by portable people meters.
"If you live in New York City and you're listening to Komp.com, your pager is going to pick that up," Williams said about "out of market" listening. "We'll get credit from anywhere in the world."
Conversely, in a market such as Las Vegas, with many listeners from elsewhere , some will defect to their hometown stations streaming its broadcasts online.
Identifying their abbreviated attention spans also has an impact on programming.
"We're running less commercials," said Tony Bonnici, vice president/general manager of Las Vegas-based Lotus Broadcasting, which owns six stations, including KOMP, KXPT-FM, 97.1 and KBAD-AM, 920. "We went from running 30s and 60s (seconds) to more 10s and 15s. People once ran 18 minutes of commercials an hour. Now it's 12 and 10. Our worst enemy is ourselves, when we get greedy and add more clutter. Listeners will compromise to a degree, but when we ask too much of them, they go away."
Tech times
Smart stations latched onto other outlets such as online streaming and mobile devices. All Lotus stations stream, as do many others; and this month, Lotus will have apps on cell phones, select BlackBerrys, the iPhone and the Droid phone.
"Everybody carries a cell phone, and a smart phone is becoming the everyday normal phone," said John Griffin, Lotus' operations manager/program director. "That's not a niche. That's the masses."
Other advances include AM/FM receivers implanted in cell phones and iPods, and iPhone apps such as iheartradio.
Such additions slowly can alter radio's demographics.
"If you look at terrestrial, our median age is in the low 50s on the news side and a little higher for classical (music)," said Florence Rogers, president/general manager of noncommercial KNPR-FM, 88.9. "For people who listen on the stream, it goes into the 40s, and people listening on an iPhone or iPad, it goes into the 30s. But if they come to our content, it's less important the gizmo they find it on."
Those gizmos also are additional revenue-generators for commercial radio.
"Our streaming numbers when Rush (Limbaugh) and (Sean) Hannity are on are huge," said Lee Jamison, general sales manager of KXNT-AM, 840. "We sell advertising for our streaming, we sell banners online, and links to businesses. It's a full spectrum."
Still, online hasn't proven itself a significant revenue boost nationally.
"Growth for revenue is in digital; the problem is they're small dollars to begin with," Heine said. "Even though it's growing at a pace far faster than over-the-air, digital revenue last year was only $480 million, only 3 percent of radio revenue."
Another technology, HD Radio, once was a perceived boon for over-the-air broadcasting but has underwhelmed the industry. Numerous local stations also broadcast HD subchannels, but a "State of the Media" report from the Pew Research Center in Washington, D.C., noted only one-seventh of U.S. stations transmit HD and only a third of listeners express interest, with few HD channels transmitting programming different from the main signal, reducing incentive to purchase expensive receivers.
"I don't think HD has targeted itself that well," said Mercedes Martinez of "Mark and Mercedes." "I don't even know people who have the receivers. It had a lot of potential, but they haven't done much with it. You're just making more work for the consumer to get something they already get for free."
Griffin of Lotus said: "We have the HD unit, but we're not broadcasting at the moment. It's not a top-shelf priority at this juncture."
Competition for terrestrial radio comes from interactive Internet services such as Pandora and Slacker, which lets users listen to genre channels and even personalize their own stations.
"I have things to offer that terrestrial or satellite don't," said Jonathan Sasse, Slacker's senior vice president of marketing. "Certainly the personalization aspect. Not only can we target by region or genre, but by person, by artist, by song. And almost everyone in our program department has terrestrial experience."
Such services will become bigger players when online radio goes wide in cars.
"It's coming, but difficult to say when," Heine said. "The focus is on connectivity that allows you to access your smart phone, with apps like Pandora, from the steering wheel or voice commands. Companies are tripping over themselves to sell the technology to carmakers."
Tax troubles
Terrestrial's throbbing headache is the "Performance Rights Act" bill, introduced in Congress last year. It would force radio stations to compensate recording artists. Stations currently pay royalties to songwriting companies such as ASCAP and BMI.
That could severely damage terrestrial radio, according to Diciero of KMXB.
"Illegal downloads put artists in a weird position. While they're grateful their music is heard, they're not selling CDs like they used to," he said.
Fairness and consistency are cited as motives by the recording industry pushing the legislation.
"Ten years ago, you didn't have all these platforms," said Mitch Bainwol, CEO of the Recording Industry Association of America. "When you hear a song on Sirius XM or Pandora, we are compensated. When you hear it on terrestrial, we are not. There's no rationale that in this one instance, the property isn't compensated for."
Free exposure is radio's defense, given that stations already pay $500 million annually to songwriting organizations.
"It was always understood that the promotional value of radio generates increased album and concert sales that go directly into their pockets," said Kristopher Jones, spokesman for the National Association of Broadcasters.
"This could cripple stations; and if music's not heard on the radio, I'm not sure how that helps an artist."
Yet claiming platform proliferation is the culprit may be disingenuous.
"The recording industry has been trying to get legislation like this passed since the Frank Sinatra era," Heine said. "Democrats control Congress, so if it was going to be pushed through, you'd think it would happen this session. That could change in November. It's a very important question to both industries."
Should it pass, Jones said, "you might see an increase in talk stations, because the economics won't be there to do music."
However, defined as "all-news" stations — of which there are only 27 commercially in the United States — talk also would be expensive and only viable in the largest markets, given budgets for news staffs.
Industry insiders claim the Internet, via podcasting, offers the only good outlet now for aspiring radio journalists.
Should a shift toward talk happen, other stations would need to rebuild audiences, but established AM leader KXNT could benefit because of its hybrid, less pricey "news-talk" format.
As of Aug. 16, KXNT will simulcast its programming on what is currently KKJJ-FM, 100.5, renaming it KXNT-FM and replacing the "Jack" or jukebox music format.
"With local news affecting people, that's what we're trying to do with our new news block in the morning," said KXNT host Alan Stock, who recently relocated to afternoons. "My new (show) is oriented toward news with commentary and interviews. It's been a very good change."
Another talk advantage is that listeners are older — 80 percent are over age 35, according to Arbitron. Though they aren't as attractive to advertisers traditionally, sheer volume may change that as baby boomers flood the senior population.
It's the content, stupid
Monopolies long have caused grumbling from industry insiders fearing homogenized content. Three companies control 17 Las Vegas stations: Lotus and CBS with six apiece, and Beasley's five.
Herman of CBS said about their local lineup: "We have a Top 40 station, alternative rock, hot adult contemporary, news-talk, classic hits and a kids station. Where's the homogenization?"
Personality radio and censorship also figure into content. Terrestrial lost a monster superstar when Howard Stern went satellite. Bruising battles between Stern and the Federal Communications Commission over indecency fines generated major headlines for broadcast radio. Yet his defection to satellite seemingly hasn't damaged the industry he ditched.
"On terrestrial radio, everybody knew what he said every day," said Bonnici of Lotus. "Now on satellite? When was the last time you had anybody bring up Howard Stern to you?"
Still, Stern wasn't necessary to keep the indecency issue inflamed and radio afraid to offend, perhaps costing them some listeners.
"Since Janet Jackson showed a (breast) at the Super Bowl, things quieted down a bit for morning radio," said Williams of KOMP. "I'm aware of that line we can't cross."
Last month, a federal appeals court struck down the FCC's barring of "fleeting expletives" on radio and TV — stemming from live, award-show profanity from Bono and Cher — as a First Amendment violation because it's too vague. That might move the line back a bit.
"Our motto is to beg forgiveness, rather than ask permission," Williams said.
Don't discard discretion yet. Powerhouse stations from the '60s and '70s are history, but over-the-air radio still drifts down the block, across the desert and from one end of our world to the other.
Contact reporter Steve Bornfeld at sbornfeld@reviewjournal.com or 702-383-0256.