Reaching for the stairs: Las Vegas Valley residents climb Stratosphere in fundraiser
February 26, 2017 - 4:34 pm
Updated February 26, 2017 - 11:37 pm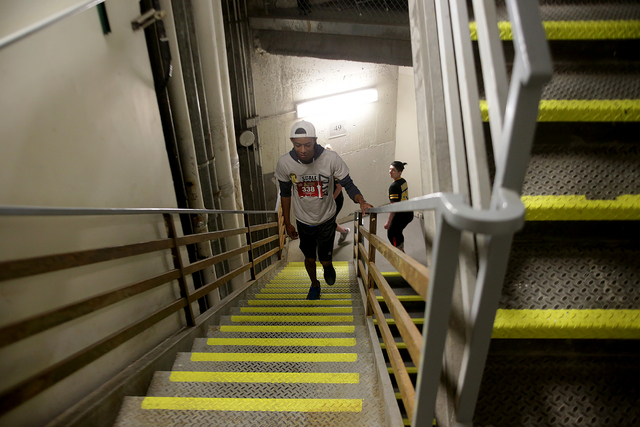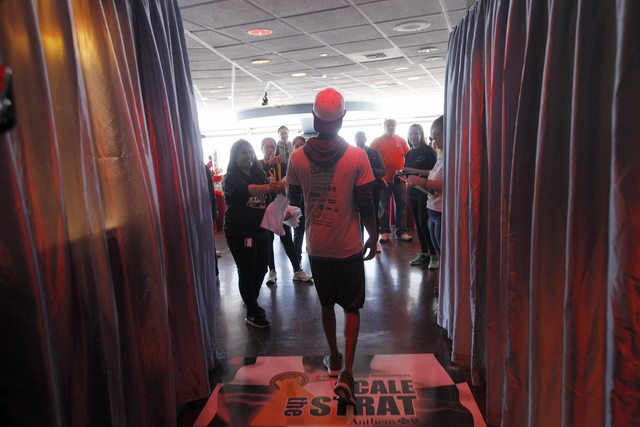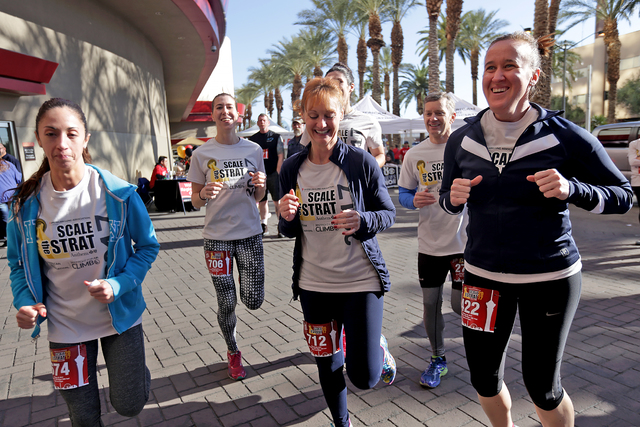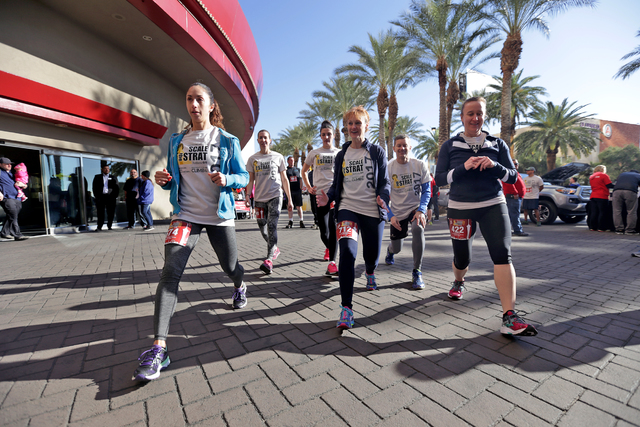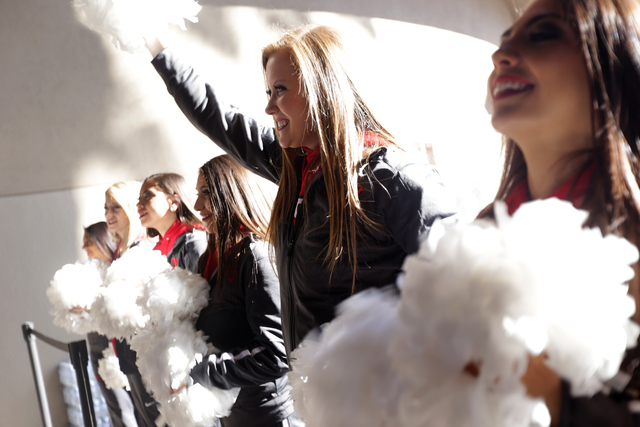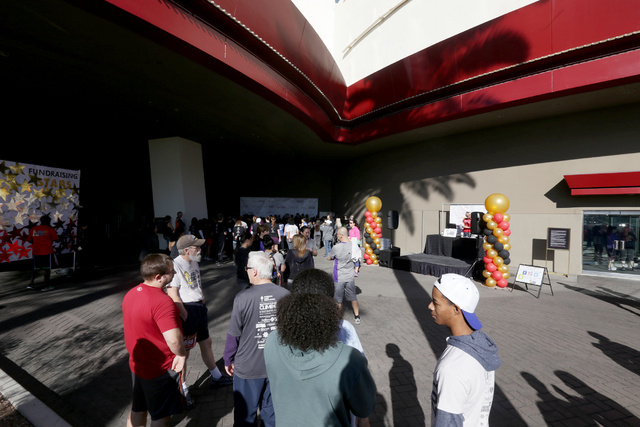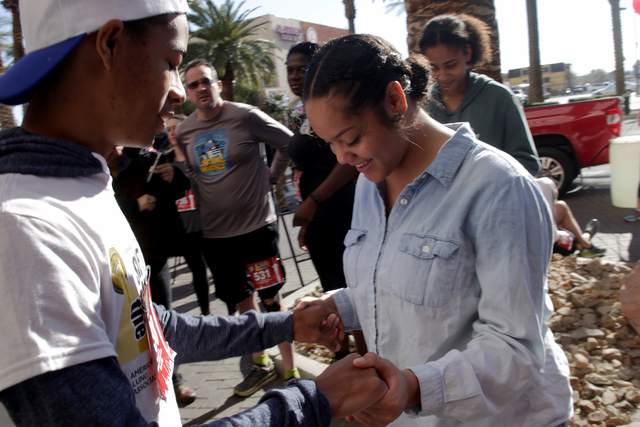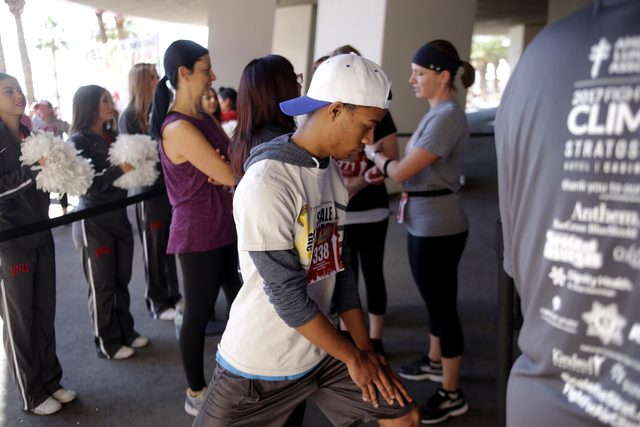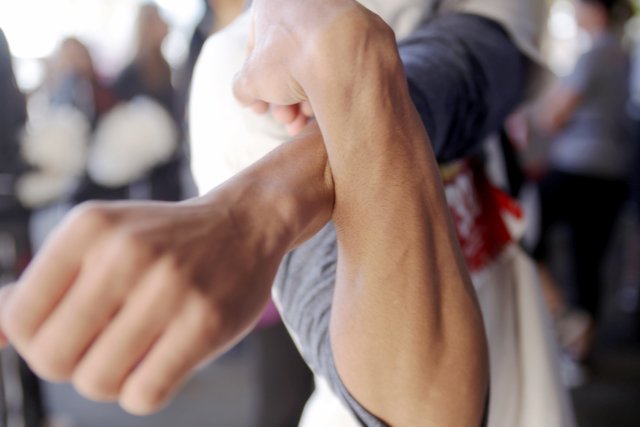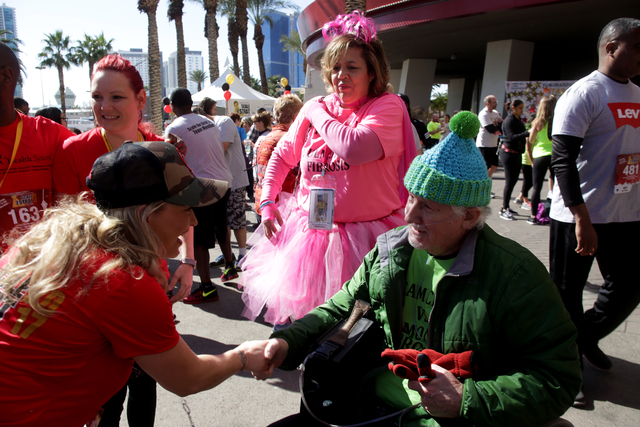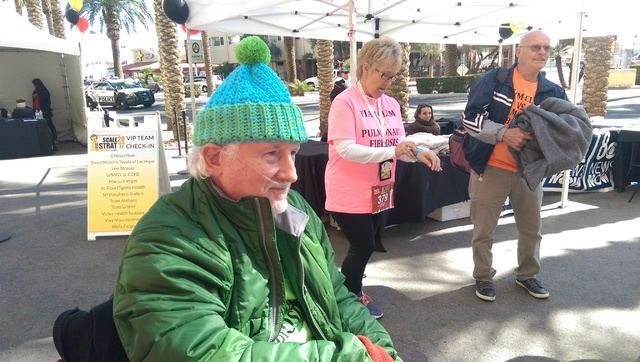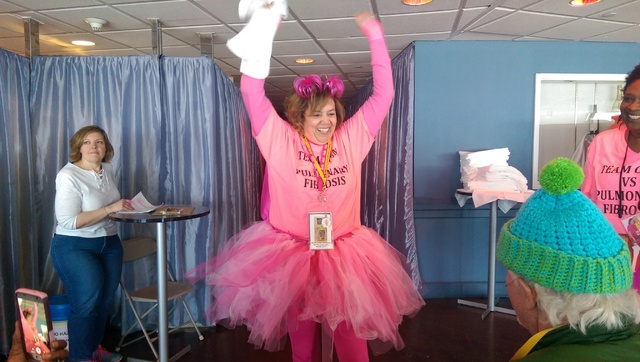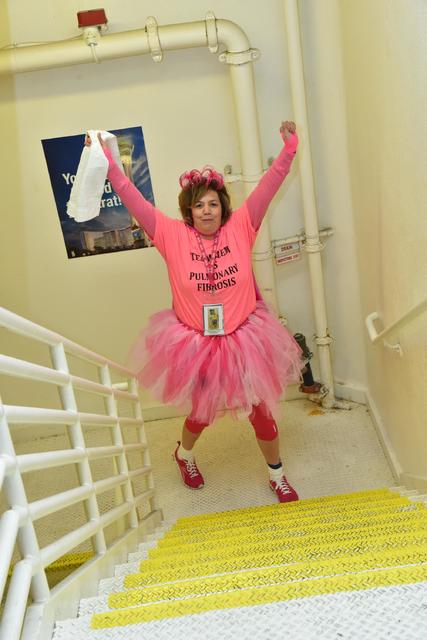 One hundred eight flights of Stratosphere stairs stood between Debbie Wiechecki and Heidi Avila's commitment to loved ones Sunday.
Wiechecki, 57, has a 75-year-old husband, Clem, with an incurable lung disease. Avila's 18-year-old son, Christion Johnson, has asthma. Last summer, he had an asthma attack so severe that he lost consciousness.
These people don't know each other, but Sunday morning, they shared a common pursuit, participating in the American Lung Association's "Scale the Strat: Fight for Air Climb," a fundraiser in its ninth year. More than 800 people participated; organizers said Sunday's event had raised $224,000 so far and donations would be accepted for another month.
Johnson calmed his preclimb jitters by dancing with his 15-year-old sister Cheyenne as Avila watched from a nearby rock.
"I don't even really know what I'm nervous about," he said. "I'm just nervous."
Given last summer's asthma attack, Johnson's nerves were justified. He felt vulnerable after it happened, fearing a recurrence. He's grateful to climb stairs at all.
"I felt very fragile," Johnson said. "I knew my lungs wouldn't be able to handle another one like that."
Avila, 47, started participating in the Stratosphere climb in Johnson's honor four years ago. After turning 18 in December, Johnson learned from the American Lung Association that he'd be cleared to participate this year.
Avila and Johnson trained for the climb together by running 3 miles daily. Johnson runs faster, but his mom helped pace him because of her stronger endurance.
"Some people say it's the hardest thing they've ever done," Johnson said preclimb. "It's scary to think, 'What if I don't make it to the top?' But I have confidence I will."
As Johnson and Avila ascended, Debbie Wiechecki, dressed in a pink cape, T-shirt and tutu, readied for her turn. She stood in the Stratosphere's shadow and kissed Clem.
"I love you," she whispered with tears in her eyes. She then turned away and prepared to climb 1,455 steps to the tower's peak.
She climbed in honor of Clem, who has pulmonary fibrosis. The aggressive lung disease is incurable and has an unknown cause, the American Lung Association reports. It results in scarred lungs and leads to respiratory failure and death.
Wiechecki climbed partly to raise awareness about his illness.
"I was one of the fortunate ones," Clem said, referring to his early diagnosis in 2011. The median life expectancy is 2½ years after diagnosis.
Like Johnson and Avila, the Wiecheckis are fighters, and they have an army. A group of the Wiecheckis' friends flew in from across the country to don neon-hued shirts reading "Team Clem vs. Pulmonary Fibrosis."
It was Debbie's third year climbing. Clem climbed last year, finishing last in just under two hours. But he couldn't participate Sunday because a lung infection has left him wheelchair-bound.
Debbie Wiechecki, Johnson and Avila felt triumph when they reached the top.
"I'm not gonna lie," Johnson said, calmly requesting an oxygen mask. "It was hard."
Avila was wide-eyed.
"First thing, when I get to the top, I look to see if he's here," she said, embracing her son. "It's a feeling of accomplishment."
Supporters usually watch the climb's finish in a showroom inside the hotel, but event organizers ensured Debbie Wiechecki wouldn't be lonely at the top. They arranged for Clem and his friends to be atop the tower to surprise her.
When she finished, Debbie flew into Clem's arms, screaming and smiling. He hung a medal around her neck while friends applauded.
Debbie has said she will climb at all the American Lung Association-sponsored events after Clem dies.
"Every step I take is for Clem and for everybody else that has lung diseases," she said.
Contact Brooke Wanser at bwanser@reviewjournal.com. Follow @Bwanser_LVRJ on Twitter.