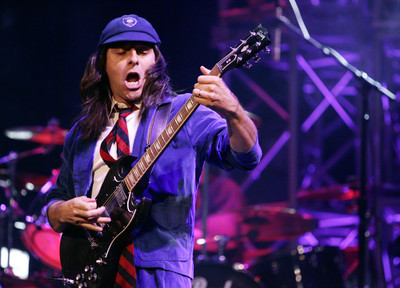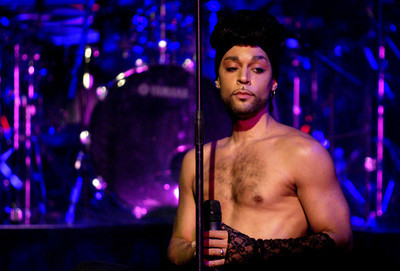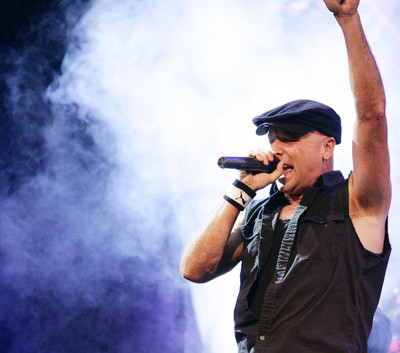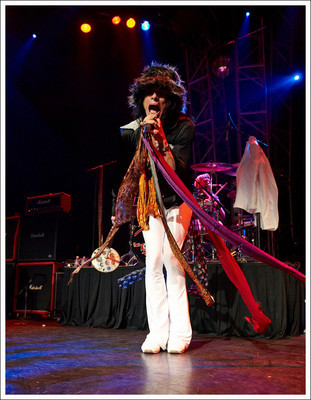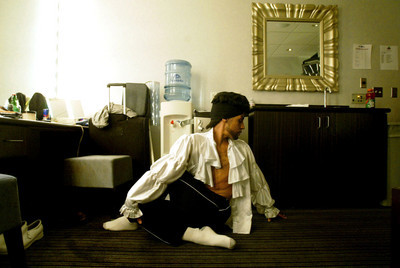 With the benefit of a few beers — a not unreasonable notion on a Friday night in Santa Fe Station's Chrome showroom — it really could be AC/DC performing in some unannounced, small-hall concert.
There's somebody who looks an awful lot like Angus Young duckwalking, schoolboy outfit and all, across the stage. Cool smoke and light effects, and audience call-and-response to hits from both the Bon Scott and Brian Johnson eras. Even a guy in an AC/DC baseball cap singing along, eyes closed, swaying in rhapsodic hard rockin' bliss.
It isn't AC/DC, of course, but TNT, an Arizona-based AC/DC tribute band. How good are they? So good that, near the end of the show, a woman who has partied a bit too avidly clambers onstage to give the lead singer a sloppy, slightly misaimed kiss.
And if that's not the tribute band equivalent of a papal imprimatur, what is?
For Southern Nevadans who assume that entertainment Las Vegas-style begins and ends at either terminus of the Strip, let's offer a big "You Rawk!" to the tribute band, in which often talented performers and avid fans are drawn together by cover prices that wouldn't cover a tip at a casino showroom.
Steven Kurutz, a New York-based writer who explores the parallel universe of the tribute band in his book "Like a Rolling Stone: The Strange Life of a Tribute Band" — the title refers to the Rolling Stones bands he spent time following — traces the lineage of the modern-day tribute band to "Beatlemania," the '70s Broadway hit.
Because tribute bands are "just fringe by nature," he says, "it's very easy to dismiss them or forget about them or not realize the extent of their popularity."
Tribute bands represent a key niche of the Las Vegas entertainment universe. This summer, Station Casinos has hosted bands that pay homage to artists ranging from Bruce Springsteen to Motley Crue.
Tribute bands draw well because of their affordability, says Judy Alberti, Station Casinos' vice president of entertainment. Cover charges usually are $5 to $10.
Cannery Casino Resorts also regularly incorporates tribute bands into the entertainment menu of its North Las Vegas location.
"It's all about the memories to people," says Kathie Spehar, director of entertainment for the company.
Dianne Corsaro of Las Vegas, who caught TNT's AC/DC tribute, would agree.
"Of course, who's as good as the original (AC/DC)," she says. "But they're good. They're really good."
Corsaro has caught shows by several tribute bands over the years, and notes that seeing the originals — if that's even possible — invariably is pricey. In contrast, Corsaro figures dropping 10 bucks for an evening with a band like TNT is "well worth the money."
Jeff Johnson of Las Vegas, who also caught TNT's show, says tribute bands enable him to relive concerts he remembers from his youth.
"In the '80s, I saw Van Halen at the Aladdin and there were 15,000 people there," he says. "And a lot of these bands are defunct, so these tribute bands really bring back, I think, the essence of true rock 'n' roll from the '80s. That's what I like about it."
That's music to tribute band members' ears. Las Vegan Jason Tenner, who has portrayed Prince in "Purple Reign" for 12 years, says his show offers fans who didn't catch Prince in the '80s the chance to see what that would have been like.
Chris Antos, lead singer for TNT, says many AC/DC fans who come to TNT's shows never saw the late Scott and, thus, appreciate TNT's homage. Others are happy to remember that special concert from their past and will say, "Dude, that was just as good as the first time."
On the other side of the monitors, playing in a tribute band offers musicians a chance to bask, at least temporarily, in a rock star aura. Kurutz notes that most tribute band members — and, certainly, the ones who make a living playing in tribute bands — "grew up wanting to be stars."
But, as one Led Zeppelin tribute band member put it, "the music business is not a meritocracy," Kurutz says, and not even the best singers and musicians are guaranteed a shot at fame. For those who don't win the rock lottery, he adds, playing in a tribute band "is sort of like the next best thing."
TNT has been together since 2000. Manager and former member Joe Lamia says that, initially, "we were an originals band, and prior to being an originals band, we were a cover band."
Eventually, he continues, "we just decided that, at our age — we all had families and stuff like that — we can't just crawl into a van and live off of cheeseburgers the rest of our life. We had to come to reality and find something that fits our lifestyle but also fits our rock star needs, I guess you could say."
Lamia's company, Rocksteady Productions, now handles not only TNT but tribute bands to Bon Jovi, Led Zeppelin, Judas Priest, Ozzy Osbourne and Lynyrd Skynyrd, as well as "Iron Maidens," an all-female Iron Maiden tribute band.
"We're lucky to be doing what we're doing right now," says TNT singer Antos. "I get my kicks being onstage, and the fact that people enjoy us as much as we enjoy doing it is the payoff, really."
Neal Shelton, manager of and a musician in Aeromyth, an Aerosmith tribute band that recently played Santa Fe Station, says all of his band's members have day jobs, albeit ones that are "flexible." Shelton, himself, owns a music store in Huntington Beach, Calif.
Shelton says Aeromyth has played everything from private parties to campgrounds to casinos and — in its largest audience so far — a summer festival that drew 10,000 people. There's "real good money in it," he adds, and a good tribute band even can "make as much money as a band that is signed."
How much? Shelton says Aeromyth can earn between $2,500 to $6,000 a night.
"Of course, we'd love to be doing our own music," rather than playing someone else's, he concedes, but "we've found a good niche."
Kurutz has known successful tribute band members who are "semi-tortured about being in a tribute band, even though they do it amazingly well. Then, there are other people who have come to terms with the fact they're not going to be Mick Jagger and are really happy to just have a place in the music industry and get out and play."
Then there's Tenner, who's working on his own album even as playing Prince has become a full-time gig.
"My own personal music is so far removed from what Prince sounds like, so there isn't that conflict," he says.
And that points up an irony critics of tribute bands fail to grasp: The musicians and singers have to be just about as good as the rock stars to whom they're paying homage. That, Spehar says, is what separates good tribute bands from the also-rans.
"If they don't have the voice, if they're not good musicians, it's not going to work," she says.
"A lot of these guys are hacks, but a lot of them are really good musicians," Kurutz agrees. "You can't be Jimmy Page in a Led Zeppelin band without being a pretty amazing guitarist."
Contact reporter John Przybys at jprzybys@reviewjournal.com or 702-383-0280.