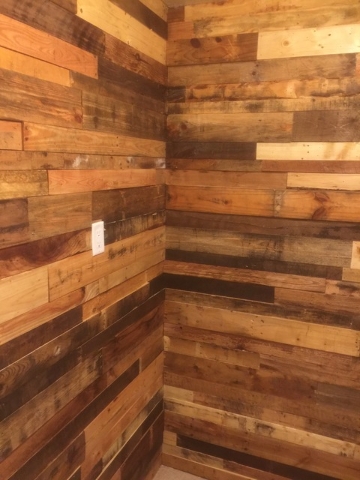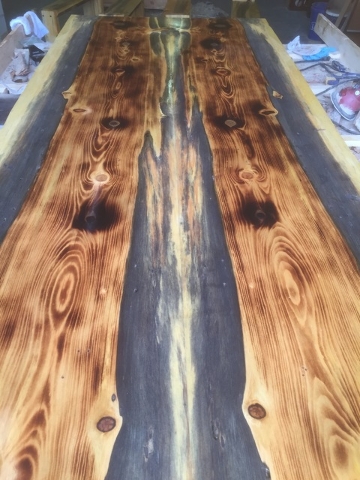 Using reclaimed wood in home decor is very popular, whether repurposed from an old farm in Nevada or from a new fire cooling in California.
"The wood we find has a distinct quality and history that make people want to have it in their home," said Nic Moore, co-owner of Reclaimed Secrets home decor shop at 2912 S. Highland Drive in Las Vegas. "There's nothing like it."
There are many reasons to turn to reclaimed wood for flooring, fixtures and furniture. Compared with fresh-sawn lumber, it is an economical, sustainable and expressive alternative.
"We've seen a lot more business in the last few years," said Moore, who started the wood refurbishing business a decade ago with her husband, Andrew, as inspiration. "It has a life of its own."
Jalaine Wasson was looking for a special touch when remodeling her kitchen in March.
After a lot of research, she chose reclaimed wood for the shelving that would hold her glass dishes.
"It gives your project a more curated look, as opposed to everything looking so matchy-matchy," she said. "I also like the idea of having our wood having a story."
She found Reclaimed Secrets on Yelp. The process of choosing her wood became a personal endeavor as she walked through the stockpile of reclaimed and fire-worn wood and ran her fingers over the rough texture of the alligator juniper and pines gathered from weather-beaten barns from the late 1800s, dilapidated hotels and other Nevada structures.
"We knew this was the right place," Wasson said. "We got to pick out the wood; (they) cut it to the right size of the shelf and even carried it out to the car for us."
After buying a new home during the summer, she again turned to the look and feel of aged wood to give her model home a personal feel. She wanted a barn door to complete the rustic look in her high-ceilinged living room.
"The wood to make our door had a whole other life before it was a door in our home," she said. "I think it gives it just a little something special."
Using reclaimed wood, including standing dead trees, and other upcycled materials, helps prevent deforestation and preserves history, said Andrew Moore, co-owner of Reclaimed Secrets.
"Most of our material is not just an old fence board," he said. "The material we use is rich in American history and it brings us back to what we (Americans) are known for. It's about working hard, using our own resources with some added creativity to provide usable products, which helps our community."
The most popular uses of reclaimed wood that the Moores are asked to build are for wood wall accents, custom furniture and distinctive flooring.
"Most people are just doing accent walls with the barn siding we get," said Moore, who started his business 10 years ago after a long career in construction. "We do build a lot of live edge slab dining room tables with metal legs."
Moore, with his wife, Nic, are hands-on in obtaining much of their reclaimed wood from locations throughout the country. They've recently acquired wood from the Apache National Forest, which was deemed a fire hazard from the Department of Forestry. A large portion of their inventory is aged wood from Nevada mines, forest fires and ghost-town hotels that are in the midst of renovation from hopeful new buyers.
"We use a lot of trees that have been destroyed by the mountain pine beetle epidemic running rampant throughout America," Moore said. "In a lot of instances, this material is just turned into firewood, or even thrown away, and considered unusable.
"The character left behind by this beetle is amazing. It is very unique in color, and goes well with many color schemes and aspects of design, from modern to rustic."
Reclaimed wood has been weathered and aged, either by wind, sand or saltwater, which makes each piece distinctive, said Kevin Fults, owner of Woodstock Architectural Products on Patrick Lane in Las Vegas.
"Reclaimed wood is so unique and hard to duplicate," he said. "Everybody wants something personal to them. With reclaimed wood, all the options that we have available, if you do your research, you can really make it something that fits your space, your personality."
Clients can fine-tune how they want the wood to appear in color and texture up to the day of processing. With its on-site mill and constantly updated inventory, Woodstock Architectural Products can bring out the bluer hues in planks of fire-tested timber or tone down the blond in a pristine birch.
"Using reclaimed wood, it allows you to add your own personal touch to your project," said Fults, who has more than three decades working within the lumber industry. "It can get really interesting when you play with the (sealants) and the wood."
Woodstock's expansive showroom of wood and finishes in the southwest part of the valley showcases the many ways he can mill and treat wood, from baseboards and handrails, to benches, flooring and wall pieces.
"It's been interesting to see what (clients) come up with when they come in and really look around at the wood," Fults said. "We have wood from the 1800s that's really exciting, and some newer wood that can get a really good patina on it. It's a lot of fun. A lot to think about."
Woodstock Architectural Products has created decor for many Las Vegas hot spots, including Still at The Mirage and Kemo Sabe at the Forum Shops at Caesars. Fults recently took in a shipment of aged wood from Ohio and Kentucky and regularly has maple, walnut, cherry, white oak, natural veneers and exotic woods in stock for custom designs for molding, flooring, tables and art pieces.
"I do get a lot of wood from the East (Coast), and it is really nice wood we can do a lot with," Fults said. "We get a lot of designers in who come up with some great ideas for the wood we have."
His yard of neatly stacked timbers also includes African woods that were sent as packing material for a Southern Nevada federal project and have been aged for more than a decade in the desert sun in Pahrump, and weathered wood from a Boulder City backyard shed that was built in the middle of the past century.
"When people choose to use wood for a project, they find a lot of options," Fults said. "Reclaimed wood is harder, much more dense. It's been constricting and expanding in the surrounding area for 100 years or more, and so it's got a lot of character to it. Each piece is individual, unlike any other."