Recorder of Las Vegas' oral histories has own tale to tell
September 5, 2017 - 10:08 am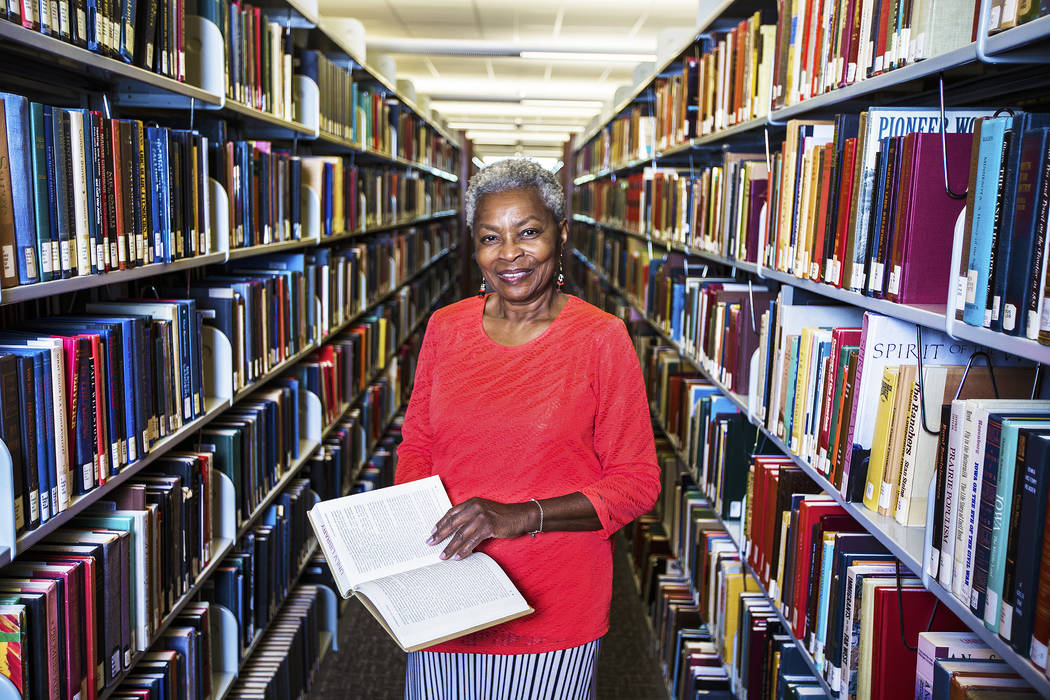 For 14 years, Claytee D. White has been recording the histories of longtime Southern Nevadans as director of the Oral History Research Center at UNLV Libraries.
But White has experienced some history of her own, too, as a sharecropper's daughter growing up in the South, as a black woman who didn't attend school with white classmates until college, and as someone who continues to view firsthand the progress, or lack of it, in race relations in the United States.
White was born in Ahoskie, North Carolina, at a time when racial segregation was a given.
"I grew up completely segregated," she says. "You'd encounter (white neighbors), because in my family's case we worked on a farm owned by a white person, so you interacted with the family to a very limited degree. And on Saturdays we'd all go to town, so we'd drive into Ahoskie to do grocery shopping, and that's where you'd see other (white neighbors).
"Even when we had white kids in the neighborhood — I remember at one point we had white neighbors — we'd play with those kids in that family, but once school started, you didn't go to the same school even though you lived across the street from one another."
She attended college at North Carolina Central University for two years, "but, still, even with the grants and loans they provided at the time, my parents still could not do that."
So, White moved to Washington, D.C., for two years, and then to Los Angeles, where she returned to school and earned a bachelor's degree in sociology. She came to Las Vegas in 1992 to study at UNLV, and began taking oral histories while a UNLV student.
After earning a master's degree here, White moved to Virginia to work on her doctorate, then returned to North Carolina to care for her mother. She returned to Las Vegas in 2003 to become charter director of UNLV's oral history program.
White estimates that the program so far has conducted about 4,000 interviews, which are then transcribed, edited, corrected and archived in the library's archives for use by students and researchers.
"We've done all kinds of projects," she says. "We've done early health care in Las Vegas, so we interviewed doctors and nurses and hospital administrators. We've done dancers and showgirls.
"Our very first project is called 'Early Las Vegas.' That's our open-ended project. So in that project, we've interviewed dancers and showgirls and attorneys. You name the profession and we've interviewed them for that project."
Review-Journal: What was it like growing up in the South?
White: I grew up on a farm. We grew tobacco and cotton and corn and peanuts. We were sharecroppers. We didn't have much money, so we actually lived on someone else's farm and used their equipment and their farm animals, and at the end of the year you would split the (net) profits after all the bills were paid.
Looking back, how did your experiences then affect you?
Usually, people say today, 'Oh, but we never knew we were poor.' I knew we were poor, so I don't know how they didn't know (laughs). So what I always knew is I never wanted to be poor again. So my goal from the very beginning was to leave Ahoskie as quickly as I possibly could.
You didn't attend school with white classmates until college. How did growing up in a segregated community affect your view of the world?
I probably see things as more black and white than most people. That's one way to say it (laughs). I probably see more inequality and injustice in a situation than probably is even there sometimes. But I'm seeing it through a lens, through that kind of background. When you are not included, it means you're not included in the jobs. Your education is not the same.
Was education valued in your family?
Of course, my mom wanted everybody to go to college, but my father just could not see the possibility in doing that. They just wanted everybody to get a high school diploma. Then you could get a job, you could move to New York or Delaware. My father's family moved to Delaware, and my mother's to upstate New York, and we have some relatives in Virginia, the Newport News area of Virginia. Those places they saw as prime places to migrate.
Who is the most intriguing person you've interviewed on behalf of the oral history program?
The first person I interviewed was one of the most intriguing, Darrell Luce. When he was a young boy, 5 years of age in the late 1920s … his father opened a very small (store) in Boulder City so he could sell things like toasters. As a young boy, Darrell Luce watched the dam being constructed and he was just fascinated with it. During World War II, he went off to fight in the war, and when he came back to Las Vegas, he was one of the soldiers who was put in trenches at the Nevada Test Site in the '50s so they could test radiation. … It was just fascinating to talk with him. His memories were so vivid.
Have any themes emerged in the interviews — about Las Vegas or, maybe, just being a Las Vegan?
A few of those might be migration themes and themes about work and how important work is. Themes about wanting a better life and coming to Las Vegas so you could have a better life.
You grew up in the segregated South. What do you make of America today?
I think it's really really important that everybody learns all of the history. … I got to go to school in the South, not just from (attending a historically black college) but also (College of) William and Mary in Williamsburg, Virginia, so you're talking about going to Richmond and driving down those streets with all those Confederate heroes, all those statues, and that was just life. We grew up with that. And, yes, I think they should come down. I understand that people say that's history, and I think there's another way to preserve that.
■ Newest Las Vegas discovery
A restaurant called The Goodwich. It's downtown.
■ Place to take visitors
The Mob Museum and the Bellagio conservatory.
■ Favorite indulgence
Popcorn with very little salt and a glass of red wine.
■ Favorite vacation destination
Hawaii
■ Favorite movie
"Casablanca"
Contact John Przybys at reviewjournal.com or 702-383-0280. Follow @JJPrzybys on Twitter.