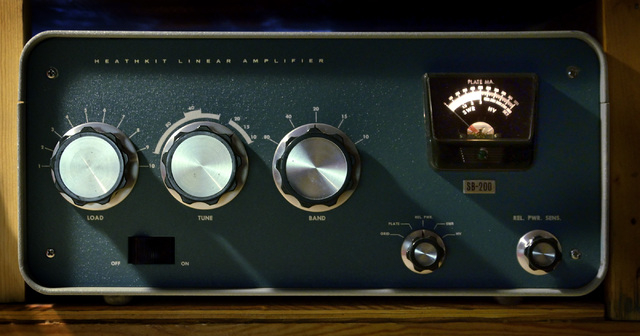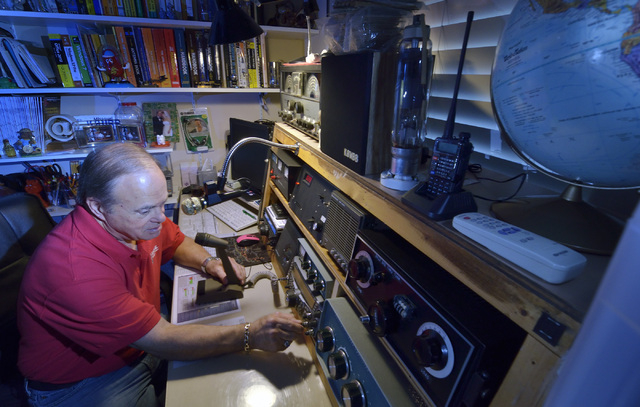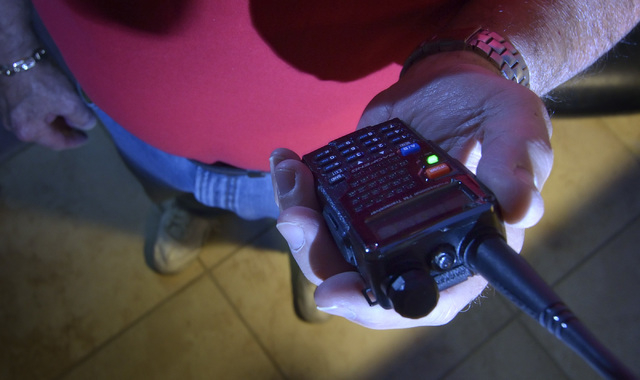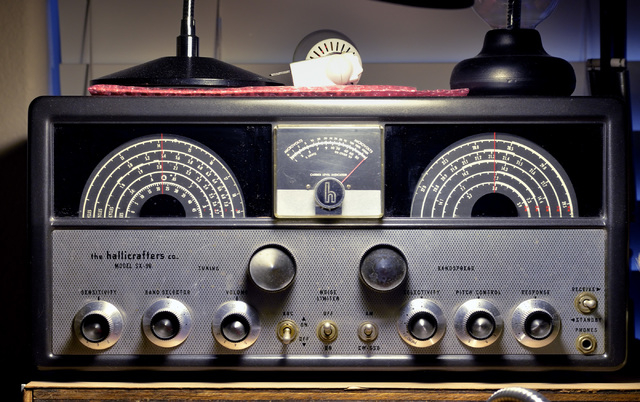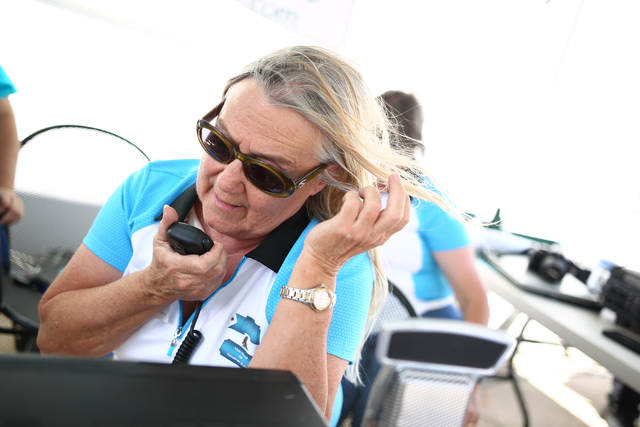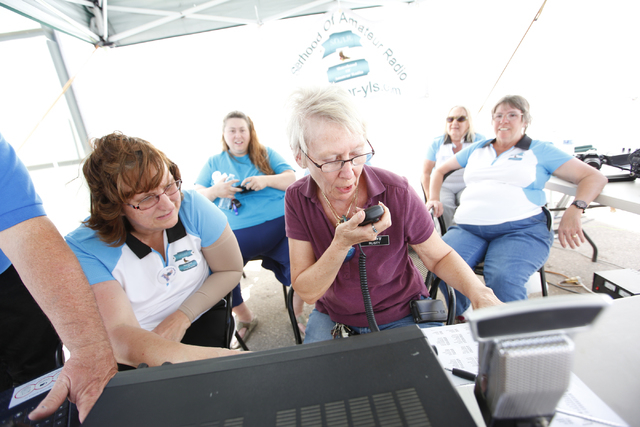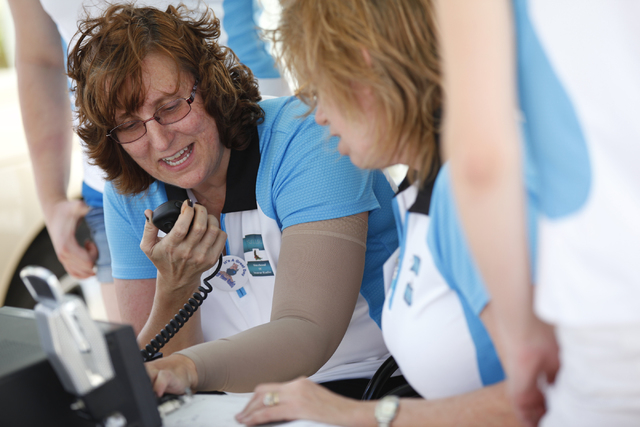 There's something almost majestic about the array of electronic equipment displayed in what once was a bedroom of Jerry Sobel's home and what now resembles the radio shack of a movie-screen submarine.
On a set of double wooden shelves is a receiver from the '50s, two transceivers, and an amplifier Sobel built from a kit during the '70s. There's a snaky gooseneck microphone and a desk microphone. And, there's a handheld FM device that looks like a walkie-talkie a kid might play with but which can do things a kid's walkie-talkie can only dream of.
But it's the strange assemblage of characters — K0MBB — affixed to a speaker and on the wall that explains what all of this cool stuff is about. It's the amateur radio call sign of Sobel, president of the Las Vegas Radio Amateur Club (www.LVRAC.org) and practitioner of a not-so-retro electronic art that's more popular than ever.
Amateur radio operators — alternatively referred to as "ham" radio operators, who are involved in what's alternatively referred to as "ham radio" — work and play on federally prescribed portions of the radio spectrum. There, they talk with one another, communicate in Morse code, experiment by meshing radio with computers and other forms of modern-day technology, and provide communications at the site of disasters and emergencies when phones, cell towers and other means of getting information from here to there and back again have gone on the fritz.
While ham radio is associated primarily with the postwar heyday of the Space Age, more Americans hold ham radio licenses today than ever before. There are about 720,000 licensed ham radio operators in the United States, says Sean Kutzko, spokesman for the American Radio Relay League, a nationwide advocacy group and informational resource for hams.
The uptick began to appear about five years ago, Kutzko says.
"I'd say a lot of it has to do with seeing the results of Hurricane Katrina," he says, "when an entire U.S. city was shut down for several days."
In the days after that 2005 hurricane and tropical storm ravaged the Gulf Coast and New Orleans "and nobody could get word in or out, ham radio really stepped up and got a lot of critical info out," Kutzko says.
Dennis Simon, president of the Nellis Radio Amateur Club (www.NellisRAC.org), teaches a license prep course for newcomers to ham radio. Among his students, "the single biggest reason (to get a license) is, they want to be prepared for an emergency," he says. "A lot of them say, 'I've been interested since I was a kid,' but all of this emergency stuff sparks action."
Newcomers also are intrigued when they see the service that hams routinely offer communities, not just by providing emergency communications when all other forms of communication are down but by handling communications for charitable fundraisers, marathons, races and other events.
"Anytime you think of where a community needs communications, ham radio steps up, and thousands of clubs across the U.S. are serving that function," Kutzko says.
By the way: Another indicator of ham radio's all-time-high popularity is that more current license-holders "are upgrading to a higher class of license than ever before," Kutzko says. "So it's not just newcomers to the hobby, it's (licensees) who want to learn more."
It all seems a bit counterintuitive? After all, the cheapest smartphone today can offer worldwide communications capability to the most tech-averse consumer, while the Internet routinely flings email across the globe in seconds. Actually, Kutzko says, today's ever-expanding roster of technological innovations has served only to create a broader range of ham-friendly activities.
"A lot of people think that once computers became ubiquitous and the Internet and the iPhone culture took over, that we just kind of faded away," Kutzko says. "In fact, we've embraced all of that, and a number of people are doing hybrid work combining the technologies with amateur radio."
Another possible, and more practical, reason for ham radio's 21st century resurgence: No longer do entry-level license applicants have to learn Morse code to get a license. Yet, another seemingly counterintuitive trend, "Morse code is more popular than ever," Kutzko says.
It doesn't hurt that the cost of entry-level amateur equipment has dropped significantly through the decades. While Sobel's home rig is a pricey one that he amassed over years of shopping, acquiring and do-it-yourselfing, he says a newcomer can purchase a hand-held transceiver online for less than $50. With the use of repeaters — stations around the valley that receive and retransmit radio signals — a handheld easily will cover the valley, Sobel says.
From there, as with any other hobby, the sky's the limit. Julio Suarez, store manager of Amateur Electronic Supply, 4640 S. Polaris Ave., says that as beginners progress to more advanced license classes, they have more privileges and feel they can spend more and they can use more.
Ham radio helped Gerry Wojciechowski choose a career. He's been a licensed ham radio operator for 53 years and discovered the hobby while in high school.
"I went to a technical school and they had various things you could choose for a curriculum," he says. "The one I chose was electronics. They had classes in basic electricity and radio and communications, and that's how I got interested."
For Wojciechowski, the initial lure was building things.
"I like to work with my hands," he says, "and I got into the electronics industry with a major telecommunications firm, which I retired from."
These days, Wojciechowski's involvement in ham radio leans heavily toward public service and emergency communications.
"People don't really think much about amateur radio until an emergency puts it front and center," he says.
Sobel says today's hams pursue numerous subsets of the hobby. Ham radio has moved into almost every field of electronics, he adds.
"If you want to do slow-scan TV, radio telephony, digital modes, ultrahigh-frequency microwave, if you just want to talk on the radio, there's something for every interest," he says.
Sobel got his license in 1957, when he was a teenager. "My dad was a radio operator in the Navy and had always been interested in electronics and radio, and I just kind of grew up around it," he says. "He was also a ham at the time, and by the time I got to be about 15, I decided I wanted a license of my own."
Sobel recalls using his rig to patch phone calls from a woman in Iowa to her husband at McMurdo research station in Antarctica. He also found it fun to make contact with other hams around the world, and still has piles of QSL cards documenting those contacts. (His most interesting contact: With a fellow ham in the Soviet Union during the Cold War, via Morse code.)
Today, Sobel devotes much of his time to public service and emergency communications.
Simon, a licensed ham for more than 20 years, can remember watching as a kid as his uncle talked to hams in South Africa. But his involvement in ham radio was prompted mostly by his work as a Boy Scout volunteer.
"I've got almost 40 years as a volunteer in Scouting," he says. "When I used to take boys out to camp, we'd try to use radio when traveling as a group."
As troop members watched, they, too, became intrigued.
"Eventually, at one point, every Boy Scout in the troop was a ham radio operator and they all got licenses," Simon says.
Bill Smith became involved in ham radio when, around age 10, he read a newspaper story "about a kid my age who basically got his novice license and was talking to hams all over the world."
Smith is celebrating his 55th year as a licensed amateur radio operator. He pursued the hobby around the world while serving with the Air Force and during that time even earned a certificate for contacting a ham station in every county — all, back then, 3,076 of them — in the United States.
Now retired after 26 years in the Air Force, Smith is emergency coordinator for Clark County ARES-RACES (Amateur Radio Emergency Service/Radio Amateur Civil Emergency Service) and helps to coordinate emergency communications here during times of natural or man-made disaster.
Ham radio operators, Smith says, are a truly valuable resource.
"(And) because we're volunteers, it doesn't cost taxpayers a dime," he says. "They don't have to pay us to be there. It's called 'amateur' radio because we're not allowed to accept compensation for our services. When you become a ham, you learn that's what it's about."
Yet, it's ironic that it takes dire emergencies for the general public — that is, those who aren't involved in amateur radio — to realize that ham radio even exists, much less that it's currently thriving.
"I think a lot of people are not aware amateur radio is still in existence and view it like a gentleman's hobby," Smith says. "It can be that, but now it's broadened out to where there are a lot of interesting uses for it, and it's just amazing."
What hasn't changed is amateur radio's predominantly male tilt. Kutzko estimates just 8 percent to 10 percent of amateurs are women.
Jane Garwood got her license 20 years ago and remembers that when she attended a license preparation class, "I was the only lady in class. The guys were, 'What are you doing? This is a guy thing. Go away.' And that made me want it more."
When Elizabeth Bigley and a few women friends went to a ham radio event with their spouses in 2009 they decided to start their own ham radio club.
The result was Las Vegas-based SOAR, or Sisterhood of Amateur Radio. As the club's history (www.SOAR-yls.com) puts it: "Our mothers and grandmothers had their social network when they were canning pickles or snapping green beans. Why shouldn't we ladies of the electronic age have a social network based in global communications and technology?"
Bigley, SOAR's co-founder and president, says the group has 25 to 30 members locally and 60 to 70 more nationally and internationally.
Why is ham radio still a male-heavy activity? "Because it's like a job as a mechanic or truck driver or things like that," she says. "It's electronics, and electronics usually is mostly dominated by men."
But, she says, "that is starting to change."
Contact reporter John Przybys at jprzybys@reviewjournal.com or 702-383-0280