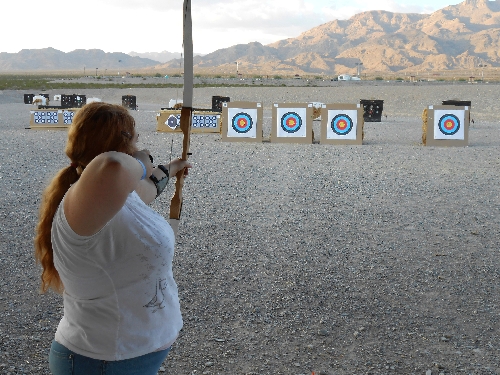 With the continued growth in popularity of archery, the Clark County Shooting Complex will soon open a three-mile walking course.
Crew members at the complex, 11357 N. Decatur Blvd., finished plowing the 10-foot-wide trail at the south end of the property and are awaiting the arrival of 3-D targets, which cost the county hundreds of dollars apiece and will be placed throughout the trail.
This expansion of the archery range demonstrates the complex's willingness to accommodate the increased number of archers, according to complex officials.
"It's a more family-oriented atmosphere here (at the archery range)," said Ken Swierski, a certified archery instructor at the complex. "Families come here to have a good time. It's very relaxing."
According to Swierski, the archery range sees 30 to 150 would-be Robin Hoods on a daily basis.
But the large numbers have more to do with modern pop culture than English folklore.
"When 'The Hunger Games' movie came out, all of the ladies started coming to the range," Swierski said, "from the little ones all the way up to the old ladies."
Jeff Nielson, a sales associate in the archery department of Bass Pro Shops, said he too has noticed the trend.
"We've seen youth archery grow tremendously in the last year," he said. "It's a more intimate sport."
Nielson added that the sport's relatively small learning curve also helps draw people in and keep them in, often for life.
"I always tell first-timers they're going to hear two things when they fire an arrow for the first time," he said. "They'll hear the flight of the arrow and then the snap of the target … and then you're instantly addicted."
He added that anyone who buys the equipment should plan an hour of range time to learn the basics, which is free on the indoor, eight-lane range at Bass Pro Shops, 8200 Dean Martin Drive.
According to Nielson, once past the initial cost of approximately $600, the sport is relatively inexpensive.
At the Clark County Shooting Complex, it costs $7 for all-day use of the facilities.
"It's easier on your wallet," Swierski said. "You're not spending money on ammunition. Kids (17 or younger) are free. Where else can you bring the whole family for $7?"
Swierski said his only two rules are safety and having fun.
"Safety is the most important thing," he said. "But you'd better have fun, or else, why be here?"
The archery range at the Clark County Shooting Complex is open from 7 a.m. to 10 p.m. Wednesdays and Thursdays and 7 a.m. to 7 p.m. Fridays, Saturdays and Sundays.
A bow and eight arrows can be rented for $10 an hour or $20 a day.
For more information, call 455-2000 or visit clarkcountynv.gov/shootingcomplex.
Contact Paradise/Downtown View reporter Nolan Lister at nlister@viewnews.com or 383-0492.