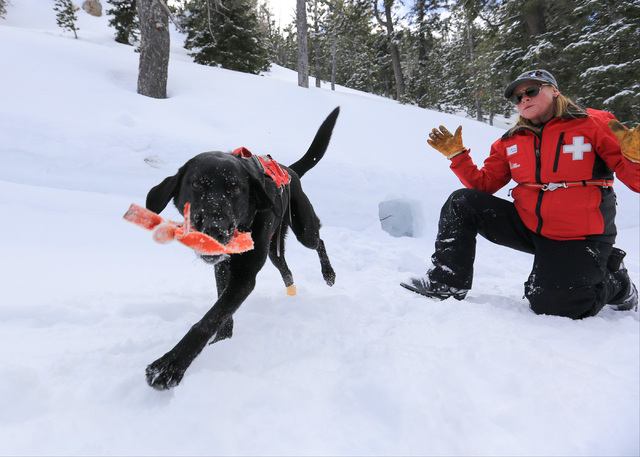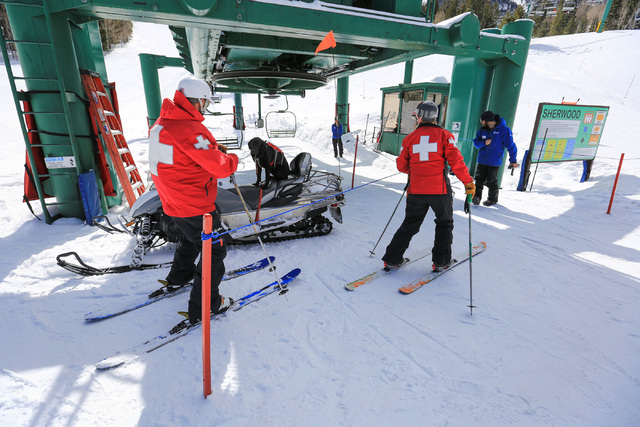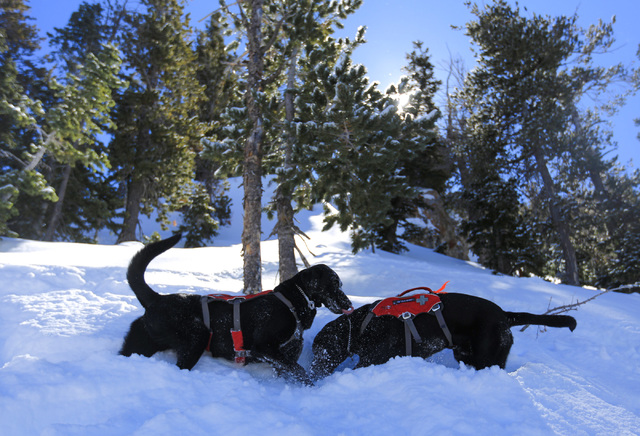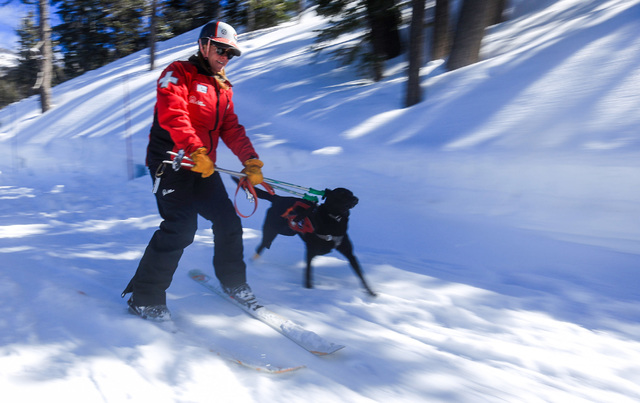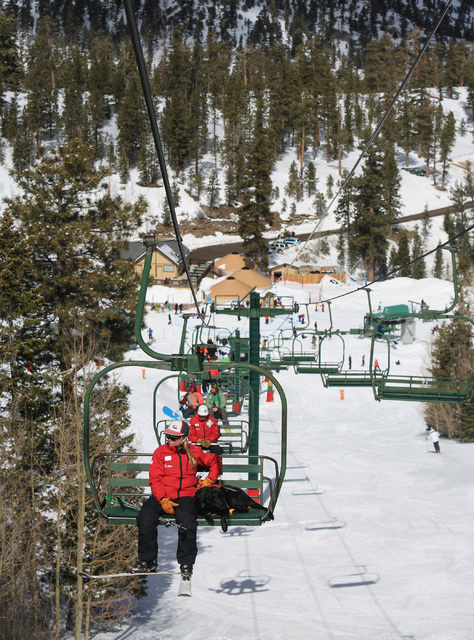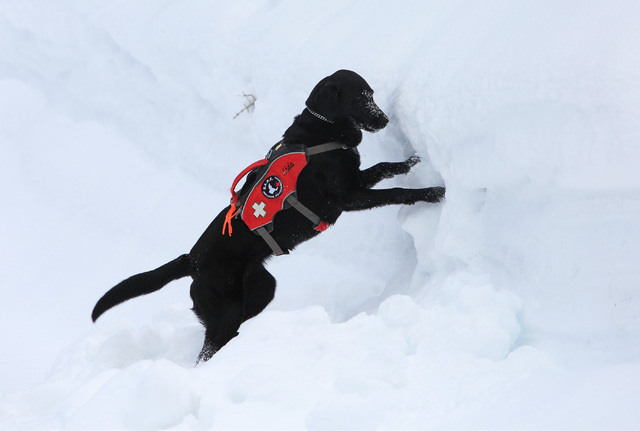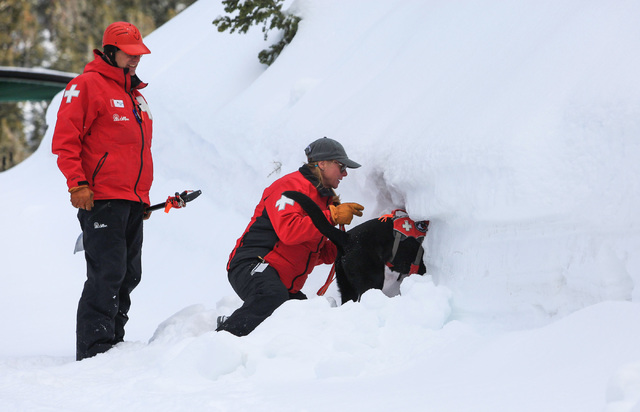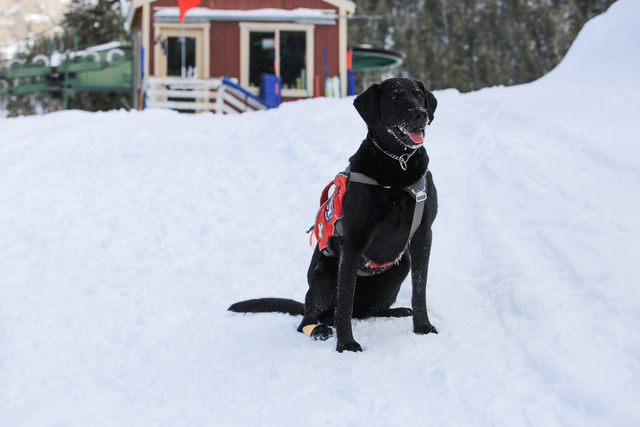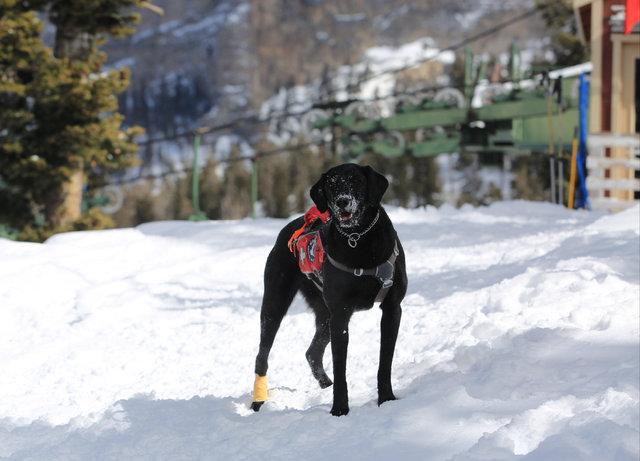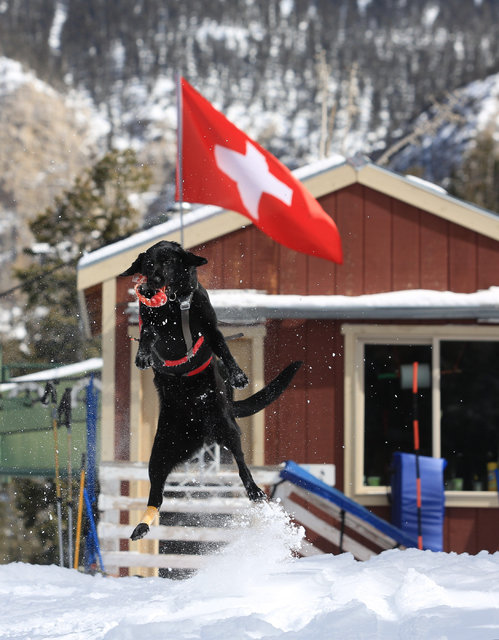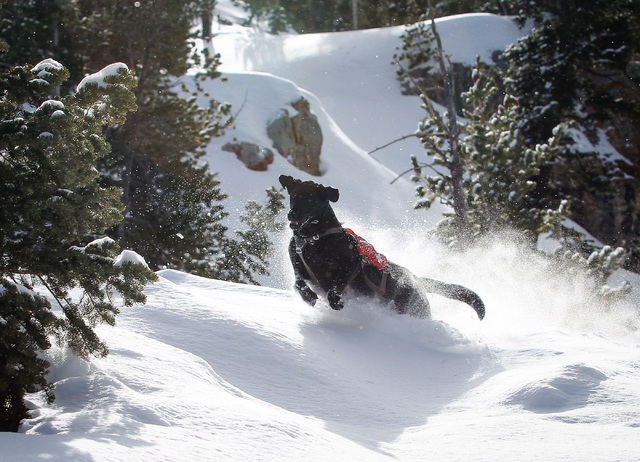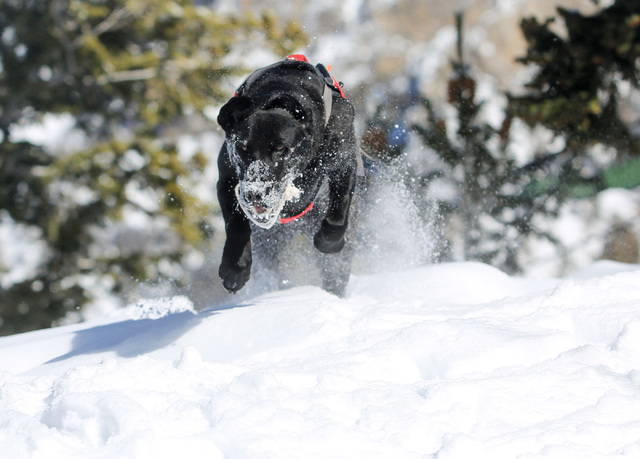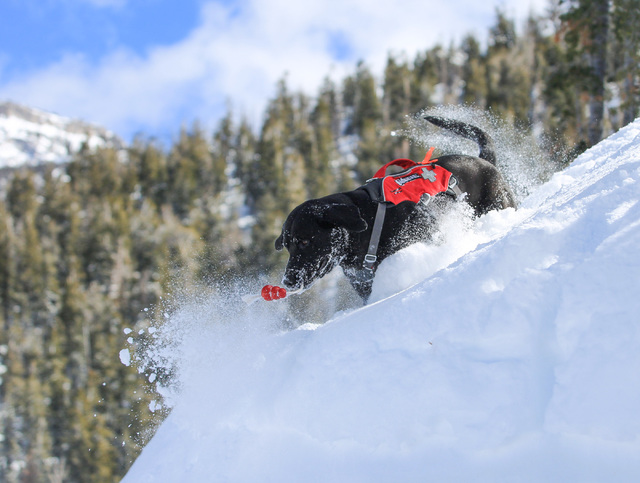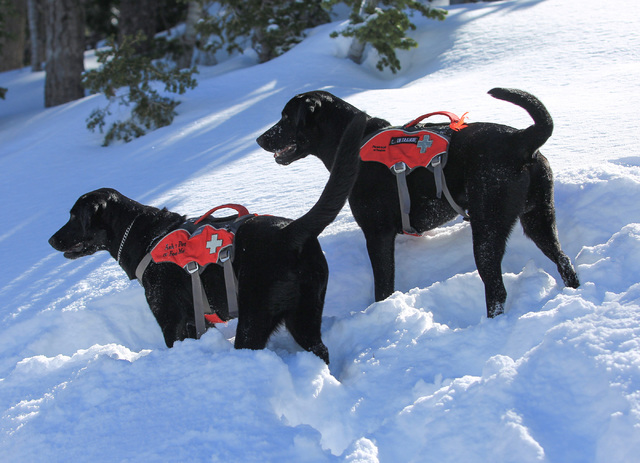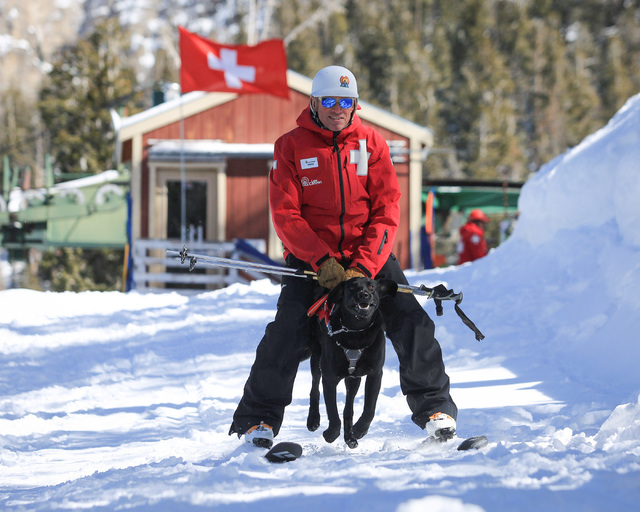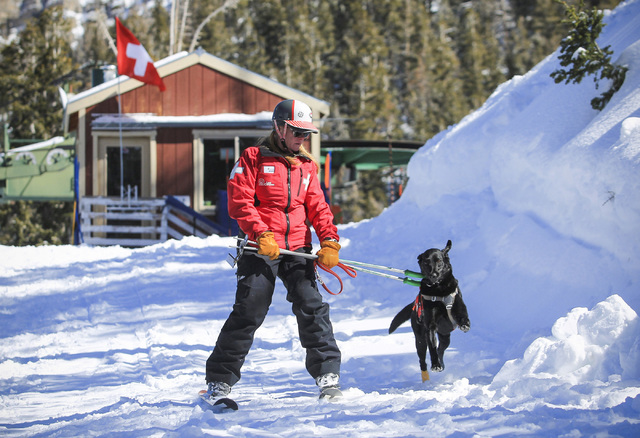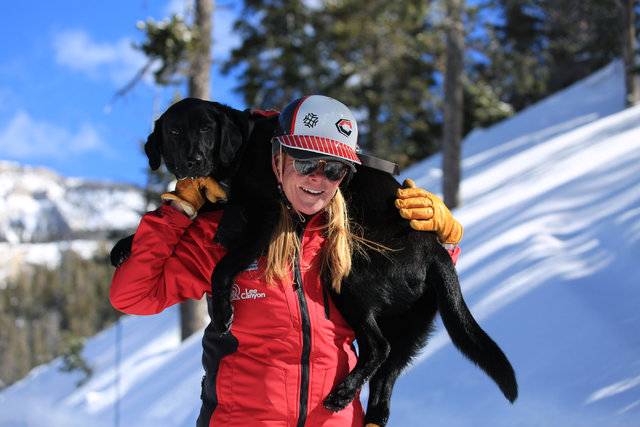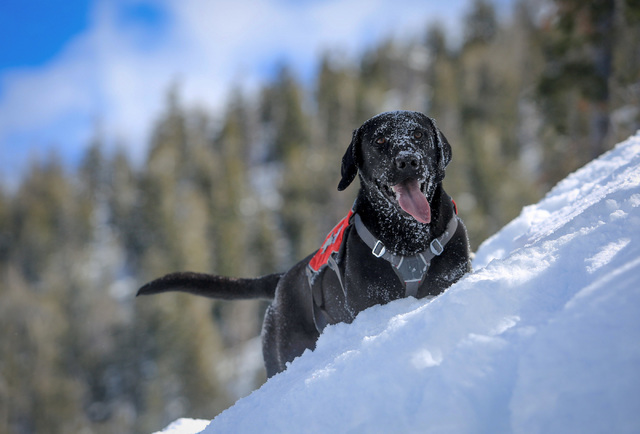 A black Labrador retriever plows into a snowbank, sinks his teeth into a red and blue blanket, and yanks a skier into the blinding sunlight atop the Lee Canyon ski resort on Mount Charleston.
"He's just a brute, man," Lee Canyon Ski Patrol Manager Michelle French said as she watched the dog in action Thursday.
For the 11-month-old rambunctious puppy Carson, it might just seem like playful fun. But for French and her husband, Greg, it's serious training that could one day save a life.
Carson and his sister, Lida, are avalanche rescue dogs with the Lee Canyon Ski Patrol team. If the snow starts to slide, they can cover some serious ground.
The dogs can search a 10,000-square-meter area — roughly the size of two football fields side by side — in under 20 minutes, said Greg French, the resort's snow safety manager.
"For people to do something like that, depending on how many people you had, it could be hours," he said.
The ability to cover a lot of ground quickly is important because a person has a 90 percent chance of surviving if found within 15 minutes.
"The curve after that just drops right off," he said.
DOGS DIG TRAINING
Having dogs on the ski patrol team marks a standard of care, Greg French said. "If you have avalanche terrain, you've got to have avalanche dogs."
To train the dogs, the patrol digs a hole on the side of a snow pile and finds a volunteer to be buried. Once Lida or Carson finds the volunteer, the dog gets to play with a chew toy reserved only for that type of situation. Each handler will carry such a toy with them in a real rescue event, though both dogs have yet to face such a situation.
The dogs aren't allowed to dig in the same spot twice, and the couple seeks out a new volunteer each time to give the dogs more experience with different scents.
Michelle French said she added Lida, who will be 2 next month, to the crew at the beginning of the 2015 ski season. She handles Lida, while her husband handles Carson.
Michelle recalled feeling like a proud parent the first time Lida found a volunteer buried for the training. She said she shares a special bond with her dog.
"I can look at her and almost know what she's thinking," she said.
The dogs live with the couple, who have been residents on the mountain for 18 years.
NO OFF SEASON
When the snow melts and makes way for summer, the dogs won't get any days off. They'll stay in shape by accompanying their owners on mountain bike rides and playing hide and seek.
They eat a high-protein diet designed to keep them lean, but they never get food rewards.
"I don't want them to find food. I want them to find a person," Michelle said.
The couple's goal is to get the dogs on the avalanche response team for the Spring Mountains, she said. Part of the process requires making a pitch to the current search and rescue unit. But first, she wants to earn certification for herself and for Lida through Wasatch Backcountry Rescue, a Park City, Utah, nonprofit organization that trains dogs for rescue situations.
Such certification doesn't come cheap. Most dogs must complete two or three classes, which cost about $1,000 each, and the certification costs around $900. The couple created a nonprofit called Bristlecone Avalanche Rescue K9's, or BARK, and rely on donations to fund the dogs' training and supplies. Eventually, the Frenches hope to add a third dog to their pack.
Greg French said part of what drives the couple to train the dogs is the 2005 avalanche that took the life of a 13-year-old boy, who was swept from a Lee Canyon chairlift by the sliding snow.
"I don't ever want to live that again," he said.
KEEPING SAFE
For winter sports enthusiasts, the best way to avoid ending up in a rescue situation is understanding the hazard and steering clear of avalanche terrain, he said. If caught in an avalanche, avalanche victims should stretch out as wide as possible to increase chances of being found by searchers poking around the scene, he added.
Avalanche concerns have been front and center this year on Mount Charleston, most recently Feb. 18, when an avalanche stopped just 200 yards shy of Kyle Canyon's Rainbow subdivision, closing several trails but injuring no one. Last month, public safety agencies issued a voluntary evacuation notice to hundreds of the mountain's residents because of avalanche conditions.
No such conditions are in the forecast so far for this week. Clear conditions are expected, except for a slight chance of snow on Monday, and snow levels at the 8,000 feet on the mountain have hovered around 24 inches since last Tuesday.
For longtime Lee Canyon skier Jeff Ruby, just having the Frenches and their team on the case offers a measure of comfort.
"Knowing that these guys are around, especially with their dogs, it means everything," Ruby said.
Contact Blake Apgar at bapgar@reviewjournal.com or 702-387-5298. Follow @blakeapgar on Twitter