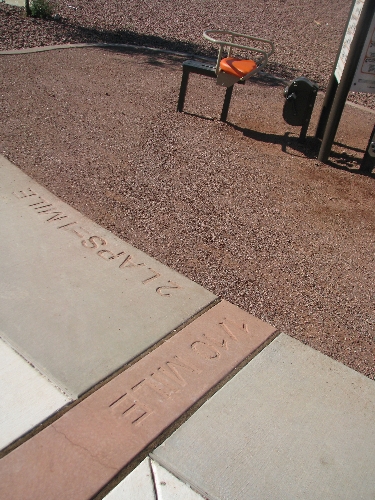 Kids of any age can't get enough of seeing big trucks up close. There will be plenty of trucks for everyone to check out at the Revvin' It Up Gas and Grill Fest scheduled from 10 a.m. to 2 p.m. Saturday at the Robert E. "Bob" Price Recreation Center, 2050 Bonnie Lane.
The event is slated to feature a free touch-a-truck area, waterslides, live music and free hot dogs for the first 500 people.
The event is a joint effort tapping organizing talent from all of the valley's east-side recreation centers: the Cora Coleman Senior Center, the Winchester Cultural Center, the Robert E. "Bob" Price, Walnut and Hollywood recreation centers, and the Whitney and Parkdale recreation and senior centers.
"We're going to have over 20 vehicles there for the kids to check out," said Whitney Recreation and Senior Center program supervisor Kate Grewe. "Parks and Recreation is bringing out construction trucks, Metro is bringing out a K-9 unit, a SWAT unit and a traffic unit, and we have a motorcycle club coming out."
Grewe added that McGruff the crime dog mascot and the Crime Stoppers team will be on hand, too.
Additional plans include face painting, a climbing wall, a bungee jump, a train-themed bounce house and an attraction called Neptune's Bubbles.
"It's a big round thing you get inside, and you move around inside it while it floats on shallow water," Grewe said. "We're all excited to see that."
In addition to the free hot dogs, food vendors are set to be on hand including John Mull's Road Kill Grill, Haulin' Balls and Fat Daddy's Ice Cream.
Entertainment is to be provided by local bands Slim Henry & the Good 'Uns, Rockin' Billy and the Rhythm Riot and Dr. Harpo & 2 the Moon, with sets at 15 minutes past the hour beginning at
10:15 a.m.
The gathering will also allow residents to see the changes under way at Robert E. "Bob" Price Park, which connects the recreation center with the Cora Coleman Senior Center and Fire Station 20. The master plan for the area includes lawn game playing fields, shade structures, turfed areas and an aquatics center. Some of those amenities are on hold pending funding. The walking trail has been in place for two years. Lights are being added to the trail, and construction is under way on shade structures and playing courts for lawn games, including bocce.
"Sometimes it's easier to get these things done piecemeal," said Clark County Commissioner Tom Collins, whose District B includes the park. "Big projects where you've got to spend time and money on architectural engineers and bid stuff out can take years to get done."
Collins, who hopes to attend the event, outlined several expansions to the campus that were achieved by piggybacking on or using excess materials from other projects.
For more information on the event, call the center at 455-7600.
Contact Sunrise/Whitney View reporter F. Andrew Taylor at ataylor@viewnews.com or 380-4532.