Fitness In Motion: Workout studio fosters atmosphere of encouragement
October 6, 2014 - 9:00 am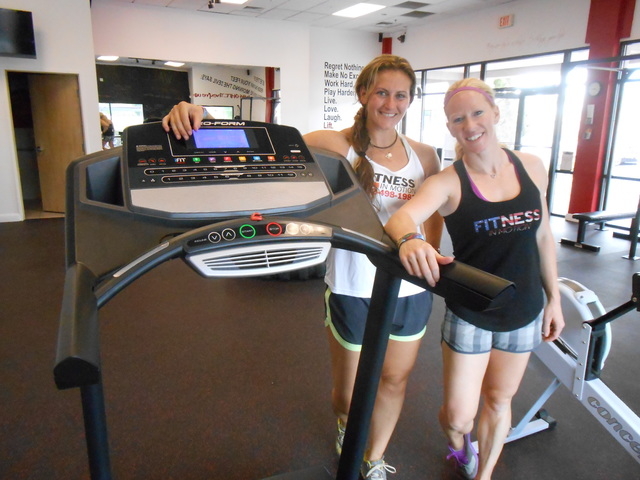 Fitness is a way of life for Fitness In Motion owners Rachael Schein and LeAnna Marchese. They combined forces to open the new workout studio in Summerlin.
The 1,500-square-foot facility, 9691 Trailwood Drive, Suite 101, has stationary bikes for spin workouts, a squat rack, treadmills, a rowing machine, cable machines, Pilates reformer equipment and a punching bag for boxing. Free weights, weight benches, a giant tire and battle ropes fill in for a total workout.
Fitness In Motion is also a certified, licensed TRX facility. TRX is a suspension training method using a 20-foot A-frame.
"We both wanted a space where we could really dive in and help the community and our area and create our own community within our own gym," Schein said.
Encouragement is written on the wall: "Work hard, play harder"; "Make no Excuses"; and "Every morning You Have Two Choices — Continue to Sleep With Your Dreams or Wake Up and Chase Them."
One wall is dedicated to "feel good" messages anyone can add. Members can share that they shed another 10 pounds, have signed up for a 5K or reached a personal milestone.
"We want people to know what everyone else here is doing and feel driven by it," Schein said.
Schein has been a personal trainer for many years. She and Marchese teach groups.
"The energy that comes from one another, I've always been an athlete, so I like the competition that it builds within (participants)," Marchese said.
Jess Holland signed on as soon as Fitness In Motion opened. She played volleyball in college and had trained with both owners in the past.
"It's close to everything, and they have everything you need," she said. "It's more of a personal type space. The people who own it, you feel there's more of a connection to the gym; it's not a corporate, 'Here, scan your card and here's a towel,' maybe. So, you feel more connected, more of a family."
Both owners live in the area and wanted to open a location in Summerlin. When the space became available, it seemed a perfect match with its layout and locale.
"There's a good mix of stores in here," Schein said. "And there are running trails all around. (The Trails Park) is just a quarter-mile away, where we run boot camps."
Fitness In Motion offers yoga classes and also is planning kids' camps.
As passionate as they are about fitness, Schein and Marchese find time for community work. They are affiliated with the Douglas J. Green Memorial Foundation, which sends care packages to deployed soldiers. Every Sunday, they run a boot camp for the charity. Marchese said the gym itself gets no proceeds from it.
Fitness In Motion is open from 5:30 a.m. to 7 p.m. Monday through Friday and 7 a.m. to noon Saturday. For more information, call 702-498-1983 or visit liftlivelove.com.
Contact Summerlin Area View reporter Jan Hogan at jhogan@viewnews.com or 702-387-2949.