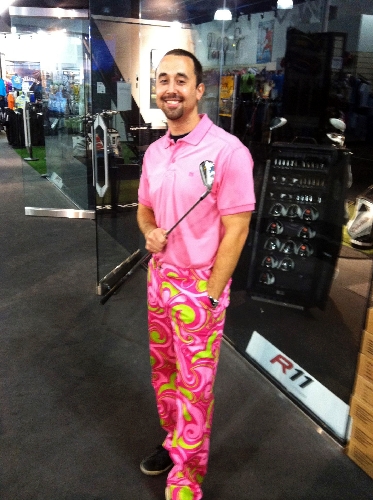 I bet the question on everybody's mind right now is: What the heck do I get the golfer in my life for Christmas? OK, maybe some folks are wondering that.
I remember my first golf gift. It was given to me at Christmas during my second year of golfing. It was a beautifully bound gilded antique book with faux leather, titled "Everything I Know About Golf" by John Asay. Inside the book were 250 pages, all blank.
Funny, right? Not! It was meant to be a journal of my rise to the top of the golf world. Well, here I am many years later, and not one word has been written. A commentary on my literary skills and/or my golf game, I reckon. Whatever.
For last-minute shoppers, here are some inimitable gifts you might want to favor your golfer with this year:
n From Brookstone.com comes the 4-Hole Putting Green. If you have a 12-by-12 space, make room for this portable putting green. Adjustable breaks keep the action fun. Perfect for the dining room. The wife will love it there also. The cost: $1,965.99.
n If you notice people looking oddly at you after hitting your drive, you can now capture that reaction yourself with the Golf Swing Video Recorder. It mounts to your pushcart or golf cart for hands-free recording. Review each swing instantly and see what's making all those folks chuckle. From Sharper Image. The cost: $349.99.
n Golf balls are always a favorite. Titleist Pro Vs are the sure thing, but the 4 Pack of Joke Golf Balls will bring much more levity to the course. The assortment includes the Exploder golf ball, self-explanatory; the JetStreamer ball, which turns into a streamer; the Unputtable ball, which is unbalanced and ensures laughs; and the Phantom Golf Ball, which will disappear from view mysteriously. The cost: $14.99 at PrankPlace.com.
n Garfield Ogilvie, director of sales and marketing at TPC Summerlin, gave my favorite golf gift to me recently. If your favorite golfer has suffered from injuries or accidents and has nerve damage like me, the Kiwi Golf Firecracker High Performance Golf Tees sure makes teeing up a ball easier. Computer-assisted design with fine-tuned geometry, the Firecracker aids in distance and ease of tee-up. The cost: $8.99 for a six-pack at Kiwigolf.com.
n Going from nerve damage to brain damage, check out Loudmouth Golf's clothing line. I did at the Las Vegas Golf & Tennis super store, 4711 S. Dean Martin Drive. Pro golfer John Daly is the spokesman for this inspired line of golf outfits. Shirts and shorts start at $54.95, and the golf trousers are only $74.95. Though good neurologists or neuropharmacologists are much more expensive, be ready – your golfer may need to see both if he wears this outfit.
n While browsing at Las Vegas Golf & Tennis, I ran across a couple of more potentially interesting gifts. Foo King Long golf balls are clearly labeled as not conforming to USGA rules. But to golfers wanting that extra distance off the tee, who cares? Costing about $25 for a dozen, unscientific tests say that Foo King Long balls can add up to 10 yards to your beloved golfer's drives, maybe even allow him to win a wager, too.
n Fred Nepa, general manager at Las Vegas Golf & Tennis, then showed me the doozy of all Christmas golf gifts. He led me toward the back of the store and unveiled the Ferrari Golf Bag. Styled in the same leather as used in the Ferrari, with matching rain hood and molded five-way top in two-toned interior, the bag was absolutely stunning. I wanted it. Only one problem. You guessed it. The cost: $2,159. On sale.
Merry Christmas!
John Asay is a longtime golfer and local freelance writer. Contact him at jasay@reviewjournal.com.