Inspirada opens Capriola and Potenza parks
October 22, 2014 - 8:19 pm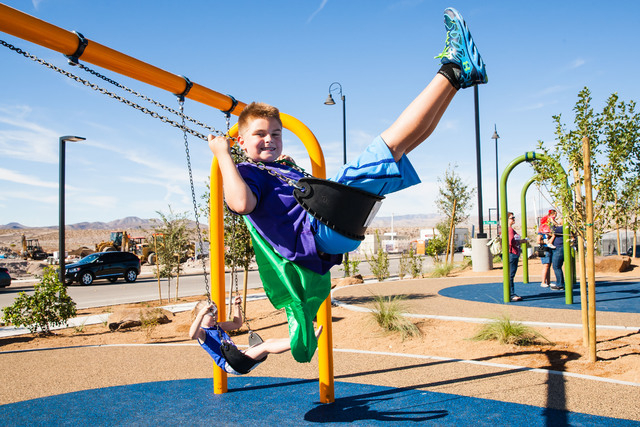 The city of Henderson is closer to achieving its goal of providing a park within a half-mile of every residence, according to Mayor Andy Hafen.
The Inspirada community celebrated the opening of its Capriola and Potenza parks Oct. 4 in southwest Henderson.
Although construction started mid-February, planning and designing the parks took about two years, according to Robert McGibney, division president of KB Home.
"The unique thing is that these parks are designed to be integrated and connected to the neighborhoods," McGibney said. "Residents will be able to walk to these parks and enjoy the amenities as opposed to getting in a car and driving 10 miles away. They will have things to do and explore right outside their doorstep."
The builders are also hopeful the new facilities will draw homebuyers into the community, said contractor Guy Martin of Martin Harris Construction.
"Parks are the cornerstone of a community now because it is an amenity that is expected and searched out," Martin said. "In my opinion, parks are giving away what libraries used to."
Capriola Park, 2155 Via Firenze, stretches over about 13 acres and includes basketball and tennis courts, multi-use fields, a splash pad, children's play areas and a 1-acre dog park.
The design was inspired by children's desire of curiosity and discovery, according to landscape architect Andy Baron of AndersonBaron.
"The children's play area was designed to encourage discovery through the use of elevation and multiple routes to engage the various play elements," Baron said. "With numerous options to discover activities and an interactive splash pad … this park provides fun for kids of all ages."
Potenza Park, 2355 Via Firenze, includes picnic areas, a skate plaza, children's play area, open grass fields, basketball courts and two residential pools over about 5 acres, said McGibney.
"Capriola cost about $7 million to construct, and Potenza was around $2.5 million," he said. "With the help of our other partners, Toll Brothers, Pardee Homes and Beazer Homes, we were able to build and fund the projects."
The parks are open to the public and are set to be donated to the city, which will operate and maintain them.
"The city is set to run all of Capriola and most of Potenza," McGibney said. "Since Potenza's pools are only open to Inspirada residents, they will be maintained by the (homeowner association)."
Capriola and Potenza parks are part of Inspirada's planned 85-acre system of parks, trails and open spaces, according to Baron.
In spring 2015, the community plans to open Aventura Park, which is set to span 20-acres and include volleyball courts, ball fields, a swimming pool and more.
For more information, visit inspirada.com.
Contact Henderson View reporter Caitlyn Belcher at cbelcher@viewnews.com or 702-383-0403.