Las Vegas kids get on the ice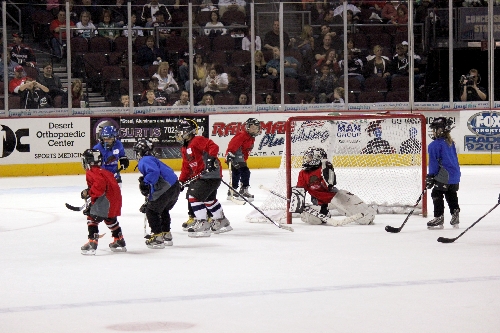 It isn't often that a group of 7- and 8-year-old kids get the chance to play their favorite game in front of 5,000 screaming fans, but that's what happened for 40 kids from the Las Vegas Ice Center's Mite League on April 2.
"It was pretty great to watch these little guys out on the ice," coach Marc Magliarditi said. "Not many kids have that opportunity."
Magliarditi is a former pro hockey player who ended his career with the Las Vegas Wranglers a few years ago.
He said he began coaching not long after his daughter took an interest in both hockey and figure skating. Now, both his daughter and son are involved in the sport.
"I got pulled back in to the world of hockey that way," he said. "That's cool. I've missed it and have a great time working with these kids who are so passionate, even at their young ages."
Magliarditi said there are a few kids on the team who, even now, live and breathe for the game.
"I think, for them, playing in between periods for a major team was a dream come true," he said. "You could see it on their faces."
Magliarditi said there's a long-standing tradition in hockey in which young kids have the opportunity to play between periods.
"This happens a lot with various teams," he said. "We want to give kids as much exposure as we can and build that excitement," he said.
The kids were told to form three lines on the ice between the first and second periods. Each line scrimmaged for approximately two minutes with the crowd going wild each time the puck got anywhere near the goal, according to Magliarditi.
"I think the crowd was cheering louder for our kids than for the team they came to see," he said.
Magliarditi's son, Easton, got to play that night and said it was fun.
"Everyone cheered for us," he said. "I smiled a lot."
The event was the second time the team was able to take to the ice at the Orleans Arena, and Magliarditi said it won't be the last.
Home games are over for the Wranglers' regular season, but there's always next year.
"I think we will get the chance to do this again and again," he said. "Everybody wins. The crowd loves it. The kids love it. We love it."
Wranglers director of community relations Lyndsi Erickson said the team allows local kids to play between periods a few times each year and will continue to do so.
"It depends on their schedule and our schedule, but it's definitely a tradition we plan on continuing," she said.
Erickson said the pastime is good for the team and the community.
"The Wranglers are big proponents of community involvement," she said. "We think it's a great way to showcase things we as a team have going on in community outreach efforts, as well as a great way of growing hockey in Las Vegas."
Contact Southwest and Spring Valley View reporter Amanda Donnelly at adonnelly@viewnews.com or 380-4535.