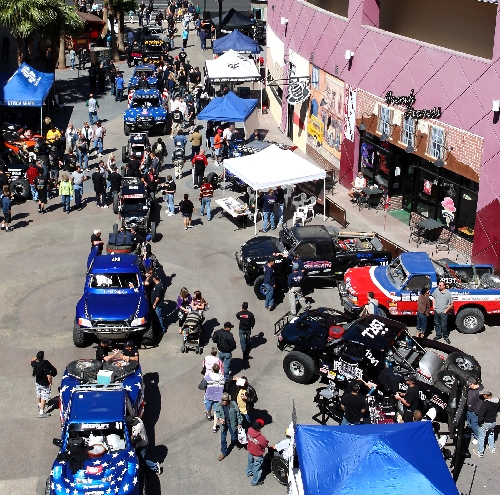 The Mint 400 returns to Southern Nevada March 23-25, weaving new aspects into one of the country's oldest and best-known off-road races.
Matt and Josh Martelli, brothers and partners with marketing firm Mad Media, acquired the race in October, signing a multiyear partnership with Casey Folks, owner of Best in the Desert Inc. Racing. The event, which started in 1968 as a way to promote the Mint Hotel downtown, features races with off-road vehicles and the "Miss Mint" contest, in which one woman is crowned the winner and receives $5,000. The Mint 400 went on hiatus in 1988 when the Mint Hotel was sold, but it returned in 2008 and has been a landmark off-road race since.
The race is planned for Jean, about 30 minutes south of Las Vegas, with other events in the Fremont East entertainment district.
Matt Martelli said he and his brother's choice to acquire the event came from a longtime interest in off-road racing.
"My brother and I have been big off-road enthusiasts since we were young," Martelli said. "We like the Mint (400) because it has a lot of flavor to it. We thought (acquiring) the race was a great way to get involved in motor sports history."
With the race under the Martelli brothers and Mad Media, Martelli said improvements to the event are significant. He aims to revive various aspects of the event in several ways.
"We want to make (the Mint 400) one of the best motor sports events in the country," Martelli said. "We're improving every single aspect with more races, more parties and more places for spectators. Our contingency and our attack is going to be much better this year."
Folks, a former Mint 400 competitor, has similar aspirations.
"My No. 1 goal is to bring back the event with the expertise I have to offer," Folks said. "We have a huge following, and I want to make sure we have a good event."
General Tire is set to sponsor the Mint 400 race. Additionally, Folks and Martelli brought in Norm Johnson, former Mint Hotel public relations director and creator of the Mint 400, as a consultant for the race. Folks said with the sponsorship, changes and Johnson on board, he expects to draw at least 30,000 spectators.
Martelli said one longtime aspect of the race he plans to revive is the showcase of about 60 Class 1 trophy cars.
"There are more people who have been in outer space than in a trophy truck," Martelli said. "There are probably only about 100 to 120 that exist in the world. It's a pretty awesome spectacle."
Folks said overall, he hopes people will participate in the race, either as contestants or spectators, to be part of the event's history.
"The Mint 400 — at one time — was the largest, most well-known off-road race in the world," Folks said. "We want to create nostalgia but show people they're also part of the modern-day Mint 400."
Those interested in racing the Mint 400 are encouraged to complete an "application of intent" form on its website, themint400.com, or call 457-5775.
Contact Paradise/Downtown View reporter Lisa Carter at lcarter@viewnews.com or 383-4686.