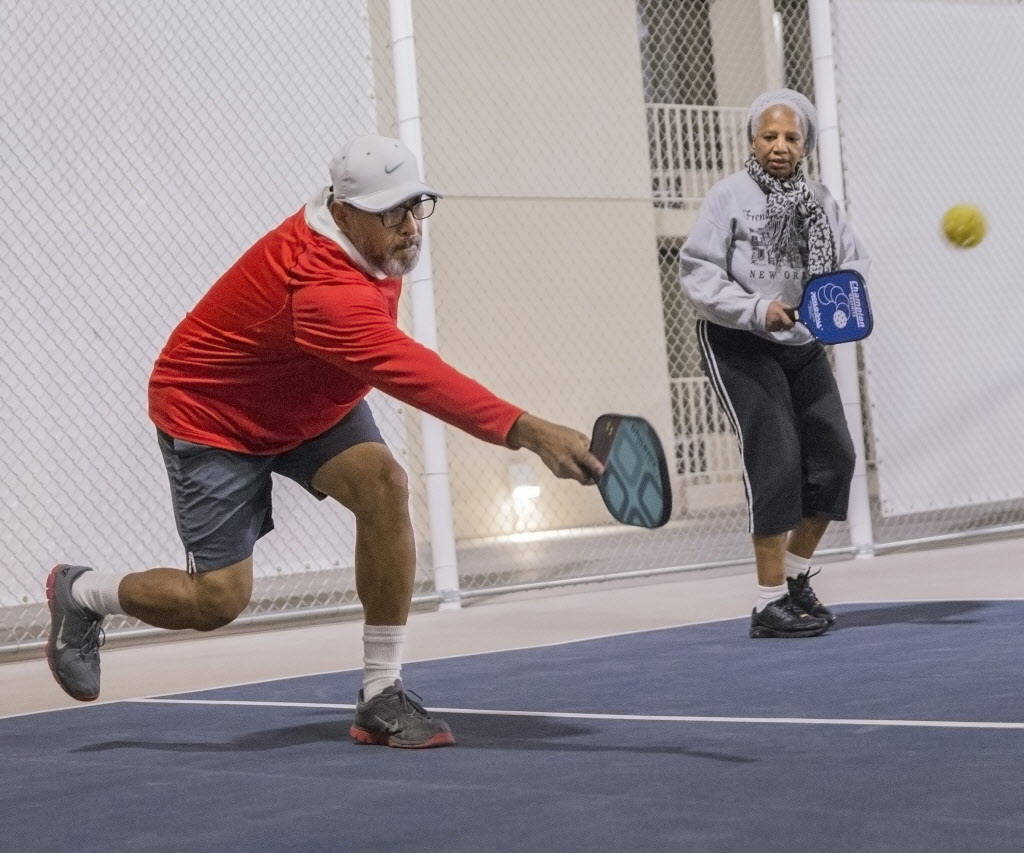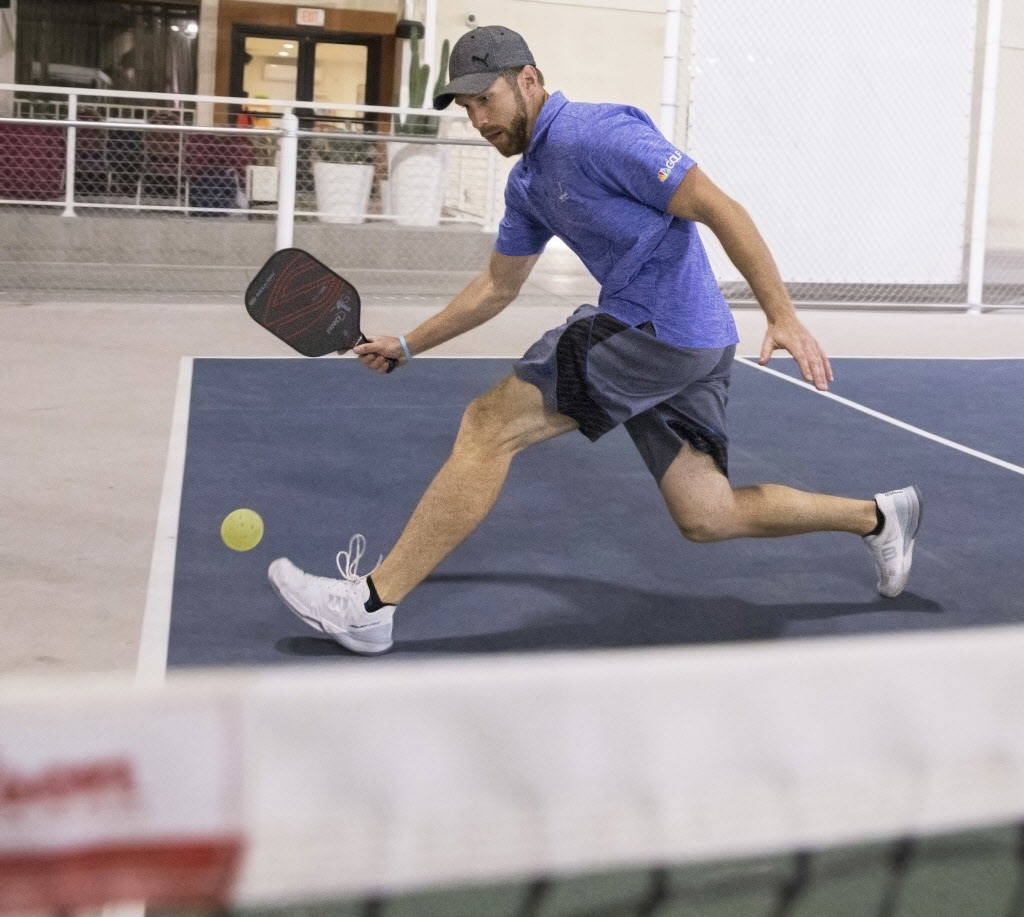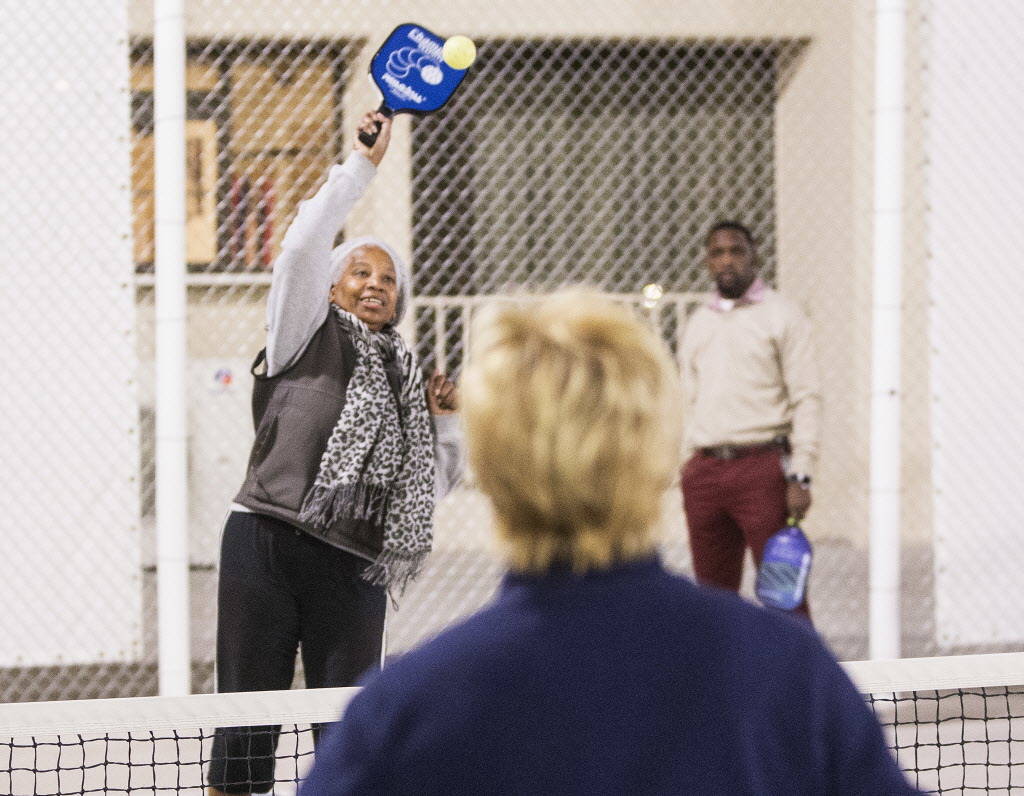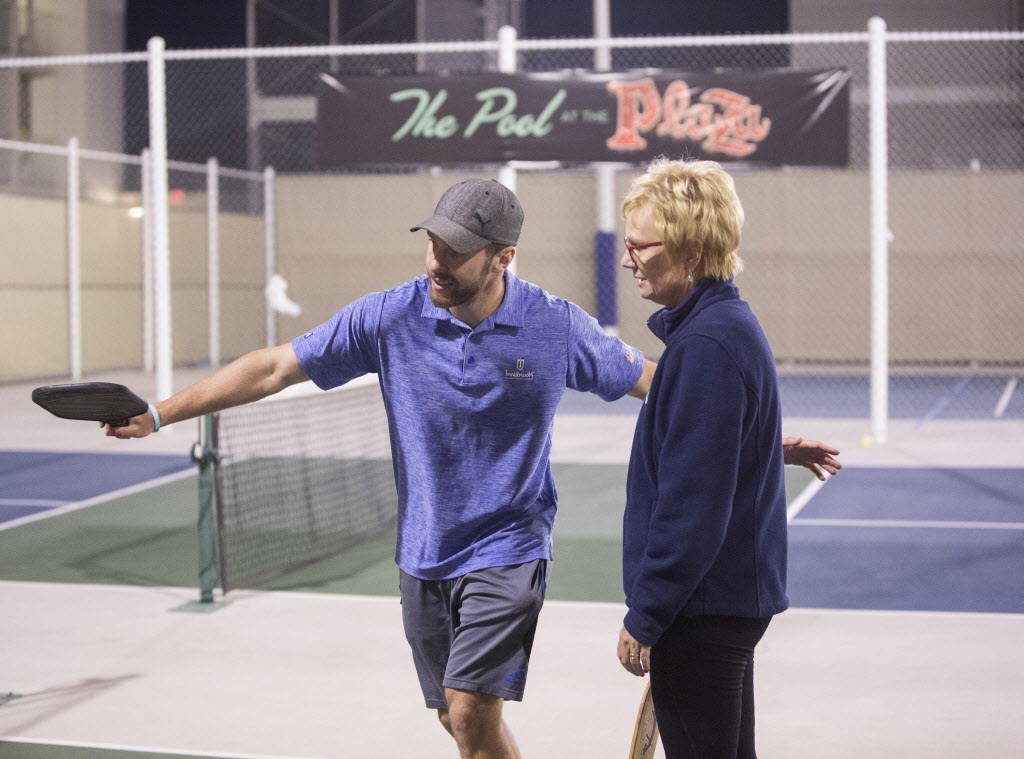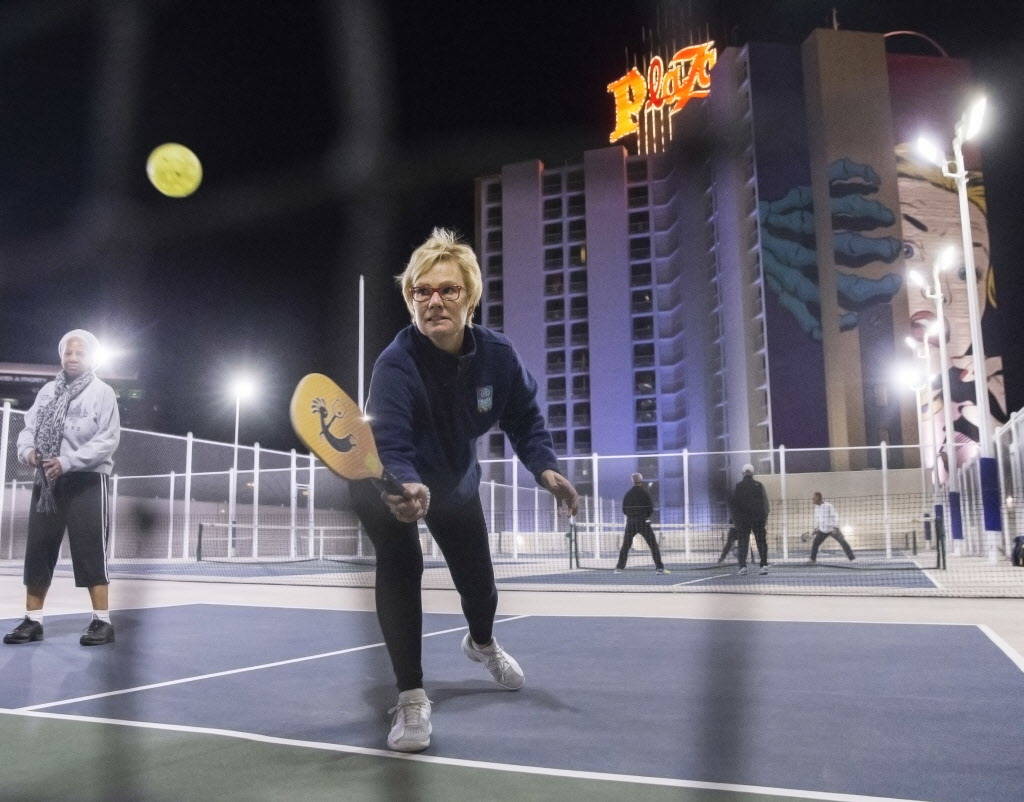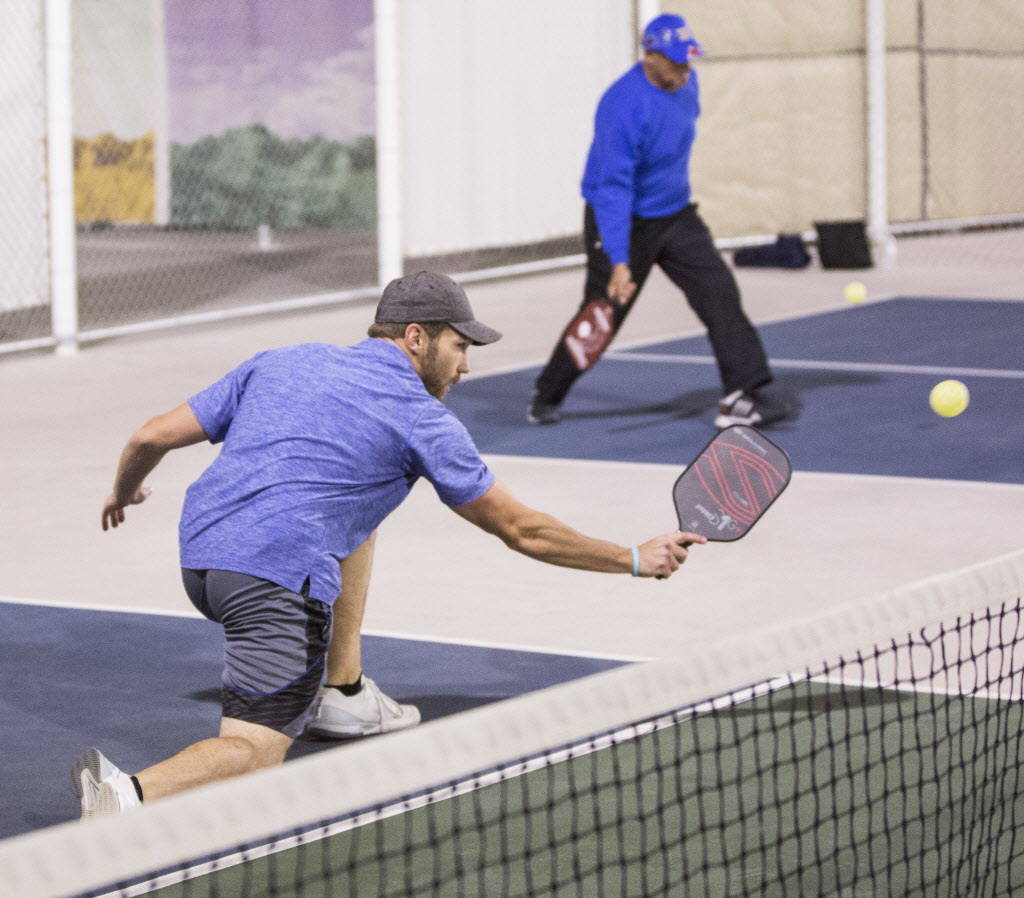 It seemed like somebody had made a mistake a few weeks ago when a group of racket sports fans gathered on the pool and tennis deck of the Plaza to knock a few balls around.
Instead of standard tennis rackets, they found oversized paddles that resembled pizza peels, wiffle-like balls that kids might play with at a family picnic, and tennis courts that just seemed slightly off-kilter.
But all was well, because the game they came to play was pickleball, an amalgam of pingpong, badminton and tennis that no less than NBC News has called one of the fastest-growing sports in America.
The odd name is perfect for an all-ages game that incorporates the strategy and skills of other racket sports but doesn't require powerful shots to win. In fact, Isaac Johnson, a tournament competitor and instructor for the Plaza's pickleball clinics, says pickleball is "very patience-oriented."
Several parks in Southern Nevada have pickleball courts. At the Plaza, a renovation of the pool and tennis deck about 18 months ago included the installation of 12 pickleball courts, as well as a tennis court that can be converted into four more.
Plaza CEO Jonathan Jossel says all he knew about pickleball was that it was "some sort of cross between tennis and badminton and pingpong."
Then he met some players. "I was blown away by their passion and love for the game," Jossel says. "I said, 'I'm going to build a facility here.' "
Jossel says the Plaza is the only pickleball-ready hotel in town, and it has hosted a few tournaments. A few weeks ago, it also hosted the first of two scheduled pickleball mixers — the second is scheduled for Thursday, with instruction at 5 p.m. and play beginning at 6 — at which the curious can learn about the game and try their hand on the courts.
In addition, the Plaza and Las Vegas' parks and recreation department will host weekly pickleball scramblers at the Plaza starting Jan. 11. The courts are available to locals for daily open play.
Sam Brooks, 33, lives in downtown Las Vegas and saw a flier for December's mixer at his condo building. It was his first pickleball experience.
"It was fun," Brooks says. "I kind of fell for a minute, but I got back in and kept playing."
Pickleball has "a lot of the same fundamentals as tennis and pingpong," adds Brooks, who plans to stop by again to learn more about the game.
For Linda Williams, 60, of North Las Vegas, pickleball's appeal is "cardio and fun people."
"We used to play tennis, but we can't do that anymore," she says. "There's too much running around."
Felton Hyche, a North Las Vegas ambassador for the USA Pickleball Association, has been playing for about three years. Hyche, 67, is a golfer and tennis player, and initially rebuffed his wife's suggestion to give pickleball a try after she had tried and enjoyed it.
"It's a very strange name," he says. "It scares you."
But Hyche discovered that the game gave him a good workout. He enjoys the fun and competition, and says it even has helped him to lose weight and get off of his hypertension medications.
"And here's a crazy thing. I am not a social person at all. If there is a group, I will walk away and go sit in the corner," Hyche says. "But this game is an extremely social game because you've got four people playing and you're laughing and joking. It's wonderful."
About that name …
According to the USA Pickleball Association, pickleball was invented in Washington state during the summer of 1965 by three dads whose kids had become bored with the usual summer games.
Why call it "Pickleball"? One account, according to the association, holds that one of the inventors' wives called the game pickleball because the combination of sports used to create it brought to mind "the pickle boat in crew where oarsmen were chosen from the leftovers of other boats."
Another story, this one from one of the inventors, holds that the sport was named after another inventor's family dog, Pickles, who'd chase and run away with the ball.
Pickleball boot camp
To promote local interest in pickleball and teach players the fundamentals of the game, the Plaza this month will kick off a series of monthly pickleball boot camps taught by professionals.
The first, scheduled for Jan. 19-20, will feature pros Ben Johns and Christine McGrath. Classes are limited to 30 participants, and the $300 cost includes a meet and greet, four hours of instruction per day, lunches, tickets to the Scintas show, discounted room rates, gaming vouchers and a steakhouse discount.
To reserve, email pickleball@playlv.com
The Plaza also is finalizing a large-scale pickleball tournament that would be held in September.
The event would be similar in scope to the U.S. Open Pickleball Championships, which are to be held in Florida in April. Details are to be announced.
Contact John Przybys at reviewjournal.com or 702-383-0280. Follow @JJPrzybys on Twitter.
Wanna play?
What: Pickleball open play
Where: The Plaza, 1 S. Main St.
When: Daily
Reservations: plazahotelcasino.com/hotel/pickleball