Putt like the pros at Las Vegas Valley mini-golf courses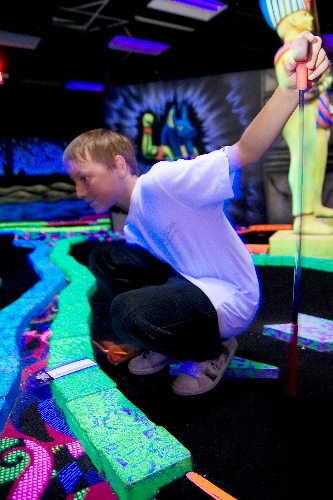 On the 18th green, Rick Baird stood over his golf ball and lined up his 20-foot putt. All of his competitors had stopped their rounds to witness history in the making April 9.
The pressure was getting to him. Baird backed off the ball and took a deep breath. He lined up his putt again, made two practice strokes, then knocked it up the two-tiered green and into the cup. The gallery of about two dozen erupted in applause. Baird became the third player, and the first since 1979, to shoot a perfect round of 18 at a Putt-Putt course.
"I don't remember anything except it going in the hole," Baird said. "Everybody was going crazy. None of us had ever seen a perfect game. Everyone just started clapping and running up to shake my hand and congratulate me. That's really special, getting that respect from my peers."
The moment happened during the second round of three during a tournament in Richmond, Va. Despite his monumental score, Baird didn't win the tournament. Baird, admittedly "out of it," shot a 29 on his final round.
Baird lives in Charlotte, N.C., and works as an information technology manager for an arcade game distribution company. He's also a professional Putt-Putt player on the weekends.
To be clear, he plays Putt-Putt, not miniature golf. It's a big difference to Baird and others in the Professional Putters Association.
"Mini golf is alligators and windmills," said Professional Putters Association commissioner Joe Aboid. "Putt-Putt is designed to be competititive. Par for each course is 36, and it's possible to make a hole-in-one on every hole."
Even if you're not a pro, you can still pretend and have fun at some local miniature golf courses.
If you're interested in playing in the heat, the Putt Park, 6085 S. Fort Apache Road, Suite 130, offers 18 holes of outdoor miniature golf.
Rounds are $8.50 for those 13 or older. Hours vary with weather and season, so call 254-7888 or visit theputtpark.com for more information.
Angel Park, 100 S. Rampart Blvd., offers a nine-hole lighted putting course with natural grass greens. The cost is $5 per player, and course hours vary.
Reservations are not necessary, but it is recommended to call ahead to make sure the putting course is open. For more information, call 254-4653.
If you prefer to play indoors, the Adventuredome and King Putt offer such an opportunity.
The Adventuredome at Circus Circus, 2880 Las Vegas Blvd. South, has 18 holes of miniature golf available to those who purchase an all-day pass for $27, or $17 for those under 4 feet tall.
For more information and hours of operation, visit adventuredome.com.
King Putt has two locations in the valley, both with glow-in-the-dark courses. The Henderson-area location, 9230 S. Eastern Ave., Suite 140, has an Egyptian-themed course, and the Summerlin-area location, 7230 W. Lake Mead Blvd., is jungle-themed. The cost is $8.50 for adults.
For more information, visit kingputtlv.com or call 823-1519 for the Lake Mead Boulevard course or 541-6807 for the Eastern Avenue course.
Las Vegas does not have a Putt-Putt course. The closest is in Modesto, Calif.
The Professional Putters Association has about 375 active members who travel monthly to different tournaments at Putt-Putt courses across the country.
This year's national championship is scheduled to take place in September in Nashville, Tenn., and will offer $35,000 in prize money.
Las Vegas pro Herbert Hull won the 1970 Professional Putters Association world championship in the Bahamas and has traveled the world to promote the sport.
"It used to be a lot bigger," Hull said. "Pros aren't making nearly what they were 40 years ago. It kind of just went downhill."
Hull said he shot his lowest round of 22 at a Putt-Putt course in Johannesburg.
"You can't make a living doing it," he said. "The prize money isn't enough. But you have enough people involved where we can still have competitions."
Hull plays sparingly these days and doesn't take it too seriously. He plans to travel to Nashville for the national final to see his old buddies.
"I started playing again just to meet the guys I used to play with 40 years ago," Hull said.
For more information about the Professional Putters Association and to see a video of Baird's historic putt on the 18th green, visit proputters.com.
Contact View education reporter Jeff Mosier at jmosier@viewnews.com or 224-5524.