Recreation center's wall gets an automated makeover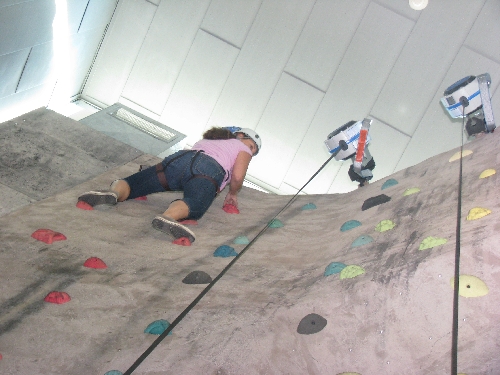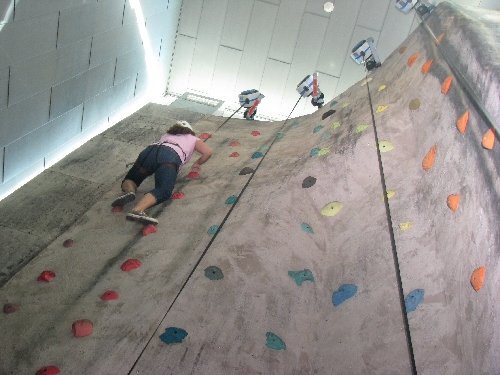 As the summer heats up and outdoor recreation becomes more challenging, Whitney-area residents can take solace in an unusual amenity offered by the Whitney Recreation Center — a rock climbing wall.
The wall is the only county-run indoor rock climbing wall. While there are private facilities that offer the activity and other county facilities that offer traverse walls, low climbing structures that don't require being attached to ropes or safety harnesses, the wall at the center is a unique amenity.
"The use varies ; we have our busy times and our down times," said Kathy Smith, who works at the center and is the expert on the wall. "We've had some training groups in here with 30 people climbing the wall for three hours."
The wall was recently renovated, and new auto belaying devices were installed.
Frequently in rock climbing, the climber has a safety harness attached to a rope that runs through a pulley at the top of the climb and down to an assistant on the ground. The person on the ground keeps the climber from plummeting if the climber slips.
At the Whitney Recreation Center, the auto belay system removes the need for the second set of hands.
"As they hook into the auto belay device, it will wind itself up," Smith said. "If they fall, it will stop them. When they're ready to descend, it slows them as they come down."
The climbing wall has four different routes, each offering its own unique challenges. The climbs become more difficult toward the right side of the wall, where it projects out about a foot, forcing climbers up the bottom of the overhang.
"I'll be switching around the routes periodically to provide different challenges," Smith said. "It's not that hard to change out holds. You just climb up with the key and move them."
The Whitney Recreation Center, 5712 E. Missouri Ave., is open on Monday, Tuesday, Thursday and Friday from 8 a.m. to 6 p.m. and on Wednesday from 8 a.m. to 8 p.m. The fee for the rock climbing wall is $1 per climb, $4 for a day of climbing, $10 for a month of climbing or $20 a month with full access to the climbing wall and the center's fitness room.
For more information, visit clarkcountynv.gov/parks or call 455-7576.
Contact Sunrise and Whitney View reporter F. Andrew Taylor at ataylor@viewnews.com or 380-4532.