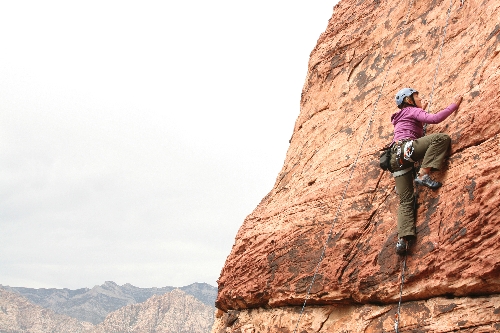 Professional climbing instructors and rookies alike plan to descend into Red Rock National Conservation Area this weekend during the ninth annual Red Rock Rendezvous.
From the beginner to the advanced, Red Rock Rendezvous, slated for Friday through Sunday, offers opportunities for climbers of all levels. Festivities kick off Friday with climbing clinics led by 40 word-class instructors, according to Phil Bridgers, event coordinator.
"For someone who's a gym climber or has never climbed before, these (instructors) teach everything," Bridgers said. "They'll go through every step, which builds the comfort and confidence you need to be an expert outdoor climber."
Registration for the event ranges from $99 on the participant level, which includes full-day climbing and two-hour educational clinics for Saturday and Sunday, to an introductory package at $349, which includes basic-level benefits, a full-day clinic Friday and necessary climbing gear. Those who do not wish to climb but would like to come along with a participant may do so for $49. All levels include entry to Friday's opening ceremony, a dinner buffet Saturday and a pancake breakfast Sunday.
The event isn't limited to rock climbing. Though Red Rock Rendezvous is focused on rock climbing, chances for mountain biking and trail running will be available, Bridgers said. Participants represent Mexico, Canada, the United Kingdom, Puerto Rico and 43 states, drawing experience from around the world. Bridgers said the global draw presents a unique opportunity participants have few chances to experience.
"It's rare to have all the top athletes in one place teaching and not competing," Bridgers said. "It's easily one of the biggest events in the country because of the backing of our sponsors and the (people) it draws."
Jason Martin, operations manager for American Alpine Institute, a sponsor of Red Rock Rendezvous, said having climbers of all levels from all over the world is what makes the event different from most climbing festivals.
"Climbers from all over the country gather (at these events), but a lot of those times, it's oriented toward a certain niche, like strong climbers," Martin said. "The cool thing about Red Rock Rendezvous is it caters to all levels of climbers and makes it accommodating to a larger audience than some other events throughout the country."
Although Red Rock Rendezvous is open to participants from anywhere, the event supports local organizations, such as the Las Vegas Climbers Liaison Council and Friends of Red Rock Canyon. Bridgers said that with the help of the council, attendees will have an opportunity to assist in a service project, modifying the parking lot at Pine Creek Canyon. The event benefits the Access Fund, the parent organization to the Las Vegas Climbers Liaison Council and one that places emphasis on the formation of local climbing associations.
"Some groups we give a percentage of our auction proceeds to," Bridgers said. "All of the proceeds are helping generate funds and awareness to these organizations."
Registration for Red Rock Rendezvous is open to the first 1,000 people. For more information, call 800-829-2009 or visit tinyurl.com/redrock2012.
Contact Paradise/Downtown View reporter Lisa Carter at lcarter@viewnews.com or 383-4686.