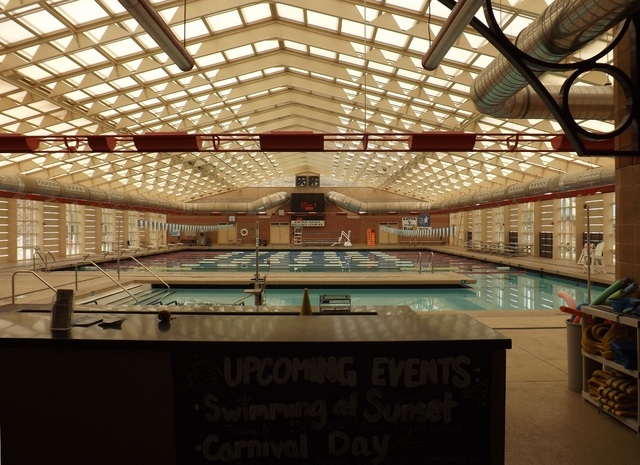 Henderson residents continue to feel the aftermath of recent budget cuts to the city's parks and recreation services.
The cuts resulted in the pools reducing hours of operation and increasing admission fees beginning May 24, according to city spokeswoman Kim Becker.
"Back in February, the city's Special Budget Ad Hoc Committee recommended we look into our facility hours and fees," Becker said. "We made changes based on what made sense for our financial sustainability."
The Henderson Multigenerational Indoor Pool, 250 S. Green Valley Parkway; Whitney Ranch Indoor Pool, 1575 Galleria Drive; and Heritage Park Aquatic Complex, 310 S. Racetrack Road, are now closed from 11 a.m. to 1 p.m. The Heritage Park and Henderson Multigenerational pools also open an hour later at 6 a.m.
"We looked at what hours were the most and least (busy)," Becker said. "Even if you have only one person in the pool, you need the facility to be fully staffed with rotations of lifeguard as a safety requirement, and the numbers weren't enough to justify staying open at these hours."
Resident Wayne Higby, 82, used to exercise at 5 a.m. three times a week at the Heritage Park Aquatic Complex.
"I am a disabled veteran, so I depend on the pool for my therapy," Higby said. "It takes the weight off my joints, and it feels good to exercise and work out my muscles."
Now that the complex opens at 6 a.m., Higby said he can no longer complete his therapy.
"I may be 80 years old, but I can't just go to the pool at any time. I have a swim team to manage and other volunteer commitments to take care of," Higby said. "Besides, therapy is most effective when you first wake up, not when you get out there at 2 p.m. I depend on my therapy to keep going."
Resident Eyston Petersen, 75, said he used to visit the the Whitney Ranch pool around 11 a.m. before the cuts.
"I've gone to the pool for 10 years around that time. I would do my chores around the house and go cool off in the pool," Petersen said. "All the pools are running and the lifeguards are still around, so where is that saving money?"
In addition, the budget cuts increased pool admission fees by $1 and eliminated the purchasing of Swim and Trim passes.
"The passes allowed residents pool access at a steeply discounted rate, sometimes between 30 and 60 percent off," Becker said. "We will honor the passes people still have, but we will no longer be selling them. It's not a reduction in our services; they just won't be able to swim for 60 cents anymore."
Despite the changes, Becker said the city hasn't seen a decrease in pool participation.
"By closing indoor pools during low attendance times, we're saving about $95,000 a year," Becker said. "By increasing admission prices, we're looking at a $130,000 revenue increase, and by not offering punch passes, we're saving about $138,000 a year."
Becker said the office has received some negative feedback from residents and wants to clarify that the budget cuts do not target a specific demographic.
"Many seniors feel that the budget adjustments target them specifically, but that's not the case," Becker said. "We've cut also classes, children's programming and SafeKey. It's just a more balanced approach to make things financially stable throughout the city.
"As the council said when they directed the changes, it is something we will reassess if the funding is available."
For more information and pool hours, visit tinyurl.com/2fd7bwk.
Contact Henderson View reporter Caitlyn Belcher at cbelcher@viewnews.com or 702-383-0403.