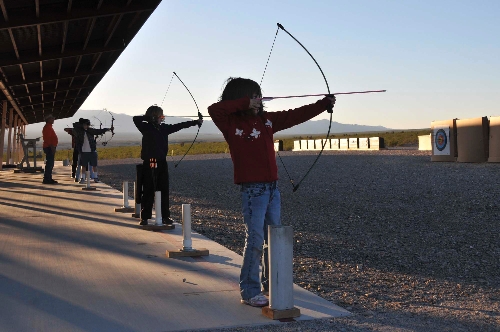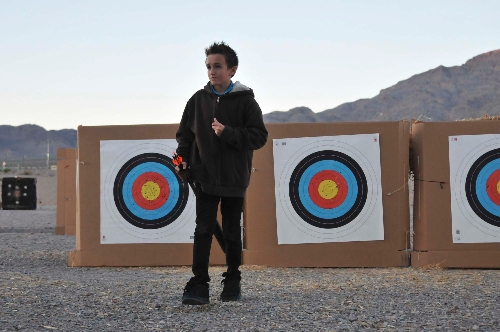 Lock and load, Las Vegas.
The Clark County Shooting Complex offers rifle, pistol, shotgun and archery target shooting for all ages. The 2,800-acre facility, 11357 N. Decatur Blvd., is open from 7 a.m. to 10 p.m. Wednesday and Thursday and 7 a.m. to 7 p.m. Friday through Sunday. At night, its lighted ranges are visible from almost anywhere, nestled against the Sheep Range in the north Las Vegas Valley.
Shooting fees are $7 per day for use of the rifle-pistol and archery centers and $6.50 per round of trap and skeet, which includes 25 birds.
A $3 million sporting clays course, sometimes referred to as "golf with guns," is expected to open in December. It will have 30 stations with different targets that will change each month. A gas-powered cart with seating for up to four can be rented for $20 for three hours or $50 for a day. Push carts also will be available, or shooters can walk the course.
Program administrator Steve Carmichael has been a competitive shooter for more than 50 years and started at 12 while growing up in Kansas City, Mo. He also was a member of the U.S. Army's shooting team and competed against countries throughout Europe.
He said the popularity of the complex has constantly increased since it opened three years ago. It averaged about 4,500 vehicles per month last year and is up to 6,000 vehicles per month this year.
"Anybody that comes out, once they see what we have to offer, they'll be back again," he said.
Carmichael said many families take advantage of the junior programs in which kids 17 or younger can use the rifle-pistol and archery centers free and receive a discount at the shotgun center. Adults using any of the facilities would have to pay $7.
Adults 21 or older can rent a gun for $10 per hour or $20 for a day. Ammunition can be purchased at the center. Eye and ear protection is required of anyone using the shooting ranges. On a first visit, shooters must read and sign a waiver and watch a five-minute safety video to receive a range card.
For new shooters looking to get into any of the sports, Carmichael recommended coming to Wednesday or Thursday night leagues, which begin at 6:30 p.m., and speaking with one of the league secretaries who can help get them started.
The youths tend to favor the archery center, said Carmichael, in part because of the bow and arrow's popularity in recent movies. Martin McElroy brings his daughters, 9-year-old Kyla and 6-year-old Maggie, to the range two or three times per week. Kyla asked her dad to take them shooting after seeing Princess Merida use a bow and arrow in Disney's "Brave" this year.
McElroy said he spent between $20 and $30 on the girls' bows and about $2 for each arrow. After those initial costs, though, the girls can shoot free.
"It's just a way to get them outside in the fresh air, and they enjoy it," said McElroy, a native of Ireland who moved to Las Vegas 10 years ago. "It gives us a chance to do something as a family."
For more information, visit clarkcountynv.gov/shootingcomplex or call 702-455-2000. Or, come out and see Carmichael. He said he and his staff are happy to give tours.
Contact View education reporter Jeff Mosier at jmosier@viewnews.com or 702-224-5524.