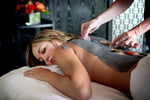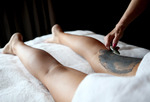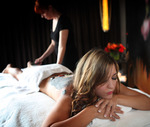 Las Vegas may be a town that never sleeps but it certainly knows how to relax.
During the past decade, the local spa industry has exploded, becoming as much a part of the Vegas experience as visiting the "Welcome to Fabulous Las Vegas" sign.
Spagoers have become more sophisticated in their expectations, says Stephanie Doud, director of the Spa and Salon at The Mirage. They not only want the best treatments, they want unusual, only-in-Vegas spa experiences.
And Strip spas have met that challenge, Doud says, offering treatments that you're not likely to find elsewhere. Dolphin yoga, anyone?
We've rounded up a handful of unique, special and/or weird spa treatments that have become popular attractions for the local spa industry. Not only are they a great way to chill out, they're also the kind of thing you'll be talking about long after you've experienced them.
YOGA WITH DOLPHINS AT THE MIRAGE
So you've never done yoga and you don't want to. It sounds boring, right? Not if you do yoga with dolphins. All those stretches and poses come to life when these sea creatures are spying on you as you attempt a downward facing dog or a corpse pose. For $50fifty dollars, you get a full hour of yoga with a certified instructor and a bunch of dolphins that will spy on you through the windows of the habitat's underground observatory room. This is a one-of-a-kind experience. Your money also gets you a full day pass to the spa amenities, including steam room, showers, fitness center, hot tubs, TV area and snacks. Smoothies are served after yoga, too.
CHAKRA-BALANCING MASSAGE AT THE SPA AT MANDARIN ORIENTAL
Don't know what a chakra is? That's OK, you don't need to know to have them rebalanced. Sometimes, chakras can get out of whack and throw your entire life off. Having trouble conceiving a child? Feeling blue or weepy? Maybe one of your chakras is off. At The Spa at Mandarin Oriental, you can get them rebalanced during a 90-minute session that includes gems, mud and diamonds. And you can't get any more Vegas than that. Cost is between $285 and $305285 to 305.
THE DREAMING RITUAL AT THE GRAND SPA IN MGM GRAND
Spa treatments inspired by spiritual or tribal rituals are maybe among the coolest experiences out there. MGM's Dreaming Ritual starts with a foot soak and graduates to an exfoliation, a body mask, scalp treatment and an aboriginal massage, all inspired by "indigenous healing elements" from Australia. It costs about $280 280and lasts 120 minutes.
WATSU MASSAGE AT SPA & SALON BELLAGIO
Anytime you can combine swimming with Zen practices, you probably should. Bellagio has done the hard work for you, putting together Zen Shiatsu, stretching and floating in a really warm pool. The water is heated to 94 degrees, which will probably make you very sleepy. Cost: $285285 for a 70-minute session.
HAWAIIAN LOMI LOMI AT QUA BATH AND SPA, CAESARS PALACE
Based on the Hawaiian concept of working with the body, mind and spirit, Lomi-lomi combines the healing properties of massage that provides immediate results. Each massage therapist has been trained by Hawaiian medicine specialist Dr. Maka'ala Yates. You get an 80-minute session for $240.