Springs Preserve offers year-round adventures
December 20, 2011 - 12:19 am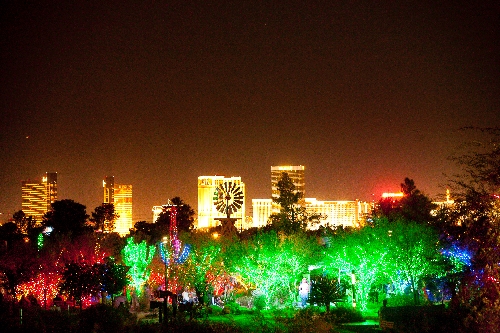 Areas near downtown Las Vegas offer various opportunities for people to visit several museums and attractions year-round. The Springs Preserve, 333 S. Valley View Blvd., is no exception.
With numerous holiday events, the opening of the Nevada State Museum and the Bet on the Farm! Farmers Market, Jim Johnson, public relations manager, said there are activities for every member of the family.
"From different animal shows to behind-the-scenes tours, there's something for everybody," Johnson said. "Everyone walks away with something special to them, and I think it's great to have something like that in Las Vegas."
One ongoing exhibit that Johnson said has been a popular attraction among visitors is "The Scoop on Poop," which explains the science behind animal droppings. The exhibit, which opened Sept. 26, is set to run through Jan. 8 in the Origen Museum at the Springs Preserve.
"Every three months or so, we have something new in the Origen Museum," Johnson said. " 'The Scoop on Poop' is done in a tasteful way, and I think it's a good conversation starter for children and families."
The addition of the Nevada State Museum, which opened in October, is also among the Springs Preserve's newest attractions. Museum director David Millman said the public's response to the museum opening has been "overwhelmingly supportive," and he hopes to keep a strong relationship with visitors.
"We would very much like to be part of the community," Millman said. "We hope (the museum) can be a place where locals can take visitors instead of going to the Strip one afternoon."
Millman said the Nevada State Museum offers permanent exhibits that explore the natural history of the state and virtual exhibits, such as videos about mineral formations and the Rat Pack. He said what makes the museum unique from others is the focus on state history and its educational programs.
"Most museums are regional, but this (museum) is much more than that," Millman said. "Clark County students can learn about Mark Twain and the reason Nevada developed the way it did. They can learn about geology and paleontology and the natural history of the state."
Even more recent than the opening of the Nevada State Museum is the Bet on the Farm! Farmers Market, which takes place from 10 a.m. to 1 p.m. every Thursday in the upper level of the Desert Living Center. The farmers market is sponsored in conjunction with B&B Hospitality Group, which includes Food Network chef Mario Batali as one of its partners. The cash-only market features locally grown produce and other products from various vendors.
Johnson said having a farmers market falls in line with the Springs Preserve's sustainability focus.
"We try to look at things that are sustainable and focus around green living," Johnson said. "We're excited to have a farmers market at the Springs Preserve. It's a good location to draw people in where they can purchase things on a weekly basis, and people get to see what we have to offer. It's a win-win all around."
The Springs Preserve's final event, the Holiday Spectacular, is among the most popular each year, Johnson said. Holiday Spectacular includes light shows, cookie decorating, rides, photos with Santa Claus and an ice-skating rink 5 to 9 p.m. daily through Friday. Johnson said the event is ideal for building community and for families to do something together.
Looking forward to 2012, Johnson said signature events, such as the Black History Month Festival in February, will return. Plant tours and workshops and free classes on sustainability and other topics will be offered throughout the year.
No matter what visitors desire to learn about, he said, all events have the same purpose.
"Usually, adults do one thing and kids do another," Johnson said. "With our events, the Springs Preserve allows (people) to come in as a family and do things together."
For more information on Springs Preserve events, call 822-7700 or visit springspreserve.org.
Contact Paradise/Downtown View reporter Lisa Carter at lcarter@viewnews.com or 383-0492.