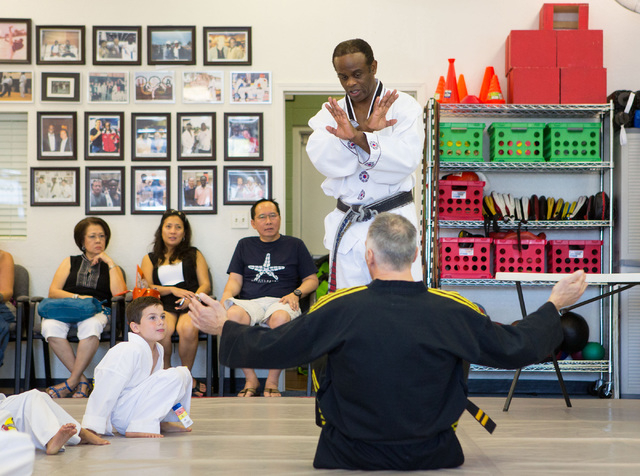 Even though Master Daniel Jackson claimed another gold medal from the USA Taekwondo National Tournament in July, his real reason for training and teaching martial arts isn't awards. It is to see the impact in people's lives.
"Martial arts is not what people think," he said. "You don't do it for the money. You do it because you love it."
Jackson doesn't boast about the many medals he has earned but is proud of the transformation he has seen within himself and many of his students, whether it is from losing weight or shedding attitude.
Along the way of helping people change their lives, The DoJang World Training Center, 10525 S. Eastern Ave., has brought home 21 gold medals from various competitions.
The school recently took eight students to the national tournament in July and returned with two gold medals and two bronze medals.
The school's journey started with Jackson, who used taekwondo as a way to deal with difficult emotions after his parents separated.
"It gave me direction," he said.
Jackson, 54, was introduced to martial arts by his sister's boyfriend about 38 years ago, he said.
"He did martial arts," Jackson said. "I thought, 'If he can do it, so can I.' "
The more he trained, the more he loved it. Seven days a week, Jackson said, he would be the first to arrive and the last to leave.
"The instructor finally gave me a key because I was there more than he was," he said.
Students from his school competed at local tournaments. And Jackson, as it turned out, had a knack for it.
In 1986, he started training at another school, hoping to qualify for the 1988 Olympics. He worked, trained and even slept in his new school.
"It was rough, but I knew it would pay off," he said.
But he wasn't able to qualify because he was in a lower weight division that was no longer being accepted.
He was still able to visit the U.S. Olympic Training Center in Colorado. While training, Jackson also worked as an electrician. He had a goal to make it to Las Vegas. He first traveled to the city only to find there were no jobs for electricians.
"So I moved to San Jose (Calif.) and worked there for a year," he said. "I saved money and came back to Vegas."
He started teaching taekwondo at local recreation centers.
"I will never forget my first day of teaching," he said. "It was 9/11."
He had about 10 students in his first class, some who have been with him ever since.
Dustin Moore was one of Jackson's first students.
"I was home-schooled at the time and remembered wanting to be a part of some sort of activity," Moore said. "I just fell in love with it."
After a year of teaching at recreation centers, Jackson wanted to open his own studio. He ended up in Henderson.
His number of students grew from 10 to more than 100. Jackson continued to train his original athletes such as Moore to help them develop skills and take on sparring and competitions.
"Once I started sparring, I knew this was my forte," Moore said.
Moore was one of the gold-medal winners at the recent tournament, winning the Senior Flyweight Red Belt Division.
"I still get nerves to this day before a match," Moore said. "It's pre-fight jitters. But as soon as it starts, all my training comes to me."
Khadisha Casillas discovered the center four years ago after trying to find a place her two children could join.
She researched different studios throughout the valley until she found one that fit her desires.
"I did my homework on this," she said. "And now, I am ready to tell the world about it."
Casillas wanted a balance where her children could take part in physical activity, learn self-defense and also be a part of a community.
"And the second I met (Jackson), I knew this was the place," she said.
Since then, Casillas and her husband have started classes.
"My husband does the Brazilian jiujitsu, and I do the kickboxing," she said. "And this is us starting in our 40s. I have lost 70 pounds since. My husband's getting ready to compete. It's been a good journey."
Another aspect she enjoyed about the center was its Jhonya's Club, which is open to children with special needs.
"There are a lot of programs or instructors who wouldn't work with these children," she said. "Maybe there are instructors out there who do, and I just haven't seen them."
Since opening his studio, Jackson also decided to add other disciplines such as karate, self-defense, hapkido and classes on escrima sticks and taekwondo, both Olympic-style and traditional.
"DoJang means house of disciplines," he said. "It makes sense to offer many. As corny as it sounds, I was inspired by Bruce Lee to do this. He would take pieces of different styles and incorporated it into one. Now people have a buffet of martial arts."
He said people enjoy the variety and being able to switch to different classes.
No matter what style people are attracted to, all his instructors are taught three goals: keep people sweating, smiling and learning.
"You got to keep your mind like you're a white belt," he said. "There are no cocky people here. There are no egos. The highest rank is the parent."
For more information, visit thedojang.com or call 702-933-0200.
Contact Henderson/Anthem View reporter Michael Lyle at mlyle@viewnews.com or 702-387-5201.